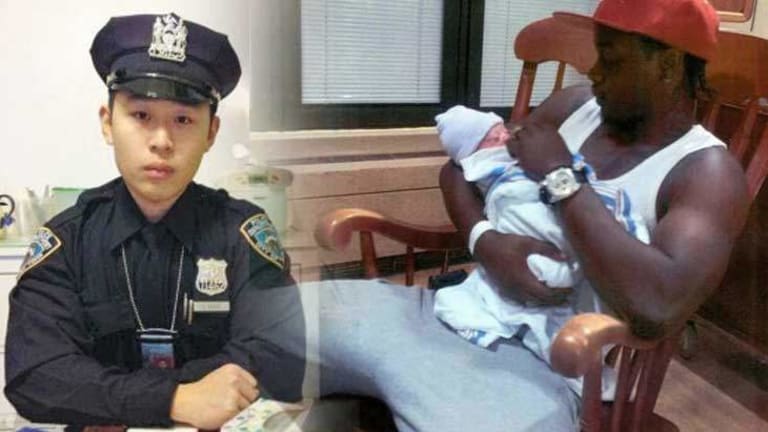 Coward Cop Convicted for Killing Unarmed Innocent Father of Two as He Walked Home
Responsible for shooting an unarmed innocent man for no reason and failing to provide any medical assistance, an NYPD cop was convicted.
Brooklyn, NY – After fatally shooting an unarmed innocent man in a dimly lit stairwell, NYPD Officer Peter Liang was convicted of manslaughter and official misconduct after killing the man for no reason and making no attempt to help the dying father of two young girls. Instead of administering CPR or requesting an ambulance, Liang bickered with his partner and whined about possibly losing his job.
On November 20, 2014, NYPD officers Peter Liang and Shaun Landau were conducting patrols on the upper floors of the Louis H. Pink housing project in Brooklyn even though Deputy Inspector Miguel Iglesias had ordered them not to conduct vertical patrols inside the building. Liang initially reported opening the door to the stairwell with the same hand holding his Glock .9mm pistol. Instead of opening the door with his right hand, which held his flashlight, Liang claimed he accidentally fired a shot that ricocheted off the wall and into Akai Gurley's chest.
"They didn't identify themselves," recalled Gurley's girlfriend, Melissa Butler. "No nothing. They didn't give no explanation. They just pulled a gun and shot him in the chest."
Standing on the floor below them, Gurley staggered down to the fifth floor where he collapsed. Melissa Butler ran to an apartment to ask for help and called 911. As the operator instructed Butler to administer first aid until the paramedics arrived, Liang and Landau remained in the stairwell texting their union rep instead of immediately calling in the shooting or requesting an ambulance.
"It was an accident," Liang whimpered to his partner. "I'm gonna get fired."
Gurley was transported to Brookdale Hospital where he was pronounced dead. Officers Liang and Landau were taken to a separate hospital for treatment of tinnitus. Liang was placed on administrative duty following the incident.
"There was absolutely no threat to him, his partner or any resident," stated Assistant District Attorney Mark Fliedner. "He mishandled his weapon, and as a result Akai Gurley is dead."
Last year, a grand jury indicted Liang on charges of second-degree manslaughter, criminally negligent homicide, second-degree assault, reckless endangerment, and two counts of official misconduct. During Liang's trial, Fliedner told jurors, "Instead of doing all that he could to help Akai Gurley, he wasted precious time arguing with his partner about calling for help. In fact, instead of calling for help, he just stood there and whined and moaned about how he would get fired."
Changing his original story, Liang stated that his finger was not on the trigger when he entered the stairwell. Instead, he now claims his finger was resting on the side of his gun before the shooting. In his defense, Liang testified, "I heard something on my left side… It startled me (then) the gun just went off."
Shortly after the jury convicted Liang of second-degree manslaughter and official misconduct, the NYPD fired him. Liang is the first NYPD cop convicted in an officer-involved shooting in at least a decade. His sentencing is scheduled for April 14, and he faces up to 15 years in prison.
Akai Gurley did not deserve to die because the NYPD handed a badge and gun over to an incompetent coward. Besides locking Liang away to prevent further deaths, the NYPD must also be held responsible for failing to weed out killer cops including Peter Liang, Daniel Pantaleo, Paul Headley, Michael Carey, Marc Cooper, Gescard Isnora, Michael Oliver, Richard Neri Jr., Bryan Conroy, Edward McMellon, Sean Carroll, Kenneth Boss, Richard Murphy, etc.
Andrew Emett is a Los Angeles-based reporter exposing political and corporate corruption. His interests include national security, corporate abuse, and holding government officials accountable. Andrew's work has appeared on Raw Story, Alternet, Activist Post, and many other sites. You can follow him on Twitter @AndrewEmett and on Facebook at Andrew Emett.