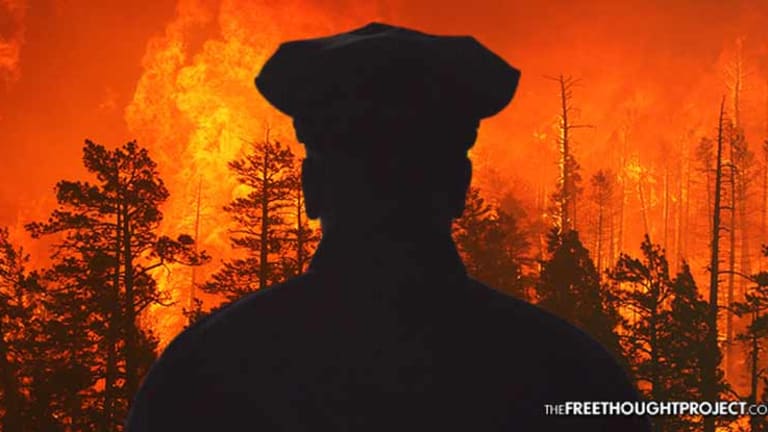 Crazed Cop Admits to Setting Massive Wildfire Because He 'Wanted to Feel the Excitement'
The state trooper used a makeshift timed fuse to set the wildfire which caused evacuations and hundreds of thousands in property damage.
Uintah County, UT -- If you live in the western U.S., you know that every year much of the region is threatened by wildfires which can cause massive property damage as well as environmental destruction.
That didn't stop former Utah Highway Patrol trooper Rex Richard Olsen from using a cigarette to intentionally start a fire on June 9 in Uintah County – "because he wanted to feel the excitement of it."
He didn't just flip a cigarette out of the window, but used a "burned cigarette and match combination…as a timed fuse."
The fast-moving fire consumed more than 1,000 acres, prompted evacuations and caused $800,000 in damage, while threatening the lives of firefighters. Unbeknownst to Olsen, his supremely ignorant act was caught on tape.
The Utah Dept. of Public Safety began investigating Olsen on June 21 after reviewing video surveillance from a gas station. GPS data from Olsen's patrol car was used to verify that the trooper was in the area when the fire started.
Olsen was fired July 1, and has since been charged with arson, a second-degree felony which can bring up to 15 years in prison and a fine of up to $10,000. He was also charged with a misdemeanor violation of Wildland Fire Protection.
"Throughout the investigation, the Department of Public Safety has worked closely with investigators and will continue to do so," said department spokeswoman Marissa Cote. "We regret when incidents happen involving our personnel which reflect negatively on our department."
Apparently, Olsen was so bored with his job that he decided to liven things up with a good old fashioned wildfire. His warped state of mind presumably went unnoticed during the pre-employment psychological evaluation.
As TFTP previously reported, Democratic Representative Lew Frederick appeared at a Portland town hall meeting and announced that he would like to see police officers undergo mental evaluations "once a year."
"I want to have a regular psychological evaluation of every law enforcement officer," Frederick said to the many people in attendance, who responded with cheers.
Frederick suggested mental evaluations for police officers from once a year to once every two years.
"Why is this such a high priority? One word: Ferguson," Frederick said. Although Frederick cited the crazed cops caught on video during the Ferguson protests, we now have another reason other than Ferguson and it could've killed countless people and destroyed way more than it did. Apparently, this department had no idea that they had a deranged arsonist in thier midst — but a psych eval probably would've discovered it.
Fortunately, this cop is no longer in a position of authority, although the police union could very well challenge his firing, depending on the outcome of the trial.
A few days ago, we reported that one-fourth of fired cops get their jobs back, thanks to police unions that seize on procedural mistakes during the firing process to put bad cops back on the streets.
Considering the lives and property put in danger by Olsen's act of arson, it should be a slam dunk case for the court system – but the blue wall of protection can be notoriously difficult to overcome. Often times, the same behavior that puts normal people in jail is excused when it's done by cops.
Just this week, we reported that two cops who arrested people for drugs, stole those drugs and then sold them on the black market for their own profit will not see a single day in jail. Meanwhile, prisons are full of people who did nothing more than possess a plant deemed illegal by the State.