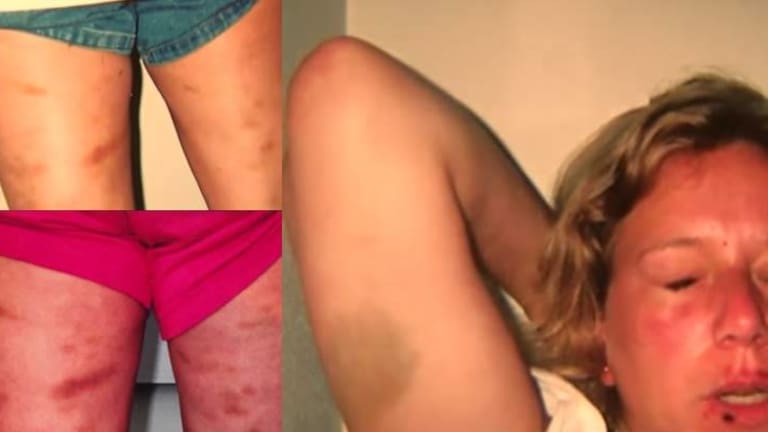 Woman Called 9-1-1 to Report Stolen Wallet, Crazed Cop Showed Up and Beat Her Unconscious
A Niagara Falls cop has finally been charged after a lengthy history of violence against innocent people.
Niagara Falls, NY — Arrested and charged with felony assault, a Niagara Falls police officer has recently been suspended without pay after witnesses reported seeing him kicking and beating a man unconscious with his motorcycle helmet. On Monday, reporters interviewed a previous victim who settled out of court after the same cop arrested and beat her unconscious when she reported her wallet stolen.
On the afternoon of September 5, off-duty officer James Conte was riding his motorcycle when he reportedly pulled up alongside a couple of cars and gave the drivers the middle finger. After following one of the vehicles, Conte waited until the 46-year-old driver pulled into a parking lot before attacking him.
"There was a verbal dispute following the incident on the road," stated Niagara County undersheriff Michael Filicetti. "Following the verbal dispute, our suspect took his helmet and struck the victim in the head and knocked him to the ground."
According to Filicetti, at least three witnesses have come forward stating that Officer Conte beat the victim with his motorcycle helmet before kicking his unconscious body on the ground. Instead of taking responsibility for his actions, Conte allegedly fled the scene of the crime. After Conte was charged with felony assault, the Niagara Falls Police Department concluded an internal investigation and decided to suspend Conte without pay.
On Monday, a second victim came forward describing how Conte beat her unconscious after she called 911 to report her wallet stolen. In an interview with WKBW, the woman, who asked to be identified only as "Maggie," showed reporters pictures of her badly bruised body and battered face when Conte lost his temper and assaulted her.
In 2001, Maggie called 911 to report her wallet stolen. Dispatched to the scene, Conte treated Maggie crudely instead of coming to her aid. After arresting her for loitering, Conte placed her in handcuffs leaving deep bruises on her wrists and took her to jail. With Maggie's hands cuffed behind her back, Conte slammed her face-first onto the jail floor and viciously beat her unconscious.
"To have a police officer assault me in handcuffs was just beyond my worst nightmare," recalled Maggie.
After filing a federal lawsuit against the city, Maggie received a settlement of $22,500 from the City of Niagara Falls. But no disciplinary action or criminal charges were filed against Conte. In 1997, Conte was suspended for shooting a dog, but an internal investigation cleared him of any wrongdoing.
Nearly 15 years ago, Maggie told police, "I said, 'If you're having this renegade cop start off his career like this, what's he going to be like 20 years from now?'"
Although Conte has been charged with felony assault and has recently been suspended without pay, the Niagara Falls Police Department still has not fired this ill-tempered, abusive cop. How many more innocent people must he beat unconscious before this maniac finally loses his job?