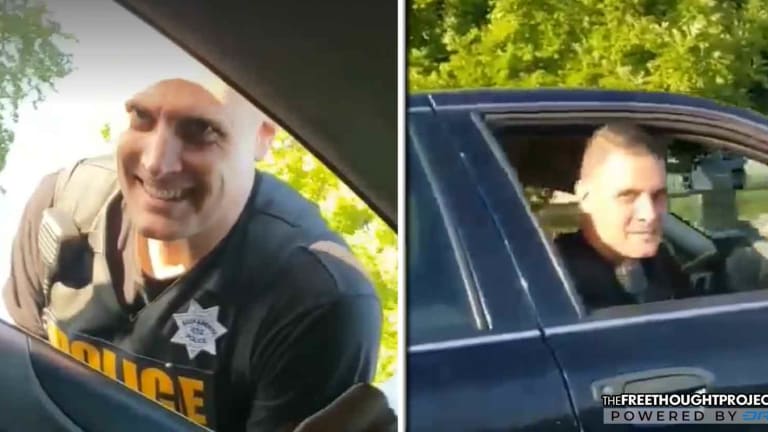 Creepy Cop Caught on Video Stalking Innocent Man, Harassing Him Because He Can
A video uploaded to Facebook recently, is stirring up controversy as it shows a creepy cop laugh and smirk as he and his partner stalk and harass an innocent couple for doing nothing wrong.
Sacramento, CA — A video uploaded to Facebook this week is causing quite the stir online as it shows the inappropriate and outright creepy behavior of two Sacramento police officers. In the video, an innocent couple is harassed by two police officers who were stalking them and ominously laughed about it—like it was funny.
The video was uploaded to Facebook by Sarami Lee Xiong, whose daughter was the passenger in the car being stalked by police. The man driving the car, who goes by the name Kash Alpha, says this harassment had him fearing for his safety.
The controversy in the video arises as many members in the black community say it's a telling example of how they are treated everyday by police. Others are saying that stalking an innocent couple is a good form of police work.
According to Xiong, the couple wasn't pulled over. They were merely driving and noticed that an unmarked police cruiser had been following them for ten minutes. So, to see if they were being followed, Kash pulled over and they began filming.
"I felt nervous. I didn't know what was going to happen," he said, not knowing how these officers were going to act.
Their hunch was right and the car was following them. As soon as they stopped, the officer confronted them, laughed and became sarcastic, as if it is somehow funny to have armed men stalking you and your girlfriend.
"I just want to see who's in your car today," the officer says.
"My girlfriend," Kash responds.
"Obviously, last time you were riding with some bad dudes," the officer continues.
The officer was referring to the last time he stopped Kash, during which he was arrested for no reason. According to CBS 13, who interviewed Kash, he was arrested about a year ago by the same officer for having his registered firearm in his car, but no concealed carry permit.
Illustrating the senseless nature of the stop and subsequent arrest, no charges were ever filed and Kash has no other criminal history in Sacramento County, according to CBS 13.
Toward the end of the harassment, the officer creepily grins at the camera and calls Kash a "dangerous man," noting that he is "just doing his job."
As the two officers drive off, one of them makes a controversial hand signal while the creepy cop winks at Kash, telling him, "every time I see you, I'm going to be looking at you."
"The feeling I got was like a sick, tired feeling. Why? You know, why?" he said.
This harassment is nothing new, though it does seem to be getting captured on video more often. While there is no shortage of criminals out there who need to be brought to justice, or who should be under investigation, Kash is not one of them. As his record shows, he's never been in trouble, yet these officers felt it to be their duty to follow and harass him.
"This is documented proof of what black men go through every day, every day and officers feel they can get away with it," Sacramento NAACP President Betty Williams said.
However, illustrating the divide among police and the policed, Sacramento County Sheriff, John McGinness, disagrees. He called the officer's actions in the video below "reasonable."
"He was arrested before, he knows who he is. He sees him, he follows him. I think it's reasonable. I think that's what most reasonable people would expect of law enforcement," said McGinness.
Watch the video below and let us know what you think. Was this officer merely doing his job, or, did he take it too far and harass an innocent man because he appeared to have nothing better to do?
If you'd like to voice your concern about the video below to the Sacramento police department, you can do so at their Facebook page, here.