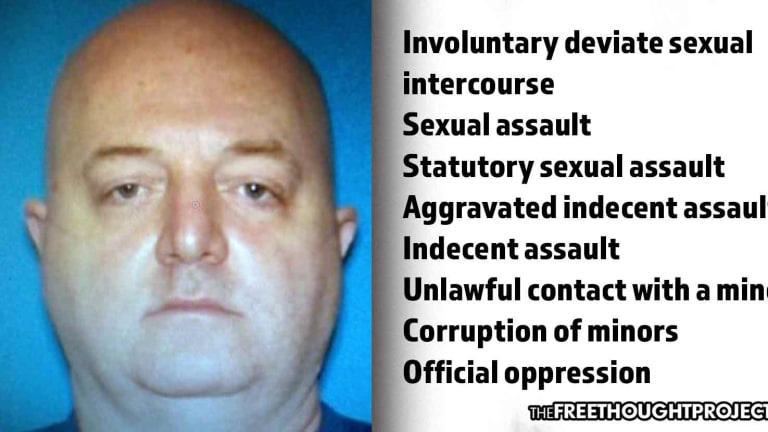 D.A.R.E. Cop Arrested on 122 Charges for Raping Boys While Telling Them Not to Do Drugs
Described by prosecutors as a "wolf in sheep's clothing," a Pennsylvania D.A.R.E. cop is accused of using his authority to prey on multiple children.
Doylestown, PA — The Drug Abuse Resistance Education (D.A.R.E.) program should better be called an hilarious exercise in how not to convince kids to keep away from substances the state deems illegal. As cops hopped on their high horses and had children pledge not to do drugs, the rate of drug use skyrocketed — thrusting the country into one of the worst drug epidemics in human history. The hypocrisy by the cops who pushed the D.A.R.E. program has been well-documented over the years, explaining, at least in part, as to why the program was such a failure from the start. Now, another cop who pushed kids to 'just say no' has been arrested and accused of disturbing criminal activity. 
Warminster Township Police Officer James Carey swore an oath to protect the children of Doylestown and instead of protecting them, according to a recent indictment, this cop preyed on them. Adding to the insidious nature of Carey's alleged crimes against children is the fact that he committed them while pretending to be a role model as the school district's D.A.R.E. officer.
Carey, 52, is facing over 100 charges, announced by Bucks County District Attorney Matt Weintraub on Wednesday. A grand jury presented a whopping 80-page indictment against Carey detailing 122 counts of involuntary deviate sexual intercourse, statutory sexual assault, aggravated indecent assault and other related charges.
Carey is accused of raping multiple boys while working as the D.A.R.E. officer at elementary, middle and high schools in the Centennial School District. The incidents allegedly spanned the course of decades taking place between 1987 and 2009 and involved at least four boys.
"A police officer's creed is to protect and serve his community," Weintraub said. "In a perverse and criminal dereliction of his duty, James Carey instead took advantage of his power and credibility while on the job as a police officer to sexually abuse our community's most vulnerable: our children."
According to the indictment, Carey met his victims at school and would lure them to places outside of campus to prey on them, including on overnight camping trips to the Poconos and to Camp Ockanickon, a Boy Scout facility in Medford, Burlington County, according to the district attorney.
According to the indictment, rumors of the abuse began surfacing long before the investigation as Carey had a reputation of inappropriate behavior around male children which included inviting them to his house to get in his hot tub.
The investigation began to gain steam after a now-adult victim came forward in May and that he had been molested by Carey at a rec center in the township, according to the affidavit of probable cause for Carey's arrest.
According to the the affidavit, Carey would use his D.A.R.E. police officer status to prey on kids caught with drugs, giving them the ultimatum of sexually pleasuring him or go to jail.
The victim explained he met Carey in the D.A.R.E. program. One day, according to the victim, Carey followed him into the bathroom at school and told the victim he needed to search him after claiming to find a bag of marijuana. During the invasive search, Carey sexually assaulted the boy, forcing him to perform a sex act.
The other victims told similar stories of this predator cop who pretended to befriend them in order to force them to perform sex acts.
"The grooming tactics he used were pervasive, manipulative, and calculated such that he not only lowered the minor's guard but also attempted to provide an assurance that his crimes would go unreported and if reported, not believed," prosecutors wrote in court documents.
Carey was booked into jail on Wednesday and almost immediately posted a $100,000 bond. This low bail was despite the judge saying she believed Carey was a danger to the community and that he should be locked up.
"I can't answer for what's in a judge's mind. I wish I could, but I can't," Weintraub said.
Carey's attorney, Michael Applebaum, said Carey "completely denies the allegations and looks forward to defending himself in court."
Prosecutors are not buying it, however.
"He was a wolf in sheep's clothing, preying on those who trusted him," Weintraub said.
In a sick twist, prosecutors say Carey had a co-molester — a man identified as Charles Goodenough. The DA was forced to drop the case against Goodenough because after receiving a grand jury subpoena, Goodenough killed himself.
"We identified Goodenough's victims who were linked to him through the Boy Scouts," Weintraub said.
After listening to the testimonies of the four victims, prosecutors believe there are likely other victims who are just scared to come forward after falling for Carey's devious tactics. They are urging the other potential victims to come forward and help put this monster away for a long time.
"If you or someone you know was molested by this man, please come forward," Weintraub said. "We will help you get justice. We can help you heal."