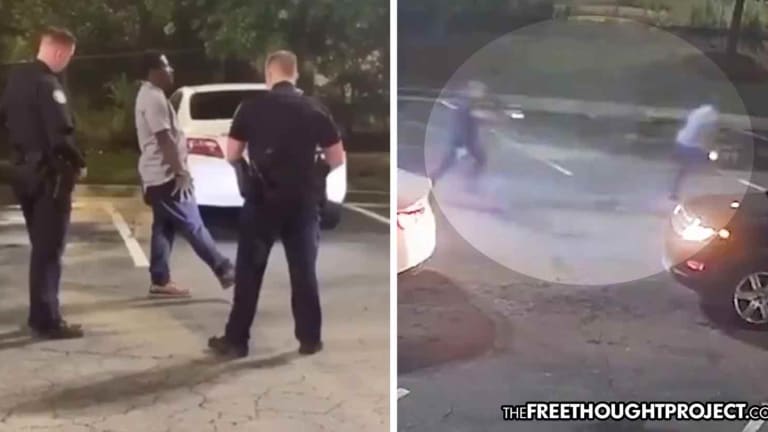 DA Refuses to Prosecute Cops Who Woke Up Sleeping Dad, Shot Him in The Back, Killing Him
Despite glaring video evidence showing police wake up and then kill a father in a Wendy's parking lot, the DA has decided to pass on the case.
Atlanta, GA — One would think that with the heightened tensions between police and the citizens during the summer of 2020, police would have attempted to tone down their escalation tactics. Sadly, however, one would be wrong. Days after George Floyd was killed, another black man was killed after he fell asleep in the drive-thru of a Wendy's restaurant.
Tomika Miller remained hopeful that the officers involved in her husband, Rayshard Brooks' death would be prosecuted. However, the district attorney has decided to pass on the case, leaving the family in despair.
"When I received this message on the media, I fell to my knees and I cried," Miller said Thursday at a press conference.
According to Patch.com:
Newly elected Fulton County District Attorney Fani Willis announced last week that her office would turn the murder case against Atlanta Police Officer Garrett Rolfe over to the office of Georgia Attorney General Christopher Carr.

Citing concerns that a charge of felony murder — causing death when committing an underlying felony — and related charges filed against Rolfe and fellow officer Devin Brosnan were made by former District Attorney Paul Howard during a heated election, Willis passed the case to the attorney general to either prosecute or hand over to another area prosecutor, according to the Atlanta Journal-Constitution.
"My predecessor obtained arrest warrants against the following defendants for incidents that occurred during the campaign," Willis wrote last week in a letter to Carr that was obtained by the AJC. "I believe his conduct, including using video evidence in campaign television advertisements, may have violated Georgia Bar Rule 3.8(g)."
The death of Brooks, a 27-year-old father from Atlanta has already caused massive backlash in the city and this decision will likely cause further outrage. Amid immediate protests sparked at the time, Atlanta Police Chief Erika Shields resigned her position. The officer, identified as Garrett Rolfe, who shot Brooks in the back twice as he ran away was also fired. The other officer involved in the encounter, Devin Brosnan, has been placed on administrative duty.
"There is a clear distinction between what you can do and what you should do," Mayor Keisha Lance Bottoms said in a news conference at the time. "I do not believe this was a justified use of deadly force."
Neither do we.
After killing Rayshard, police released the body camera footage the next day. Several bystander cameras and surveillance camera footage was also released. They paint a disturbing picture, showing the last moments of Rayshard's life.
According to the Georgia Bureau of Investigation, Atlanta police responded to a call of a man asleep in the Wendy's drive-thru. Instead of simply trying to wake Brooks up, some "see something, say something" citizen decided to involve police — which proved to be fatal.
The first body camera video, worn by Brosnan, shows him approach the sleeping father of three in his car around 10:40 p.m. that night.
Brooks is apparently asleep behind the wheel, and Brosnan knocks on the window to wake him up. The officer opens the door and says to Brooks, "Hey man, you're parked in the middle of the drive-thru line here." At first, Brooks does not appear to respond.
When he does wake up, Brooks appears disoriented and incoherent. Brosnan asks whether he's tired and then tells Brooks to pull over into a parking spot. Eventually, Brooks moves the vehicle after some more prodding from the officer, who had to wake Brooks a second time.
Brosnan approaches Brooks' parked vehicle and asks him whether he's been drinking. Brooks tells the officer he had only one drink. As Brooks searches for his license, Brosnan radios to make several requests for another officer to conduct a DUI test.
Brooks appears to be disoriented and probably should not have been driving. He tells Brosnan that he is "visiting."
"Who are you visiting?" the officer asks.
"My mother's gravesite," Brooks says.
"Oh, I'm sorry to hear that," Brosnan says.
When officer Rolfe arrives on scene, he asks Brooks how he got to the Wendy's, but Brooks doesn't remember being in the drive-thru.
After Rolfe gives Brooks a Breathalyzer, Brooks admits to the officers that he'd been drinking because it was his daughter's birthday.
"I think you've had too much to drink to be driving," Rolfe says. "Put your hands behind your back."
At this time a struggle ensues and the two officers force Brooks to the ground. Brooks then grabs the taser from one of the officer's hands
"Hands off the f***ing Taser," one of the officers says. "Hands off the Taser."
Brooks then gets up and starts running away after hitting Rolfe in the face.
In the surveillance video released by the GBI, Brooks is seen running away as Rolfe follows him. Rolfe then switches from his taser to his handgun before Brooks turns and points the taser at him, a fatal mistake.
Rolfe fired three shots at Brooks, two of which hit him in the back and killed him.
Body camera footage also captured audio of bystanders yelling at the officers, with one telling them, "Both of your careers are definitely done, because you just shot a man, for no reason."
L. Chris Stewart, an attorney for Brooks' family, said the officers did not have to shoot Brooks, adding that a Taser is not a deadly weapon.
"If the officer had been a bit more empathetic and a bit less scared, we probably wouldn't have a dead client," Stewart said.
After the news on Thursday, Miller was joined by Georgia State Rep. Erica Thomas and Atlanta City Council member Antonio Brown who expressed their disappointment in the DA's decision and asked another prosecutor to take the case.
"As we stand here, we're asking for the city … and the state to support this case going to a municipality … another county that can truly be able to give this case a fair chance," Brown said.
Below are several videos of the initial stop and field sobriety test.
Next is the fatal last moments from the Wendy's surveillance camera.