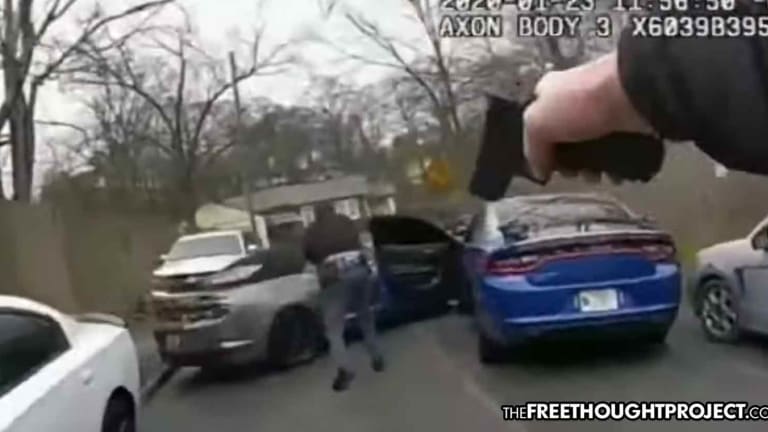 DA Says Killer Cop 'Justified' Despite Video of Him Executing Unarmed Fleeing Father
A cop dumped 9 rounds into a fleeing unarmed father on video and the district attorney ruled this public execution justified.
DeKalb County, GA — Last year, A.J. Smyrna made the poor decision to steal a car. For this crime he deserved to be held accountable. However, he will never get his day in court because when he ran from police, an officer decided to play judge, jury, and executioner, and killed him for it.
After waiting an entire year for justice, Smyrna's parents found out this week that the officer, Georgia State Trooper Brandon Byrd, who fired multiple rounds into their son's fleeing vehicle — killing him — will not be charged with a crime.
"After reviewing all of the evidence and also engaging some use-of-force experts, I made the decision there would be no criminal charges brought against Trooper Byrd in the shooting death of Andrew Smyrna," DeKalb County DA Shirley Boston said.
The incident unfolded on January 23, 2020 when police were in pursuit of Smyrna after learning the vehicle he was driving was stolen. Smyrna attempted to flee officers when they tried to pull him over before Byrd blocked him in. While Smyrna attempted to flee, Byrd opened fire, dumping at least 9 rounds into the unarmed father, killing him on the spot.
"It was a very difficult decision," Boston said. "The key factor, in this case, was whether the vehicle driven by Mr. Smyrna could be used as an offensive weapon against the police officer. Absolutely, that car was in a position to hit, hurt and possibly kill Trooper Byrd."
WSB-TV reported Boston said she determined Byrd was in reasonable fear for his life when he fired.
"This was a split-second decision that Trooper Byrd had to make," Boston said.
Naturally, the killer cop agreed with the District Attorney and claimed his life was in danger, so he had no choice but to kill the fleeing father.
"He was going to do anything he had to, to get me out of his way," Byrd told WSB-TV.
However, Byrd was not in his way, and when you watch the video below, it is entirely clear that Byrd was in no danger of being run over at all. He was on the passenger's side of the vehicle, his patrol car was protecting him, and Smyrna was driving away.
"You saw him driving at you?" Channel 2 investigative reporter Mark Winne asked Byrd.
"Yes, sir," Byrd answered.
"Or driving in your direction?" Winne asked Byrd.
"Yes, sir," Byrd answered.
"And you fired your weapon?" Winne asked.
"Yes, sir," Byrd answered.
"Why?" Winne asked.
"I thought he was going to kill me," Bryd said.
The notion that Byrd was in danger is absurd, and the family and their attorney agree.
Attorney Thomas Reynolds, who is representing the Smyrna's parents and his two children, called the incident "sickening," and says it in no way justifies the use of deadly force.
"It's sickening to watch the video," Reynolds said. "After seeing the video, there is no justifiable way that he could've been in fear for his life when he is standing and shooting from the passenger side of the vehicle and the vehicle is traveling the other way."
"I was appalled," said father Andrew Smyrna Sr.
"I'd like to see justice for my son's life. When my family comes, he's always missing, and it tears me up," said mother Ingrid Smyrna. "I guess I burst into tears when I saw it, but it was surprising in a way because of what the officer said that he feared for his life. He was standing on the side of the vehicle."
The family is now planning a wrongful death lawsuit against the officer and the department.