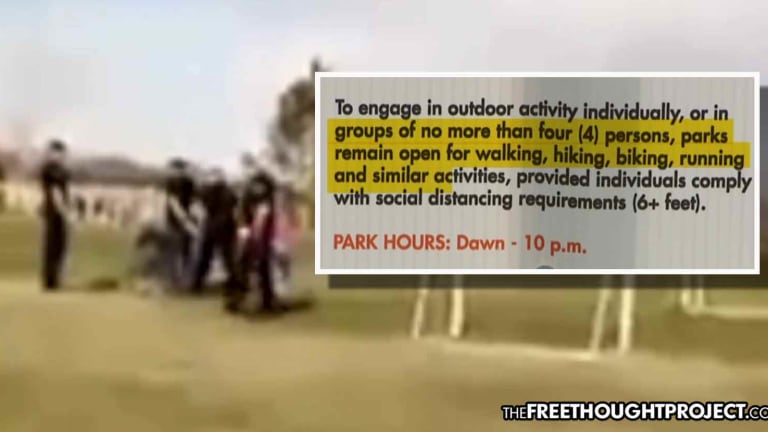 WATCH: Cops Violate Social Distancing to Arrest Innocent Dad for Playing in a Park with 6yo Daughter
To arrest an innocent father lawfully playing t-ball at a park with his 6-year-old daughter, cops violated social distancing rules and potentially exposed a family to COVID-19.
Brighton, CO — Over the weekend, Matt Mooney, his wife, and their 6-year-old daughter were playing t-ball at an empty park when a half dozen cops showed up and kidnapped Mooney. The family was not in violation of any law, were obeying social distancing mandates, and had harmed absolutely no one.
Mooney tells TFTP that the city issued an order that all parks were closed during the COVID-19 shutdown. However, the open spaces at the parks were still accessible as long as certain rules were followed. In fact, the sign at the park at which Mooney and his family were playing read as follows: "Closed" but just below that part, the sign reads, "in groups of no more than 4 persons, parks remain open for walking, hiking, biking, running and similar activities."
Mooney was in a group of three and violated none of the park's or city's rules. The only people violating the social distancing guidelines were the cops who showed up to arrest him.
Mooney tells TFTP that the cops showed up "and attempted to kick everyone out of the open space claiming parks are closed." But they were wrong.
Knowing he was not violating any law, Mooney questioned the officers' unlawful order. "I stood up for my rights and told them I wasn't leaving and they could write me a ticket," he said.
Seeing the officers approach their family apparently made Mooney's daughter a little uneasy.
"She's like, 'Daddy, I don't want you to get arrested.' At this point I'm thinking, 'There's no way they're going to arrest me, this is insane.' I'm telling her, 'Don't worry, Daddy's not going to get arrested. I've done nothing wrong. Don't worry about it,' and then they arrest me."
When cops asked for his identification, Mooney tells TFTP that he refused because he "had done nothing wrong." Indeed, he had done absolutely nothing wrong and the only people in violation of anything were the half dozen cops who then kidnapped Mooney in front of his child.
A vigilant citizen, former city councilman Kirby Wallin was nearby and watched the scene unfold. He did what everyone should do when watching police violate the rights of the innocent and he pulled out his cellphone to record.
"He's being taken by the Brighton police for playing softball with his daughter in an empty park," Wallin said on the video.
In an interview with FOX 31 Denver — who also picked up Mooney's story — Wallin said, "I find it hard to believe with all the things going on in our communities, the only way to resolve a situation like this was to handcuff a father in front of his daughter."
"They arrested me in front of my 6 year old daughter and put me in the cop car," Mooney tells TFTP. "Ten minutes later they pulled me out of the car and released me."
Mooney is now worried, and rightfully so, that the cops who were wearing no PPE and were in clear violation of the social distancing guidelines, potentially exposed this innocent family to COVID-19.
"During the contact, none of the officers had masks on, none of them had gloves on, and they're in my face handcuffing me, they're touching me," he said.
Since this ridiculous kidnapping and police violation of social distancing happened, police have been tight-lipped, releasing only a vague statement on their Facebook page, which is sure to receive plenty of criticism after our readers click this link. 
"The Brighton Police Department is currently conducting an investigation into a situation that occurred late this afternoon at Donelson Park. This is an active investigation and we are unable to provide additional information until the investigation is complete."
As for Matt Mooney, he just wants an apology — which he clearly deserves.
"If we're going to go ahead and start arresting people for no reason in front of their 6-year-old daughter, you're just going to cause more problems later on," he said.
Indeed.
UPDATE: After the publishing of this article, on Tuesday, acting Brighton City Manager Marv Falconburg called Mooney to try to arrange a meeting with BPD Cmdr. Frank Acosta to offer an apology on behalf of the police department, according to KDVR.
"Falconburg conveyed an apology, however, Mr. Mooney has declined the offer for an in person meeting," BPD said via email.