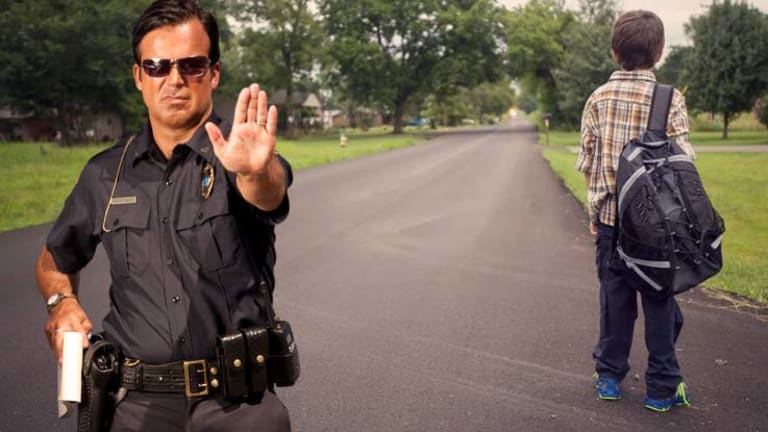 Father Arrested & Charged After Child Accidentally Walked to School on a Saturday
A dad was arrested for child endangerment because his 5-year-old son walked to school by himself — but the ridiculous charges are part of a troubling trend.
Berwick, PA — A Pennsylvania father found himself under arrest after his five-year-old son — not understanding it was a Saturday — walked to school by himself.
Forty-three-year-old Jeffrey Wagner now faces a child endangerment charge for his son's nearly two-mile walk to school amid freezing temperatures on a weekend morning, a local CBS News affiliate reports.
Wagner awoke to his son, Mitchell, insisting it was time for him to go to school, but the father explained there wasn't school on Saturday and told him to go back to bed — then fell asleep, himself.
After Wagner dozed off — thinking the point had been made — the 5-year-old proceeded to dress himself and bundle up to walk to the bus stop. When the bus didn't arrive, the diligent child decided to walk the two miles to get to class.
A concerned motorist spotted the boy and called police, who then picked him up — and subsequently arrested his father.
According to CBS, Wagner waived a preliminary hearing and will now face the charge of child endangerment in county court — all because he slept in on a Saturday morning and Mitchell took it upon himself to walk to school
This Nanny State pursuit of parents guilty only of potential crimes disguised as illegalities marks a vast departure from daily life mere decades ago. As Lenore Skenazy snarkily notes in a blog post for Reason, it's now as if "any child who ventures outside is immediately in such grave danger, no parent should ever allow it, even if they're asleep."
Just years ago, an itinerant child would have been picked up by the same police officer and delivered home with a stern 'talking-to' about the dangers of venturing out without a parent — and Wagner might have received a sharp rebuke — but nothing more.
Increasingly, however, that isn't the case — and parents are finding that just getting their kids to school can be a complex ordeal mired in wholly unnecessary law and unjust punishments.
In Jasper, Tennessee, The Free Thought Projectreported about a mother, who — fed up with her children's repeated tardiness causing them to miss the bus — led her to teach what should have been a valuable and pertinent lesson, but ended in a stunning confrontation with the police state.
In March, Lisa Marie Palmer told her two children she'd had enough of last-minute car rides to school after they missed the bus, again — and they would have to walk the long three miles.
Palmer, concerned for their safety, did not just send the kids on their way — she drove in front of them — proceeding forward until they caught up, in increments.
But Marion County Sheriff's Deputy Chris Ladd spotted the children following the car and stopped to investigate.
Palmer explained the punishment to the deputy — which should have been sufficient for him to either go about other duties, or observe to ensure the children made it safely to school.
However, instead of acknowledging the creative and non-violent means the mother had employed to teach the importance of timeliness, Ladd astonishingly charged Palmer with child neglect — asserting in his report of the incident,
"Temperatures were cold, and traffic was beginning to become heavy with citizens heading to work … Mrs. Palmer was in no position to reach her children safely in the event of an emergency."
Lisa and her husband Douglas even face the possibility of losing custody of their own children thanks to the obscene overreach of the Nanny State.
In Magnolia, Texas, a wholly different issue exists with transporting kids to school — parents there have been cited and threatened with charges or arrest, simply for dropping their children off on school grounds.
At Bear Branch elementary, principal Holly Ray insists parents either wait in the long car line to drop children off, or have them take the bus — otherwise, she says, they're guilty of trespassing.
"She's threatening to arrest people," parent Wendy Jarman said of the unpopular principal to Fox News.
Ray has apparently enlisted the help of Montgomery County Constables to do her bidding, and a number of parents have received citations — others, disgusted with this authoritarian overreach, have withdrawn their children from the school.
"This has happened to many parents," Jarman told Fox News. "They have been cited. They have been threatened, if they step one foot on school property, they will be arrested and charged with who knows what."
Jeffrey Wagner, Lisa Marie Palmer, and Wendy Jarman are just a few examples of otherwise law-abiding parents who simply want to ensure their children receive an education.
Apparently, the Nanny State and its Police State enforcement arm feel sleeping in on a Saturday morning, teaching your kids a lesson about tardiness, and even dropping your children at the front door of school are grounds to be branded a negligent and criminal parent.
Anyone with common sense, however, would beg to differ.