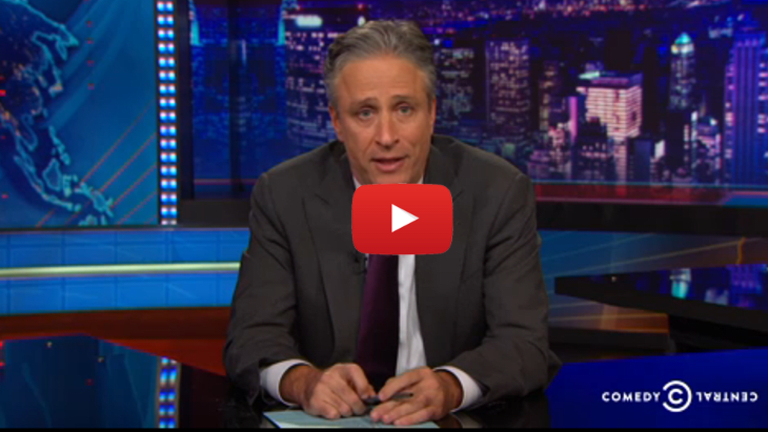 The Daily Show Just Got Serious: Jon Stewart Left Speechless While Talking About Garner Decision
"I honestly don't know what to say. If comedy is tragedy plus time, I need more f**king time," said Stewart.
Jon Stewart responded to the grand jury's decision not to indict Officer Daniel Pantaleo of the NYPD Wednesday night on his show. Pantaleo placed Eric Garner in a chokehold, a maneuver which has been prohibited by the department since 1993, eventually killing the man.
The New York City Medical Examiner's office released a statement ruling the official cause of death a homicide due to "compression of neck, chest and positioning during restraint by police."
This devastating blow to justice was reflected in the somber mood of Wednesday's episode, which was unlike any previously aired Daily Show.
"I honestly don't know what to say. If comedy is tragedy plus time, I need more f**king time," said Stewart.
"None of the ambiguities that existed in the Ferguson case exist in the Staten Island case," Stewart said, "and yet the outcome is exactly the same."
Stewart expressed the emotions which many of us feel about this ridiculous decision not to indict, "Here, there is is none of that [ambiguity]. The coroner called it homicide, the guy's not acting threatening, and we know that because we are f**king watching it. Someone taped it."
"I assume that the solution that they're proposing, if implemented, would look something like the Eric Garner case," Stewart added of one of the Obama administration's proposed solutions of giving cameras to cops, to prevent incidents like those in Ferguson and Staten Island. "To look at the bright side, we're about to save ourselves a s**t load of money on cop-camera vests."
This grand jury decision seems to have set off a backlash from an otherwise once silent crowd. Even congressional members expressed their distaste with the decision.
"The decision by a grand jury not to indict in the death of Eric Garner is a miscarriage of justice. It's an outrage, it's a disgrace, it's a blow to our democracy and it should shock the conscience of every single American who cares about justice and fair play," said Rep. Hakeem Jeffries in a press conference Wednesday. He was not alone in his stance either. Every member of this U.S. congressional delegation voiced their disgust during this press conference.
The Daily Show
Get More: Daily Show Full Episodes,The Daily Show on Facebook,Daily Show Video Archive