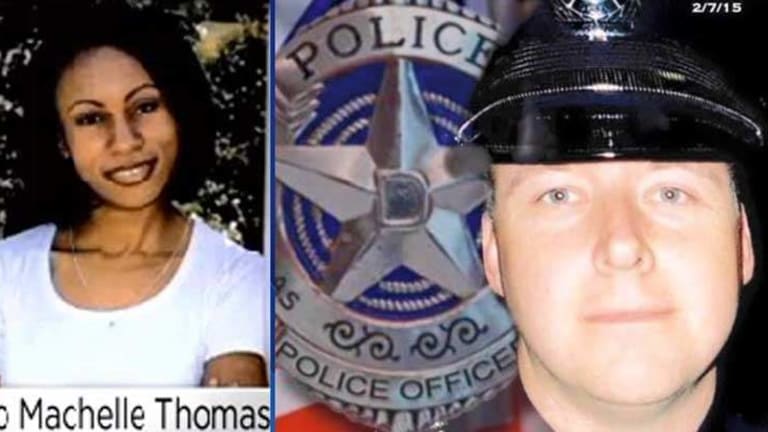 Murder-Suicide Shooter Who Killed Dallas Cop: "I killed him because he was going to hit me again"
After killing a Dallas Police Officer, the woman called 9-1-1 to tell them why. These would be her last words.
Dallas, Texas - Over the weekend a Dallas police officer, Larry Tuttle, was killed in a murder-suicide at his home. Police say the woman that shot him, Otto Machelle Thomas, called 9-1-1 to report that she had killed him, "before he could hit (her) again," prior to taking her own life.
At a press conference Assistant Police Chief Randy Blankenbaker said,
"The 911 clerk asked Miss Thomas what had happened and she replied, 'He was getting ready to hit me again and I just went off. I killed him because he was going to hit me again," according to the Dallas Morning News.
Police said Thomas informed the 9-1-1 dispatcher during the call that she was Tuttle's girlfriend and that her 6-year-old daughter was in the apartment. It isn't clear at this point whether Thomas was living at the residence with Tuttle or not.
When police arrived they attempted to make contact with Thomas, telling her to put down her weapon and open the door, but she seemed to have already made her decision on how things were going to end.
"Miss Thomas called 911 a second time," Assistant Chief Blankenbaker said. "During this call patrol officers can be heard repeatedly giving commands to 'put the gun away' and 'unlock the door.'"
Shortly after walking away from the window where she had been standing, police heard the sound of a muffled gunshot, according to Blankenbaker.
"When SWAT officers arrived they conducted entry into the apartment and discovered Police Officer Tuttle deceased by apparent gunshot wounds," said Blankenbaker. "And Ms. Thomas deceased by what appeared to be a self-inflicted gunshot wound."
Officials refused to comment on the relationship between Thomas and Tuttle, stating only that Tuttle was married. Tuttle's wife, Kandie Morgan, told KXAS-TV (NBC5) that she and her husband have been separated.
Very little information on Thomas is available at this time. However, we found that Thomas appeared in the July 2001 issue of Ebony Magazine, along with a bio that stated she was employed as a military police officer at that time.
The fact that statistics show 1 in 4 women in the US are victims of domestic violence, with those numbers jumping to 1 in 2 if they are married to a cop, underscores the sociopathic nature of many drawn to the law enforcement profession.
Diane Wetendorf, author of Police Domestic Violence: Handbook for Victims, told SF Gate,
"They start out with command presence and voice to gain and maintain control, and if that doesn't work, they go up the scale with an increasing amount of force until they get compliance," Wetendorf said. "Unfortunately, these guys use the same technique with their wives and girlfriends. And some of them go from 0 to 60 right away."
Sociopaths are attracted to positions in which they can assert authority over others, so it really shouldn't come as a surprise that there are much higher concentrations of sociopaths within law enforcement.
This can be illustrated clearly by looking at a cross-section of identified cop killers for the year 2015 that are either cops or former cops.
This week, in Nocona, Texas, an officer responding to a domestic disturbance at a North Texas residence shot and killed off-duty sheriff's deputy Larry Hostetter.
At the end of January, we reported on a Yonkers police officer that shot a suicidal officer from another precinct, claiming he feared for his safety.
Earlier in the January we also reported on an undercover Albuquerque police officer who was shot by another officer during a drug bust over $60 worth of meth. The media called it a "tragic accident" while, in reality, it was another example of police shooting someone who poses no threat to them.
In another tragic incident, John Ballard Gorman was shot and killed by fellow officer during a training exercise in Tunica, MS last month. The officer who shot Gorman failed to switch out his weapon for a training weapon and fired a real round into his fellow officer, killing him.
The cops want us to think that they are being targeted by "cop haters," yet these examples indicate that police have actually killed far more of their own than any other group has thus far this year.
What we are witnessing are hallmark signs of an overly aggressive and out of control law enforcement apparatus that is held to extremely low standards of conduct, very poorly trained and which embraces a shoot first, ask question later ideology that is both rampant and systemic.
Jay Syrmopoulos is an investigative journalist, freethinker, researcher, and ardent opponent of authoritarianism. He is currently a graduate student at University of Denver pursuing a masters in Global Affairs. Jay's work has previously been published on BenSwann.com and WeAreChange.org. You can follow him on Twitter @sirmetropolis, on Facebook at Sir Metropolis and now on tsu.