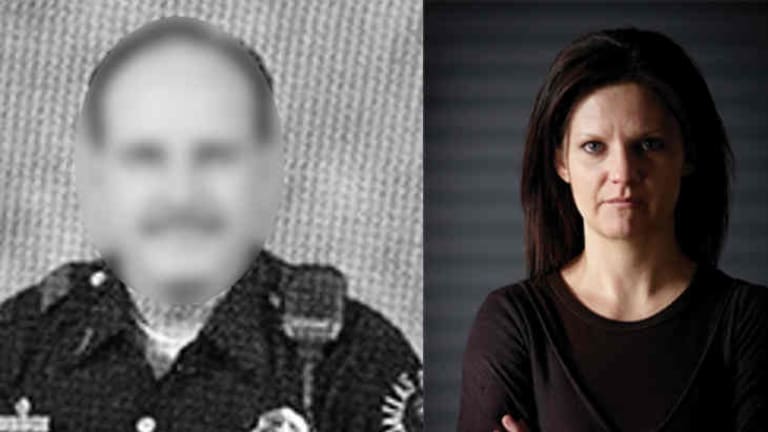 Good Cop Blew Whistle on Corrupt Superior, She Was Fired for It. He got Worse, Was Just Arrested
Former cop says she wasn't surprised when she found out that her prior superior was just arrested for sexual assault, while on duty.
Dallas, TX-- Officer David Kattner, a 26 year veteran of the Dallas Police Department was arrested in late December for sexually assaulting a woman on three separate occasions while in uniform and in his police vehicle.
The evening of his arrest, the officer had called the woman and told her where to meet him. The affidavit states that he had her perform a sex act on him while one of his hands was on his weapon and the other hand was down her pants, after showing her outstanding warrants and telling her he knew where her daughter lives. The woman believed this to be a threat to her and her daughter's safety and complied.
The detectives were already on the scene and were aware the assault was taking place as it happened. Instead of stopping the attack, they waited until it was over and questioned the woman, who they describe as "a known prostitute," as she went to leave the scene.
The 44 year old officer is currently on paid leave and out on bond as the investigation into his second degree felony continues. Oddly, the department refused to release any photo of the officer or his mugshot, stating they will not release it during the "on-going investigation" despite it already having been published in D Magazine in 2007.
The department is asking for any additional victims to come forward, and unfortunately it is likely there are many, due to the department's own negligence.
Back in 2006, a then rookie officer named Shanna Lopez was terminated after she came forward and told one of her trainers that Kattner and three other Central police officers had systematically mistreated prostitutes, WFAA reports.
"Those are real people," Lopez said. "Each and every one of those people were not only degraded and humiliated and targeted and hunted on a nightly basis for years."
Rookie officers go through several months of field training, and Lopez' first trainer was Kattner. She alleges that she witnessed him filling out blank citations on prostitutes for minor violations like jaywalking before even leaving the station each evening.
Lopez explains that he was "seeding the field" with class C citations that would later become warrants. Kattner kept a notepad in his shirt pocket with the names of prostitutes and street-level criminals he regularly saw, as he needed to keep information such as their addresses and date of birth handy to complete the illegal citations.
From February 2006 through July 2006 over a quarter of the citations written by Kattner and three of his buddies were issued "at large" or "refused to sign."
She describes Kattner and the two others as being obsessed with prostitutes, who were easy targets for them.
She explained to D Magazine in June of 2007 an evening where she was out with Kattner and an officer Nelson who had just taken a prostitute into the back of his police vehicle for a game he called "64 questions," meant to demean the women.
"Give me the four reasons why you hate to f--- niggers." "Give me the four reasons you hate to f--- spics." "What are the three things you like to do every day?" he would ask.

After releasing the woman, Nelson told Lopez, "They know the routine. They do what we tell them. You break them down like that, and they'll do anything you want. They'll come when you snap your fingers."
Eventually she brought what was happening up to a subsequent trainer, who explained that they cannot do that, and that it is illegal to write citations for people you never stopped or detained.
"He was like, why would he use that to write tickets, because usually you have someone in your custody and you write a ticket and there they go. I was like, 'I don't know; he'd write four or five tickets a night before we'd ever leave the station and then write a few more when we would be at Lew Sterrett while I'd be typing up my jail report, turn them in at the end of the night .' He said he was the number one ticket writer at Central."
The trainer told a sergeant what Lopez told him, and that's when she claims everything changed and she began to be treated as though she was incompetent. She was called into a meeting with her current trainer and Sergeant Deborah Ann Branton where she was intensely scolded and told she has done nothing right. It was boggling, as she had received praise previously.
"I've heard you've been going around talking about illegal arrests and other activities by other officers," Lopez recalls Sergeant Deborah Ann Branton saying.
Branton then proceeded to ask her if she ever tape-recorded any of the conversations. Unfortunately, Lopez had not. After she left the meeting she overheard Branton saying "This should be easy. Gayle did a good job of documenting it."
Shortly before being terminated, Lopez was confronted by Kattner outside of Central Patrol.
"He said he had heard that I was going around saying he was writing tickets to people that don't exist," Lopez told WFAA. "He was like, 'I will hunt you down and hurt you.'"
Lopez was terminated without proper explanation in October of 2006, despite having a glowing record and even receiving a commendation two days before her demotion in August.
After Lopez came forward another whistleblower came forward and two of Kattner's buddies were fired, a third suspended, over their ticket writing scheme. Kattner faced zero repercussions.
According to WFAA, Lopez also was allowed to reapply to the department after signing a 10-page settlement agreeing not to sue the department over her earlier termination. She was rejected for rehire after background investigators wrote a detailing memo claiming — among other things — that she associated with gang members and street criminals and had dated a neighbor who was a gang member.

The December 17, 2007 memo stated that gang unit officers had obtained sworn affidavits attesting to those facts. But those affidavits were dated January 9, 2008 — more than three weeks after the date of that memo. Police officials told News 8 that they are looking into the date discrepancy.

Lopez denies the allegations detailed in the memo. She believes the department never had any intention of rehiring her.
It is truly unfortunate that honesty and being a decent human within the ranks is such dangerous business. The thin blue line makes calling out corruption something that can be done by only the truly brave and heroic, which many departments seem to be lacking. It is also unfortunate that the officers who are protected by their peers face no consequences and thus have no reason to modify their behavior.
Last month we reported on a heroic officer in Buffalo, NY who was punched in the face and fired after she stopped a fellow cop from choking a handcuffed man. The officer who assaulted her and the handcuffed man kept his job. He went on to later assault two other officers and was indicted for civil rights violations against four black teenagers.
Its time to start placing the discipline where it is deserved.
UPDATE: Senior Cpl. David Kattner was found dead in his home on Friday morning by his wife, after an apparent self inflicted gun shot wound. He was supposed to meet with internal affairs that morning.