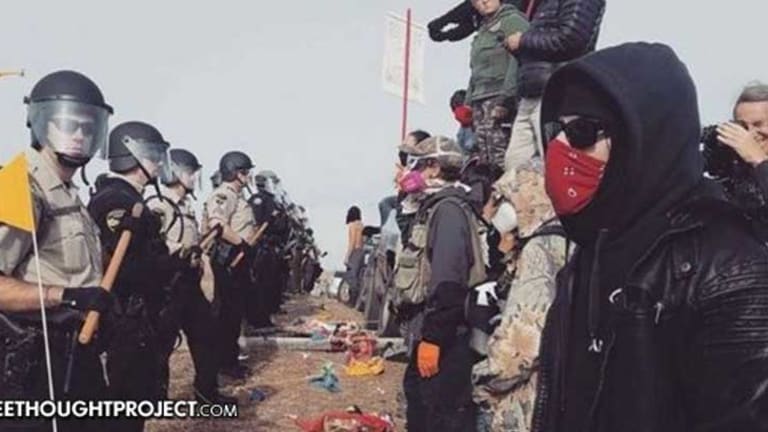 Water Protectors Expose Moles in Their Ranks, Infiltrating DAPL Protests, Provoking Police
Infiltrators, not legitimate water protectors, at camps blocking Dakota Access Pipeline construction are responsible for violence.
In a recent interview, Indigenous Environmental Network coordinator and activist, Dallas Goldtooth, revealed startling information about unwelcome people present in the encampments supporting the Standing Rock Sioux in their opposition to the Dakota Access Pipeline — infiltrators.
And not just typical government moles, either — though undoubtedly, as was the case with Occupy, they have also staked a claim in the Oceti Sakowin, Sacred Stone, and other camps. As Goldtooth explained, Energy Transfer Partners, the company constructing the pipeline, has deployed infiltrators to the camps to purposely heighten tensions with police and ruin the water protectors' established policy of nonviolence.
Democracy Now!'s Amy Goodman originally interviewed Goldtooth a few weeks ago, but did not publish the full interview until yesterday — and the information would be good to keep handy when someone claims water protectors have been violent and thus deserve brutality wrought by the Morton County Sheriff's Department and the other law enforcement agencies guarding the pipeline.
Goldtooth began his discussion about agitators in the context of a troubling incident which occurred in late October — in the exact location, Highway 1806's Backwater Bridge, where a number of confrontations between water protectors and police have taken place.
Although some details remain sketchy, on October 27, water protectors spotted a man in a Chevy Silverado with an AR-15 rifle in the passenger seat speeding down Highway 1806 toward one of the camps. Worried for people's safety, tribal members and other water protectors jumped in their vehicles, chased the man down, and forced the Silverado from the road near Backwater Bridge.
Multiple eyewitnesses said the man, later identified as Kyle Thompson, got out of his vehicle, brandishing the rifle and a 9mm pistol — and aimed the AR-15 at the head of one of the people who had chased him down.
"You can't kill all of us," one person told Thompson. "You're just going to make things worse."
Thompson wore clothing mimicking a water protector — as if he intended ultimately to infiltrate the camp to cause violence and make it appear as if the water protectors weren't peaceful opposition to the pipeline.
After exiting his vehicle, Thompson waded into the water and refused to hand over his weapons — but the tribal members managed to keep him at bay for half an hour until Bureau of Indian Affairs police arrived to make the arrest.
">
Once Thompson was taken into custody, water protectors scoured his vehicle for information — and discovered a DAPL (Dakota Access Pipeline) security badge with his picture and vehicle insurance held by Dakota Access LLC.
Goldtooth told Democracy Now! that Thompson admitted to tribal security he was, in fact, employed by Dakota Access — likely as a security contractor, though that remains unclear.
"I think that it's pretty terrifying to know that there—that Dakota Access has infiltrators within our camp, is paying for individuals like this, armed individuals, to create situations of escalation, potentially creating very, very dangerous situations by—you know, we don't know what his intention could have been," Goldtooth explained. "He could have, you know, fired upon police, creating a situation where the police think it's coming from our protectors when it's not. I mean, it goes hand in hand with this series of mysterious situations that really paints—creates a situation where we have to feel suspicious about what Dakota Access's intentions are."
Despite the altogether damning evidence proving Thompson to be a pipeline employee in some capacity, Dakota Access denied the man worked for the company.
Obviously, one rogue person wouldn't be sufficient evidence of outside actors infiltrating the camps to paint water protectors in an unpleasant light — but there have been other indications agitators are present in the camps for that purpose.
Heightened violence by police defending the pipeline began in earnest earlier in the day on October 27, when law enforcement used rubber bullets, tear gas, and pepper spray to forcefully clear a nascent frontline camp near Backwater Bridge along Highway 1806. In the process, police destroyed a number of tents and disrespectfully dismantled a teepee after refusing to allow water protectors to take it down themselves, arresting over 100 people in the process.
Agitators quickly took advantage of the situation, as journalist Derrick Broze, who camped with water protectors, wrote for Mint Press News, "In stark contrast to the water protectors' many actions of peaceful prayer and ceremony, the atmosphere at the bridge the night of Oct. 27 was more reminiscent of an outdoor rave. The protesters on the bridge set fire to an SUV, and threw rocks and other objects at a row of armored vehicles operated by law enforcement. This small faction of non-peaceful protesters and officers briefly tossed smoke bombs back and forth.
"Officers eventually lit two smoke bombs on the north side of the bridge before parking two armored vehicles at the exit to the bridge, preventing water protectors and protestors from evacuating in that direction. All law enforcement vehicles were gone within a matter of minutes, and protesters climbed aboard the armored vehicles before setting fire to them."
Those vehicles burned through the night, but neither police nor fire crews bothered to return to extinguish the flames. Broze continued:
"On Oct. 28, water protectors and elders arrived on the scene to retake the bridge from the agitating faction in all-black clothing, a tactic for protests and marches known as 'black bloc.' There were no more than 20 of these provocateurs, and they all traveled together in five older pick-up trucks. Several fights broke out on the bridge as the agitators clashed with those calling strictly for prayer and ceremony, and the agitators were run off the bridge and back to the camps within an hour."
The fact, these agitators used black bloc tactics — wearing all-black, nondescript clothing to make identification and arrest by police difficult — is significant, as law enforcement has been caught on multiple occasions infiltrating protest movements this way. Police officers, federal agents, or even pipeline security could easily opportune that tactic during conflicts or pose as water protectors, who often shield their faces with bandanas, to gain entry into the camps.
Tribal members condemned the violent acts and the encampments have well-established rules against destruction of property, weapons, and violence by anyone who wishes to support their opposition to Dakota Access.
Still and drone photographer, Tim Yakaitis, has stayed in the North Dakota encampments on multiple occasions, and also noted the presence of agitators.
"The violence isn't coming from the protesters," he told the Record Journal. "It's coming from the black ops security infiltrators who have come in to start violence so that the pipeline company and the police can point at us and say it's our fault."
Yakaitis also claimed he had 'spoken with an underground hacker who found a document stating that Dakota Access LLC has contracted 75 agents from a security company. From what he's seen, the security company is sending infiltrators into the camp to pose as protesters and create violence.'
A set of guidelines published by Indian Country Today explaining what to expect if you join the Standing Rock Sioux and Cheyenne River Sioux Tribes in North Dakota expressly addresses the issue of outside agitators and spies present in the camps. Supporters are strongly cautioned not to follow instructions given by non-Native leadership, and are reminded the protection of water in the case of Dakota Access is an Indigenous issue:
"Keep in mind that there are infiltrators in camp. Don't gossip. If someone tries to persuade you to take action not called for by Indigenous leadership at the camp, check with an elder or other leader."
Law enforcement and the pipeline company have a vested interest in making opposition to Dakota Access appear violent and destructive — if water protectors aren't as peaceful as they claim, police would have a sound reason to lash out and brutalize the group, and the company could legitimately claim the camps need to be cleared for construction to continue.
Although Indigenous water protectors advocate prayerful, peaceful opposition and acts of civil disobedience without violence and destruction to begin with, it's likely the policy of non-violence exists in part precisely because infiltrators were expected.
If someone you know claims water protectors have brought brutal police actions on themselves, it would benefit them greatly to be privy to this information. Opposing the Dakota Access Pipeline is imperative to preserve clean drinking water — not only for the Standing Rock Sioux Reservation, but for 18 million people downstream.
As Dallas Goldtooth noted, law enforcement and the pipeline company seem not to value life or have any considerations for the future.
As he explained of incident involving Thompson, "it just clearly paints that Dakota Access has no regard for common decency or any kind of corporate responsibility. And it's really surprising that people are still invested in this company."