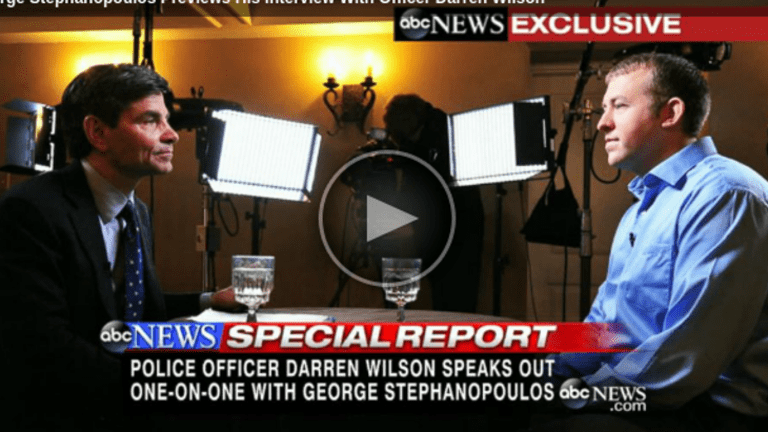 Darren Wilson Breaks His Silence: He's Sorry, But He Was Just Doing His Job
"I know I did my job right," says Darren Wilson in the first time he's spoken in public since killing an unarmed teenager in August.
ABC News' George Stephanopoulos is the first to interview officer Darren Wilson since he shot and killed unarmed Michael Brown in August.
 In television terms, the Wilson interview was one of the biggest "gets" of the year. Wilson sat down with Stephanopoulos, the "Good Morning America" co-host, less than 24 hours after a grand jury decided not to indict the 28-year-old officer in the shooting death of Michael Brown this summer.
According to ABC, despite his grand jury testimony, in which he labeled Brown as a "demon" and compared him to Hulk Hogan, Wilson said there would have been no difference in his response or actions if Michael Brown had been white.
After seeing all the evidence the 12-member grand jury decided not to bring charges against Wilson. Apparently the jurors felt that the evidence was not sufficient enough to bring even the lowest charge Wilson was facing, second-degree involuntary manslaughter.
Post interview, Stephanopoulos shares that Wilson says he is sorry for the loss of life, but he was doing what he was trained to do, has a clean conscience, and would not do anything different. He did what he was trained to do.
This interview is a kick in the head to those with personal ties to this case. What do you think, was justice served or was this case a mockery of justice? Let us know in the comments below.