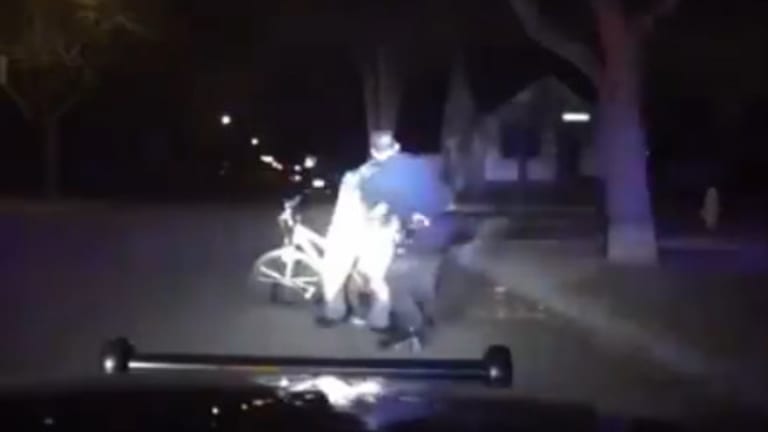 Dashcam Footage: Innocent Mentally Ill Man Beat Down by Cops for Riding His Bike
May 8, 2014
Imagine this scenario. You are riding your bike home when your chain comes off. So you pull over to try and get the chain back on.
All of the sudden a man dressed in black, carrying a gun, who you cannot understand, walks up to you and begins to interrogate you.
You may or may not have an id on you, and you may or may not know that he is even asking for your id.
The next thing you know, this man in black with a gun, becomes physically aggressive towards you, grabs you by the neck, throws you to the ground, and begins beating you.
Then another man dressed in black with a gun shows up, and begins physically assaulting you as well.
Now, imagine having a diminished mental capacity and unable to process the entire situation as quickly as someone that is not mentally challenged.
Would you immediately lay still and let these two men in black with guns, do whatever they want to you? Or would you resist?
Well, Ali Baydoun was in this exact situation and was subsequently beat down because of it.
The fact is that Baydoun was involved in ZERO criminal activity, he was not a threat to anyone, and the only thing he did wrong was cross paths with a cop.
Attorneys for Baydoun, have filed a Civil Rights Complaint against the Dearborn Police Department and plan to follow it up with a federal lawsuit alleging excessive force, false arrest and assault and battery.
Dearborn Police Chief Ron Haddad, told 7 Action News that an internal review of this case found no excessive force and officers used proper procedures including an officer using his knee to subdue the man while he was on the ground and being held by other officers.
What do you think? Was this unprovoked assault on a mentally challenged man "justified"?
Here is the raw dashcam footage of the incident.