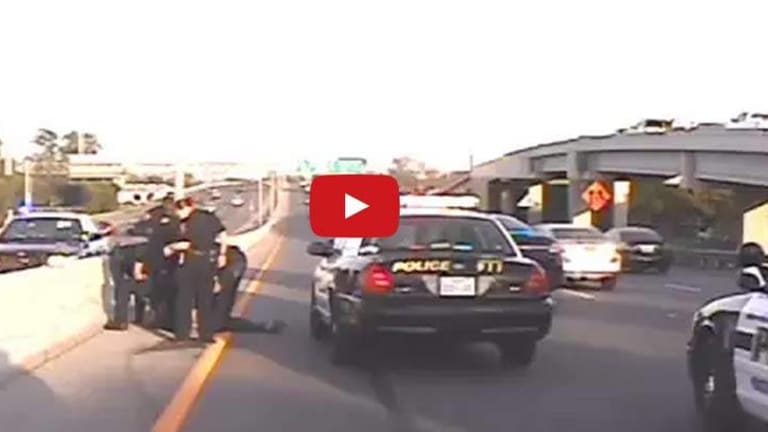 Newly Released Dashcam Footage Shows San Antonio Cops Suffocate Man to Death on Roadside
SAPD originally claimed that this man died from cardiac arrest. however, dashcam footage has been released showing the officers suffocating the man to death.
San Antonio, TX--The family of Jesse Aguirre, 37, who was killed by San Antonio police just over two years ago have filed a lawsuit against the city and eight police officers involved in his killing. Recently released dashcam footage captured the final moments of the tragic event that left a boy without his father.
Named in the suit are officers Cristina Gonzales, Roberto Mendez, Jennifer Morgan, Bettina Arredondo, Ronald Haley, Benito Juarez, Robert Encina, and SAPD spokesperson Douglas Greene.
The lawsuit, filed on behalf of Aguirre's son and widow states that Aguirre's civil rights were violated when the officers ended his life.
Aguirre had been in a car accident. He was intoxicated and high on cocaine when he attempted to leave the scene of the crash in an "excited delirium" after his girlfriend decided to break up with him. The police allege that he was driving a stolen vehicle and arguing with his girlfriend when he crashed into a fence.
The department alleges Aguirre resisted arrest when officers caught up with him and cuffed him. They claim four officers were needed to subdue him. The department told his wife that he died from cardiac arrest, and it wasn't until she received the autopsy report that she found out that wasn't exactly the case. The lawsuit alleges that the police suffocated him to death.
"While Mr. Aguirre was on the ground he made numerous cries for help and pleaded he could not breath," the lawsuit states. "The officers were deliberately indifferent to the fact that Mr. Aguirre was suffocating under the weight of the officers and in serious physical danger of asphyxiation based upon the positional restraints and body weight and force applied to him."
In the video, Aguirre is seen walking, not running, away from officers who have their weapons pointed at him. When he stops to speak to the officers, he is handcuffed and then violently flipped head first over a concrete road barrier.
"Come here, come here, I'm going to shoot you motherf*cker!" a female officer yells as she approaches him.
Eventually, he is slammed face down on the ground as the officers pile on top of him.
"After several minutes without any action taken by the officers to relieve Mr. Aguirre of physical distress and danger, Mr. Aguirre stopped communicating and moving," the complaint stated. "After several more minutes of Mr. Aguirre lying motionless face down on the highway with the officers' body weight on top of him the officers finally realized he was not breathing."
" width="791" height="593" frameborder="0" allowfullscreen="allowfullscreen">
The problem of corruption and negligence within the SAPD is anything but isolated. In fact, their rap sheet rivals some of the larger and more corrupt departments throughout the country.
In February, an SAPD officer, held his wife and children hostage in a standoff with police. Because of the ridiculous system of justice, this cop gets to keep his peace officer's license.
Lasy year, three SAPD officers severely brutalized an innocent man as he tried to photograph his wife's new location for her medical practice.
When KENS 5 news interviewed then SAPD police chief William McManus, he stated that "Clearly it was a case of mistaken identity. From the report that I've read, from the photo that I saw and from your description, I've not seen anything at this point that would indicate to me that anything out of order happened."
According to the chief himself, beating an innocent man to the point of hospitalization is completely normal.
In January, the Free Thought Project brought you the story of SAPD officer Serena Botello whose GPS was also used to show her negligence, exposing the fact that she had refused to do her job, not once, not 5 times, not 15 times, but 23 times in just a two-month period.
One of these 23 incidents was even caught on Botello's dash cam as well. She was seen driving away from a shooting in which she could have possibly saved the victim's life.
Also in January, a former SAPD officer was sentenced to 18 months in jail for gruesomely stabbing and shooting his family's dog.
In July of last year, it was the SAPD who brutally beat a 16-year-old boy because they smelled marijuana.
Also in 2014, it was 2 SAPD officers who brutally beat a 70-year-old man because they thought he was drunk. He was having a diabetic attack.
But sure, these and the many others, are probably all just isolated incidents.
Fed up yet? Visit our #solutions section to see the ways you can aid in the struggle for peace.