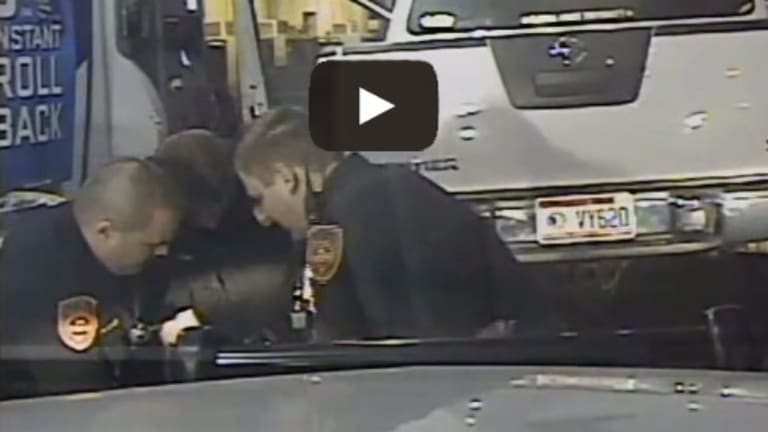 Dashcam Footage Shows an FSU Student Brutalized During a Routine Traffic Stop
An overzealous FSU police officer on a power trip pulled a college student over for the "crime" of spinning his tires.
Because of the tendency police have to escalate all situations into violent ones, a routine traffic stop soon turned into a torture session for this college kid.
Below is dascham video taken from an FSU Police squad car as three officers pull 20 year old Kyle Knapp from his car and force him to the ground during a traffic stop on December 22, 2013.
According to WCTV, Knapp was charged with DUI, resisting arrest with violence and battery on a law enforcement officer.
These officers are either delusional or lied about these charges of resisting arrest, violence, and battery on a law enforcement officer. Were they talking about THIS kid in THIS video? If so, they should be forced to serve all the penalties that Knapp faced for their erroneous charges.
It's hard to see what happens on the ground, but you can hear officers deploy a taser twice as they try to get Knapp in handcuffs.
WCTV continues, "It was horrific," FSU junior Kyle Knapp said. "I wasn't attacking them, I wasn't thrashing or anything. I was just face down on the ground with my arm pinned up underneath me. I felt something in my back and he said give me your arm and I said I can't and then he released the taser."
Knapp's attorney, Don Pumphrey, says the officer's report did not match what was on the tape.
"If you look at the tape like the state attorney's office did, it doesn't compare," Pumphrey said.
"Is it excessive force?"
"That's an understatement," said Pumphrey.
"It's offensive," Pumphrey said, "and unacceptable in this community."
Pumphrey says his client never resisted or fought back and claims you can see an officer on the tape punch Knapp while he is still strapped in with his seatbelt.
Witnesses say a bystander across the street was recording the whole thing on his phone and officers crossed the street to confront him.
FSU's Police spokesman says he does not have any knowledge of that.