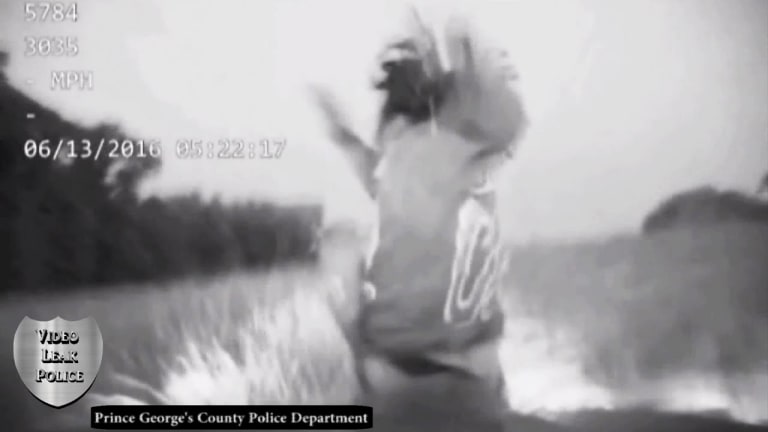 Cop Found Guilty After Dashcam Shows Him Try to Kill a Man with His Police Cruiser
Disturbing dashcam footage released this week of an officer running down an unarmed man explains why this cop was just found guilty.
Prince George, MD — A Prince George's County police officer was found guilty of 2nd-degree assault on Wednesday after dashcam video shows him try to kill an unarmed pedestrian with his patrol car. Although the incident happened in June of 2016, the dashcam video was kept hidden from the public — and we now know why.
On June 13, 2016, officer Juan Hernandez was responding to an incident of an alleged armed suspect. When Hernandez and his partner pulled up, the partner got out and chased the suspect on foot. Hernandez, however, decided to pursue him with his vehicle.
When the man turned and ran into a field, Hernandez accelerated and ran him down, proving that this man had every reason in the world to fear the police and run. Luckily for the alleged suspect, he went over the car instead of under it.
After running over the man, police found no weapons on him. However, after being run over by a crazed police officer, the suspect, 23-year-old Ulrich Boaoutou was charged with possession of a controlled substance, disorderly conduct, resisting arrest, and failure to obey a lawful order.
In other words, Boaoutou was charged for running from the cops because they wanted to kidnap him for having a substance they say is illegal. And, during that process, one of the officers tried to kill him over it.
Hernandez has been on paid administrative leave since the attempted murder via police cruiser. The officer of 11 years now is now facing the possibility of up to 10 years in prison and $2500 in fines.
"While it is never a good day when we have to prosecute one of our own, it is important that those we serve understand that we will hold law enforcement accountable when their actions go above and beyond what is necessary," Prince George's County State's Attorney Angela Alsobrooks said of Hernandez' actions.
This incident is similar to one the Free Thought Project covered in from May of 2013 when the two officers pulled over 23-year-old Najee Rivera on his motor scooter.
Police say Rivera got scared of the officers and drove off. Both of the officers wrote in their official reports that Rivera fell off of his scooter and hit the pavement.
According to the officers' account, Rivera resisted arrest, tried to grab a police baton, and that's when one of the officers hit him in the face. Rivera was subsequently charged with resisting arrest and aggravated assault.
Their entire account of what happened was a lie.
Just prior to the case going to court, a surveillance video surfaced from a nearby store. Rivera's girlfriend, who knew Rivera was innocent of the charges, finally found the video after a long search.
"The video undermined every aspect of the officers' account of the incident. A grand jury found none of it was true except for the blows inflicted on Najee Rivera," Philadelphia District Attorney Seth Williams said of the incident.
After they ran over the innocent man, Officers Kevin Robinson and Sean McKnight were charged with Aggravated Assault, Simple Assault, Criminal Conspiracy, Recklessly Endangering Another Person, Tampering with Public Records or Information, False Reports to Law Enforcement Authorities, Obstructing Administration of Law, and Official Oppression.
Sadly, last year, after a jury saw video of two cops run down an innocent man in their cruiser, beat him to a pulp, lie on the report, and cover it up, the corrupt cops were acquitted.