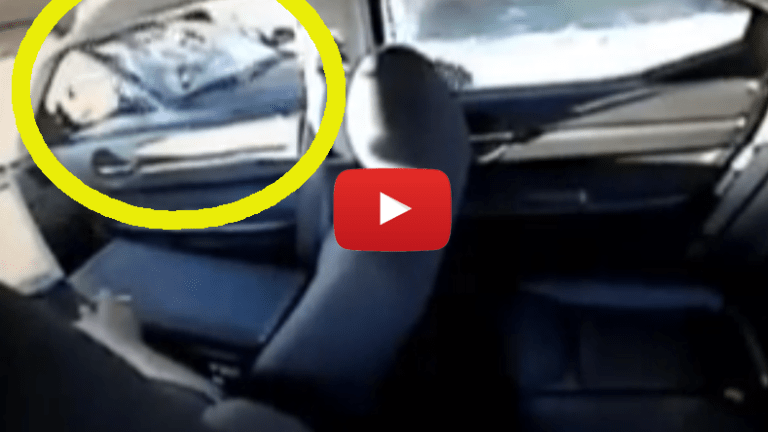 Dashcam Shows Cop Drive By Woman Whose Kids Were Being Taken at Gunpoint
"Right here what, baby? I'm on a call."
Those were the words uttered by 28-year veteran of the Dallas PD, Cpl. Les Richardson as he drove by a mother screaming for his help as her children were being taken at gunpoint.
Richardson was fired this week for his negligent actions in refusing to help Miesha Kilson who was flagging him down as her kids were being kidnapped by a deranged lunatic.
In September, Miesha Kilson was being chased down by a crazed man with a gun, Steven Douglas. During the chase Kilson hit a curb which left her vehicle disabled. Douglas then came over to Kilson's vehicle and proceeded to kidnap her children at gun point.
"He reached into the windows, pulls it out," said Kilson. "And as the window exploded in my face, I actually thought he shot it; I didn't know at the time. But I did see his hands up and he pulled [the window] out. And I looked over, and as I looked up out that passenger window, I swear I saw an angel 'cause I saw a police car right at my car."
In that police cruiser was Cpl Les Richardson; Kilson's angel quickly vanished.
Douglas was eventually caught and killed by other Dallas police officers but not before kidnapping two children.
Disciplinary hearings were held last month in which Dallas police commanders recommended that Officer Les Richardson be terminated by Chief David Brown. Thankfully Chief Brown made the right choice to fire him.
The four allegations against Richardson were: dereliction of duty, improper comments, failure to immediately clear upon the completion of a call and use of tobacco products in a city vehicle.
Richardson has the right to appeal the charges and ask for his job back.
This firing was quite surprising considering that the Supreme Court ruled that the police do not owe a specific duty to provide police services to individuals based on the public duty doctrine. In other words, police do not have a constitutional duty to protect a person from harm.