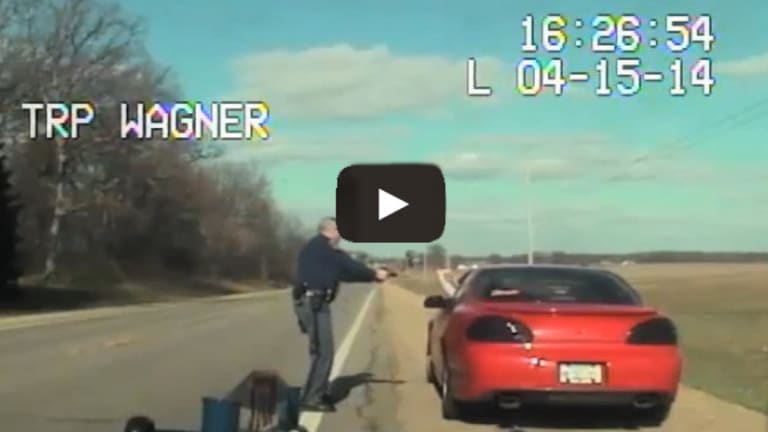 Dashcam: State Trooper Pulls Gun on Teen Girl "Did You Enjoy Having a Gun Pointed at You?"
May 19, 2014
An 18-year-old was driving faster than the posted speed limit when she crossed paths with Michigan State Police Trooper Timothy Wagner.
Apparently Wagner was still a bit shook-up over losing a fellow law enforcement officer in March, so he felt it necessary to assault this woman with a deadly weapon.
The fatal shooting of a fellow trooper was "at the forefront" of Michigan State Police Trooper Timothy Wagner's mind last month when he pulled his handgun and pointed it at an 18-year-old woman during a traffic stop near Sturgis. This was according to a written statement Wagner provided to Detective 1st Lt. Chuck Christensen after Christensen informed Wagner he was under investigation for allegations of excessive force.

"With the recent incident involving the murder of Tpr. Paul Butterfield while approaching a vehicle at the forefront of my mind I elected to 'clear' the vehicle for my safety as I feel the vehicle could have suddenly pulled to the side in an effort to lure me into a vulnerable position where I could easily be shot," Wagner said.
There is no justification for needlessly pointing a weapon at another person who poses no threat. Speeding is not equated with cop killing and endangering the life of another person because of your "vulnerable" state of consciousness, is not an excuse.
Mobile users can see non flash version of video, here.