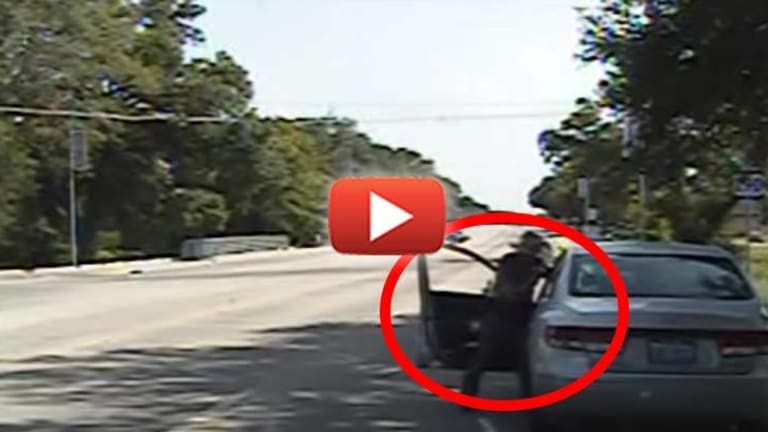 Dashcam Video Released in Sandra Bland Traffic Stop Shows Aggressive Abuse by Texas Cop
Newly released dashcam footage clearly shows who the aggressor was in the case of Sandra Bland, who was pulled over for "improper lane change."
Waller County, TX -- As more details emerge about the incident involving Sandra Bland, the story gets more and more suspicious. On Tuesday night, dashcam footage was released that highlights the terrible abuse inflicted on Ms. Bland for a routine revenue collection stop -- for a turn signal.
According to Waller County Sheriff's Department officials, Bland was pulled over for "improperly signaling a lane change" and charged with "assault on a public servant." However, after watching the dashcam, it is quite clear that Bland was the only one being assaulted in this scenario.
Police claim that Bland hung herself with a plastic trash bag in her jail cell. They also claim that Sandra Bland assaulted an officer during her traffic stop. The newly released dashcam footage shows that these cops are not afraid of lying.
After Bland is pulled over for an arbitrary infraction, this abusive cop begins his assault. He starts by screaming at the young lady and then physically attacks her, attempting to yank her from the car.
The entire escalation of violence seems to be over this thug officer demanding Bland put out her cigarette. "I'm in my car, I don't have to put out my cigarette," says Bland just before this jackboot tyrant explodes and assaults her and threatens her with a taser.
"Get out of the car! I will light you up!"
It is quite clear who the aggressor was in this incident. If this video is any indication of what went on once Bland was in prison, it is no question why her death is being investigated as a homicide.
Here is the entire video that was released by the Texas Department of Public safety.