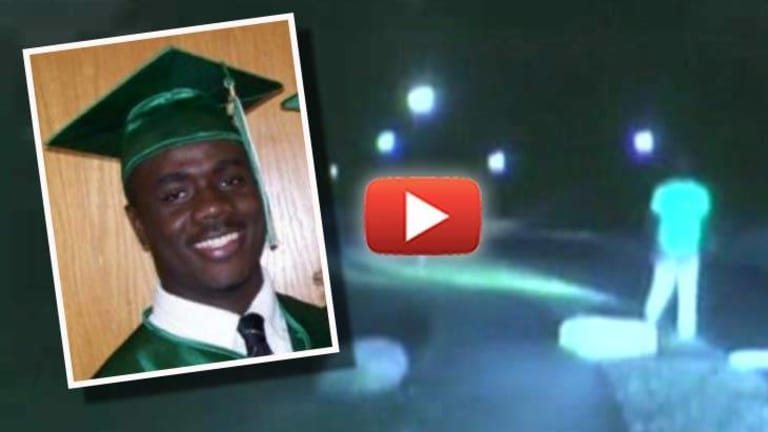 Dashcam Video Released of Unarmed A&M Football Player Being Shot 10 Times in the Back
Video at trial shows cop allegedly shoot, kill ex-Florida A&M football player Jonathan Ferrell
Charlotte, NC -- In September of 2013, Jonathan Ferrell was in a state of distress after crashing his car and attempted to get help by knocking on a woman's door in the middle of the night. The woman became frightened, so she shut her door and called the police.
When officers responded to the scene, they saw the former Florida A&M football player walking down the street, in an alleged "zombie state."
As Ferrell attempted to run from police, one of the officers, Randall Kerrick opened fire, unleashing a fury of bullets into the back of this unarmed man.
Kerrick fired 12 shots at Ferrell, 10 of which hit him, all of them went into his back.
Kerrick was arrested and charged with voluntary manslaughter and his trial began this week. During the trial on Tuesday, the dashcam footage from officer Adam Neal's patrol vehicle was shown publicly as that officer took the stand.
Neal testified that Ferrell looked like he was "amped up" and was in a "zombie state" just before Kerrick pulled out his gun, according to the NY Daily News.
Prosecutors claim that Kerrick overreacted when he shot Ferrell nearly a dozen times in his back, and the city of Charlotte agreed. Last year, after shelling out $21,000 in taxpayer dollars to defend Kerrick, the city eventually quit paying to defend this killer cop.
Earlier this year, the family of Ferrell was awarded $2.25 million in damages for their son's death, despite Kerrick claiming that Ferrell "went for his gun."
No other officer on the scene felt that Ferrell was a threat as none of them pulled out so much as a baton. Officer Neal testified that he didn't pull out his gun, taser, or baton because he planned to wrestle the young man. However, Kerrick would not allow it.
The dashcam videos from two other patrol cars are expected to be released this week as well.
Kerrick faces up to 11 years if he is convicted.