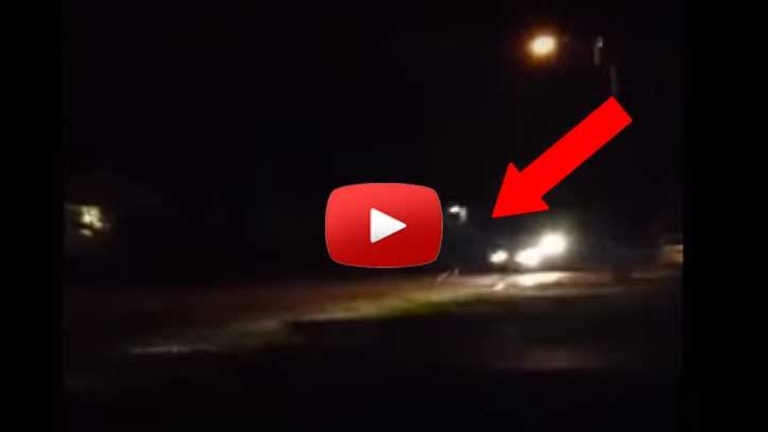 Dastardly Cops Caught on Video Torturing Defenseless Old Dog by Running it Over Multiple Times
Cops were caught on video deliberately running down a family pet, multiple times with their cruiser.
Toronto, CA -- A disturbing video surfaced this week showing Ontario Provincial Police officers conducting themselves in a most disgusting and cruel manner.
A 21-year-old German Shepard-cattle dog mix belonging to Karen Sutherland had gotten loose during a storm. When police officers arrived on the scene and saw the mostly deaf and nearly decrepit dog, they apparently feared for their lives and took offensive action.
Instead of seeing if the dog had an ID tag and perhaps attempting to return it to the owner, these cowardly cops decided to run it down - multiple times.
The entire gruesome incident was captured on cellphone video from a nearby neighbor who originally thought the beloved pet was a coyote.
"Look he's hitting it again. Oh my God. He just ran the coyote over," a woman is heard saying in the video.
After torturing the poor defenseless animal several times with their cruiser, the officers get out and shoot the dog.
"I'm kind of in shock right now, I'm having a hard time dealing with not only that she's gone but just the way she went — it's makes me just feel really, really bad for her," Sutherland said in reaction to the killing of her beloved dog.
"She was awesome, she was my sidekick. Everyone knew where Karen went, Merrick went. She was a sweet dog, never bit anyone, no aggression, she loves all animals, loves all dogs. She's never, ever been a problem at all," explains Sutherland.
According to Global CA, the police claimed that cruelly running down an innocent and defenseless animal is "following procedure."
Sutherland said police told her the officers were following proper protocol and that they will be speaking with her about the incident at a later time.

Global News has since learned through police sources that taking down an animal with the use of a vehicle is not considered proper police protocol.
"The worst case scenario that you could really possibly have to have your dog go missing and then get run over by a police officer," said Sutherland.
The video below is the second one this week to surface showing a police officer killing a dog in the most dastardly way. On Monday, the Free Thought Project reported on the innocent Florida family who had a cop knock on their front door, shoot their dog and then walk away.