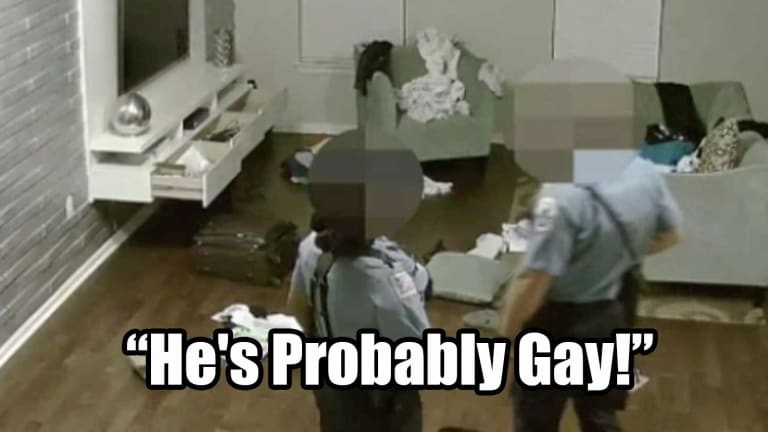 'He's Probably Gay!' – DC Cops Mock Burglary Victim as They Dance Around on Video
When DC Cops responded to a burglary, they blamed the neighborhood, failed to investigate the first time, and then returned to make fun of the victim.
Washington DC — When a house alarm went off in Southeast Washington, signaling that it had been burglarized for the second time in three weeks, police officers arrived at the scene, but failed to investigate. They returned again later after a concerned neighbor requested their service, and the security footage is making the homeowner wish that they had never stepped foot in his house.
"I was appalled. I was frantic because I was out of the country," Clarence Williams said, describing his reaction when his alarm company contacted him about the second break-in at his house in less than a month. "[It was] the same scenario as last time, broke the glass and then once he shattered the glass he just pulled the glass out and was able to walk right in."
Williams was hoping he could trust the police officers responding to the burglary call to take care of things while he was away, but he told Fox 5 DC that he was shocked to find that the officers did not even check the back door where the burglar broke the glass to enter the home.
"They came, knocked on the door, talked to a few people who were outside and left. My house sat open for eight hours," he said.
Williams also told NBC Washington that when the officers spoke to his neighbors about the burglary, they made comments such as, "Well, what do you expect? You live in Southeast."
After a concerned neighbor called police later that day to report the broken glass on the backdoor that the original officers failed to investigate, the department sent out officers once again.
When Williams reviewed the footage from his security camera, he was shocked to find two police officers standing in his living room, laughing as they read off a list of his belongings that were reported, and joking about his sexuality.
"Armani, Dolce and Gabbana—he's probably gay," a male officer says, laughing.
A few minutes later, a female officer can be seen dancing in the same crime scene she is supposed to be investigating.
"It's very troubling and disgusting and I think it's a testament to the lack of training the police are receiving," Williams said. "I believe if they were receiving the proper training things like this wouldn't happen and they wouldn't just do things like this in the midst of a crime scene."
In response to the incident, DC Mayor Muriel Bowser said, "I don't approve of the language that was used or the conduct of our officers."
In a statement to NBC Washington, a spokesperson for the Metropolitan Police Department said the two officers featured in the security footage "have been placed on non-contact status for misconduct," and an internal investigation is ongoing.
"Their behavior is not representative of the 'we are here to help' environment we work tirelessly to uphold on a daily basis for residents and visitors of D.C.," the spokesperson said. "We remain committed to providing positive interactions with all and hold the trust of the community in high regards."
While Williams said that the female officer later visited his home and personally apologized, he noted that he wanted to release the video of the officers' actions in hopes that others would learn from their mistakes.
"We've got police out here, dancing in my home and acting as if this is a joke and this is serious. This is my life," Williams said.
Unfortunately, cases such as this one are not isolated incidents. From officers blaming the neighborhood for the break-in, to failing to investigate, to making fun of a victim at a crime scene, it remains to be seen whether the presence of clear video footage will ensure that the offending officers are held accountable for their actions.