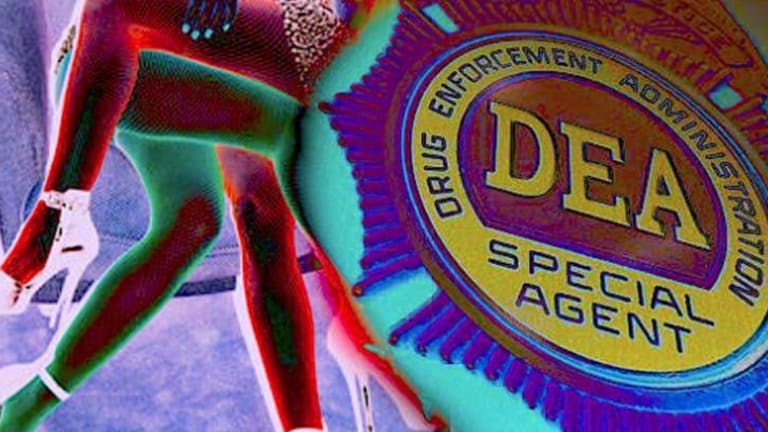 Not Only Were the DEA Agents who Threw 'Drug & Sex Parties' NOT Fired, They Got Bonuses
During its investigation into misconduct and sexual harassment on the part of DEA agents, the DOJ found that 8 out 14 agents had wrongly received merit bonuses.
(RT) -- During its investigation into misconduct and sexual harassment on the part of Drug Enforcement Administration agents, the Justice Department found that eight out 14 agents had wrongly received merit bonuses or time off ranging from $1,500 to nearly $32,000.
Such rewards are in violation of the DEA's own policy.
"None of the 14 DEA employees involved in … misconduct incidents … received promotions, but in ten instances, eight of the 14 employees received bonuses or awards contrary to DEA policy," said the DoJ Office of the Inspector General audit of DEA rewards and awards. The report was released on Thursday.
DEA policy prohibits employees from receiving promotions, awards, or other favorable personnel actions for a period of three years after being subject to discipline for misconduct, or while an investigation is pending, according to the report.
The amount of the bonuses ranged from $1,500 to nearly $32,000. The DEA regional director, who handled the misconduct internally rather than reporting it to the Office of Professional Responsibility (OPR), received a $31,938.80 bonus in May 2013.
The director himself became the subject of an OPR investigation, but was punished with only a "counseling session."
According to the OIG report, one special agent was alleged to have patronized prostitutes and frequented brothels while posted overseas. He was ultimately cleared of the matter, but received a $2,000 performance bonus and two award nominations while under DoJ investigation In another example, a special agent, who also allegedly visited prostitutes and frequented brothels while posted overseas, apparently entertained prostitutes in his government-leased quarters on a frequent basis. Moreover, he reportedly assaulted a prostitute on one occasion. Despite receiving a 14-day suspension and being named in the misconduct investigation, he "received a performance award of $1,500." In addition, an assistant regional director stationed overseas allegedly "made numerous inappropriate sexual comments; asked [an assistant] to watch pornographic movies, and, among other allegations, routinely threw items, yelled at employees, and used other vulgarities in the office and at official functions." The individual ultimately received a letter of reprimand. "We also found three instances in which there was no documentation reflecting the basis for going forward with a favorable personnel action under these circumstances and seven instances in which the DEA followed policy for these employees," the OIG said.

House Judiciary Committee Chairman Bob Goodlatte (R-Virginia) asked the OIG to find out whether agents involved in the prostitution scandal had been promoted or received bonuses. Goodlatte told The Washington Free Beacon that the OIG's findings were troubling.
"Today's Inspector General report raises serious concerns about the disciplinary process at the Drug Enforcement Administration," Goodlatte said. "Not only did the agents involved in sexual misconduct outlined in a previous report escape appropriate punishment, the majority of them received bonuses or other work perks."
The latest findings come as the DoJ is reviewing sexual harassment and misconduct allegations involving 14 DEA agents involved in three incidents taking place between 2005 and 2012.
A separate report on the DEA's handling of "sex party" allegations was released in March. The DoJ reported agents had taken part in overseas drug-and-sex parties that were sometimes even funded by drug cartels.
Following that disclosure, the DoJ issued a memo banning all personnel from "soliciting, procuring, or accepting commercial sex," whether on or off duty and "regardless of whether the activity is legal or tolerated in a particular jurisdiction, foreign or domestic." The report didn't name the country, but Politico reported the activities had taken place in Colombia.
The report attracted the attention of Congress, which subjected then-DEA administrator Michele Leonhart to a grilling over how her agency had handled the allegation. She resigned in May.
The DEA has the "largest international footprint" of any US federal law enforcement agency, with 833 employees permanently assigned to 86 foreign offices in 67 countries, including 459 Special Agents as of 2014.