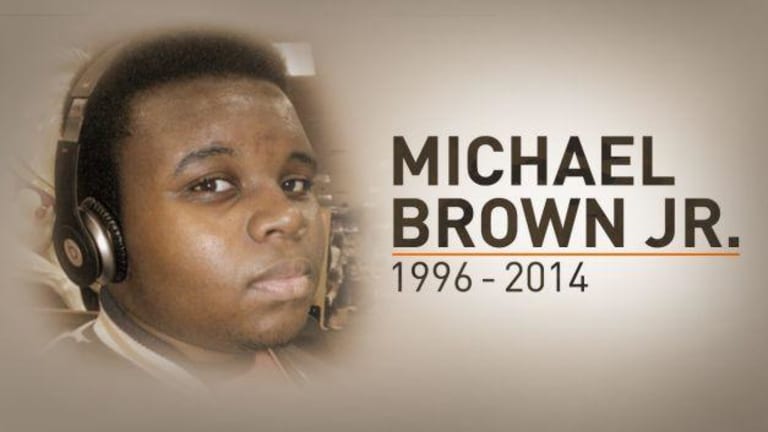 'Dead Michael Brown' Song at Former Cop's Party Sparks LAPD Investigation
A former police officer's decision to sing a parody song about the fatal shooting of unarmed African-American teenager Michael Brown has caused the Los Angeles Police Department to open an investigation into the matter.
The song, parts of which were caught on film and obtained by the website TMZ, was performed by a former private investigator following a charity golf outing hosted by a retired LAPD officer. Many in attendance were reportedly retired officers, though civilians were also present.
During the dinner party, held at the Glendale Elks Lodge, former investigator Gary Fishell grabbed a microphone and began making light of Brown's death by singing a parody of the hit song "Bad, Bad Leroy Brown" by Jime Croce.
"Michael Brown learned a lesson about a messin' with a badass policeman," Fishell can be heard singing in the video, which looks like it was filmed on a smartphone. Fishell also refers to Brown as the"baddest thug in the whole darn town," as well as "deader than a roadkill dog."
"Two men took to fightin' / And Michael punched in through the door / And Michael looked like some old Swiss cheese / His brain was splattered on the floor," the former law enforcement official sang.
Brown's life took on national significance when he was shot and killed by a white police officer back in August, and a grand jury's subsequent decision not to indict the officer sparked large protests and calls for police reform across the country. Critics of law enforcement say authorities regularly use excessive and lethal force against African-Americans, and have taken to the streets to express their anger.
Protests have continued as a string of officers have escaped criminal charges for killing African-American men.
Meanwhile, the parody video surfaced as another black man was shot and killed near Ferguson, Missouri, where Brown himself was killed. Details are few, but police say 18-year-old Antonio Martin was armed and allegedly pointed his gun at an officer before he was shot.
In response to the video's publication online, LAPD Police Chief Charlie Beck took to Twitter to announce that the department would look into the situation and see if any current officers were in attendance.
"I am aware of the video released via TMZ. Like many of you, I find it offensive & absurd. It does not reflect the values of the #LAPD," Chief Charlie Beck wrote. "I have directed our Professional Standards Bureau to look into this & determine if any active department employees were involved."
Fishell's lawyer told TMZ that his client sang the song because "he thought the room would get a kick out of it," though he now realizes it was "off color and in poor taste."
The host of the party, Joe Myers, said he can't control the things people say at his events.
"How can I dictate what he [Fishell] says in a song?" he said to TMZ. "This is America. We can say what we want. This is a free America."
Republished with permission from Russia Today