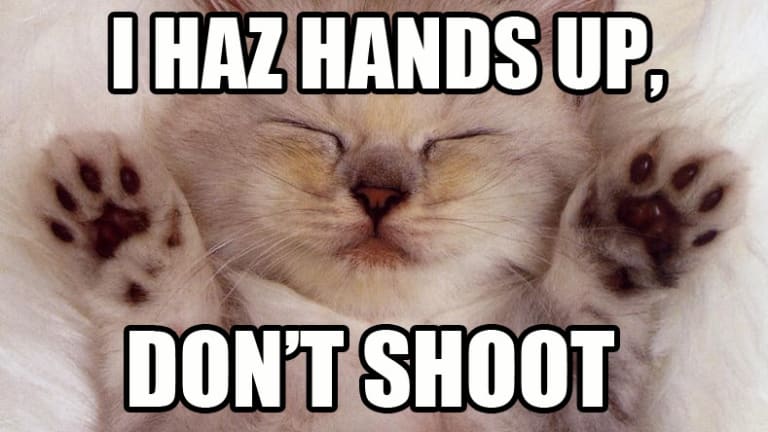 Dear Internet, Not Mad Enough at Cops? An Officer in Maine Shot a Cat
Its not just dogs and the unarmed who make officers "fear for their lives," another innocent victim has been shot by police; this time it was a cat.
After calling for backup because he believed the animal may be rabid, Gorham Police Department Lt. Christopher Sanborn opened fire on the cat- who is described as "a lovebug".
"He is a lovebug. Everyone here has definitely rallied around him. We love his name, Clark, it really speaks to his Superman capabilities. And as you can see, he's a dream boy," Patsy Murphy, executive director at the Animal Refuge League told WMTW.
The police had been called after the animal reportedly bit a child. The family who called has offered to pay the veterinarian bills for the cat, now named "Clark", who is not actually rabid.
Debra Webb, who brought Clark in for treatment, said she plans to adopt the cat, WMTW also reported.
Surprisingly, Sanborn is not the first officer to be frightened into violence by a furry feline. Last December we reported on Officer Barry Accorti, who shot five kittens infront of terrified children.
Accorti since struck again, in June, shooting a baby raccoon that was in a trap, twice, infront of three children.
Despite protests, Accorti is still armed and dangerous with the North Ridgeville Police and Chief Freeman insists no laws were broken, in either case.
Cruelty to animals is part of The MacDonald Triad, traits that often are demonstrated in sociopaths from a young age. It says an individual who is able to engage in cruelty to animals may have no conscience and no remorse for their behavior.
Could there be a better occupation for a sociopath?
Since this story has been posted, it is making quite the buzz on twitter, sparking hilarious repsonses.