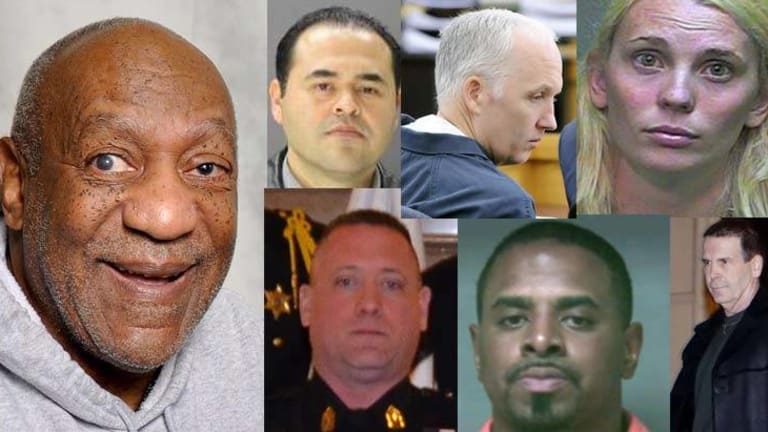 Americans Debate Bill Cosby While a Near Epidemic of Sexual Assaults by Police Continues
While the nation is up in arms over Bill Cosby's alleged crimes, the media, and most Americans are oblivious to the rate at which police are caught committing sex crimes.
As news emerges that Bill Cosby will be questioned about the allegations of sexual assault, the world is up in arms over this TV Dad's alleged crimes.
No one is discounting the severity of the accusations, and they certainly merit an investigation. However, Cosby holds no official position of authority and is not in a position to take away an individual's freedom. Cops, on the other hand, can kidnap you, lock you in a cage, and kill you -- legally.
With such great power comes great responsibility, but "responsible" is a word not often mentioned when referring to many of America's law enforcement officers.
One need only perform a simple google search to see the atrocities carried out by this nation's public servants. On a daily basis, police officers make the digital blotter with stories of sexual assault, molestation, child porn, and worse.
Not only are police involved in the illegal version of rape, but they are not afraid to legally rape individuals in search of a plant. On Thursday, the Free Thought Project reported on the horrific case of Charnesia Corley, who had her vagina penetrated by police in a public parking lot because they smelled weed.
It is no wonder that if this group of people can consciously carry out forced vaginal rape in search of a plant, that they are far more likely to commit sexual assault than the average American.
The rates of sexual assault and domestic battery within the ranks of police officers are almost double that of the average citizen, according to a study conducted by Bowling Green State University.
Last November, the Free Thought Project covered 40 cops involved in different incidents from child rape to sexual abuse in just a 30-day period.
In just the last week, we've seen multiple horrific acts of sexual abuse and child porn possession from law enforcement officers.
Oklahoma cop, Courtney Schlinke, racked up dozens of rape and sodomy charges after being caught sexually assaulting children last month.
Sgt. Martin F. Zaloga Jr., an 18-year veteran of the Albany County Sheriff's department resigned last week after he was connected to another officer in his department who sexually assaulted a child while working as a school resource officer. Zaloga, who was somehow put in contact with these young girls and began sending them sexually explicit messages.
Jacksonville Sheriff's Officer, Clarence Thomas Jr., was arrested after it was found that he was having sex with students at the high school where he was also the football coach.
Last week, Cody C. Smith, a former deputy with the Cache County Sheriff's Office pleaded no contest to forcing children to have sex with him.
A Colorado deputy, whose name is being withheld to protect the victim, is facing charges of aggravated incest. The reason the court will not release his name is because the victim is his young daughter.
Dallas police officer, Oscar Araiza, 41, pleaded guilty to raping a sleeping woman last week. But thanks to a plea deal, likely stemming from his cop status, Araiza will not see one day in jail, nor will he be required to register as a sex offender.
31-year-old Jeffrey Adgers Jr., of the Connecticut Department of Corrections, was arrested last month and charged with second-degree illegal possession of child pornography.
Last week, the Mount Pleasant Police Chief, Brian Fanelli, pleaded guilty to possession of child pornography.
Mark David Wallevand, 42, of the Fargo Police Department was charged Wednesday with a felony count of promoting a sexual performance by a minor and five felony counts of possession of certain materials prohibited.
And the list goes on.
So yes, if Bill Cosby drugged and raped women, he deserves to be punished. However, he is one man who has no authority over you whatsoever. Why is it that his case is getting more attention than the hundreds of cops who rape and pillage the very citizens they claim to protect each year?
If these atrocities upset you, they should. Unfortunately, many people will never realize just how bad things have gotten. To stop further abuse, we must expose this vile behavior to those blinded by the blue line. Share this article with your friends and family in hopes of shining light into this vast pit of darkness.