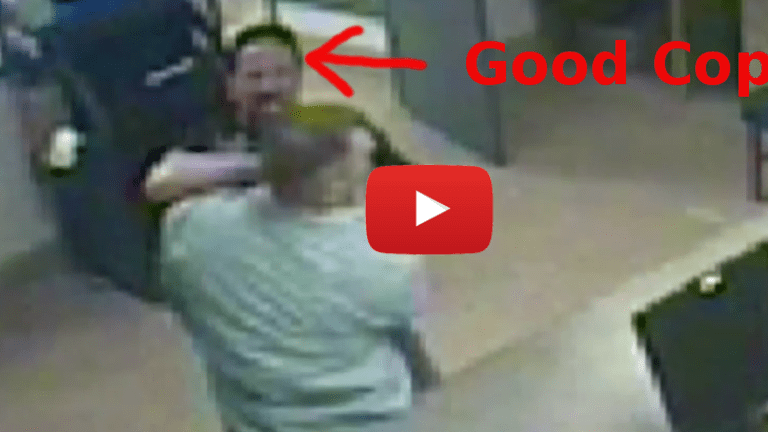 Despite Compelling Video, Violent Past, And Multiple Lawsuits, Dept Stands Behind this "Decorated" Cop
"He's a good cop and one of Taunton's finest officers"
Taunton, MA-- Detective Robert Kramer of the Taunton Police Department is under investigation regarding his fifth accusation of brutality after an incident in June where he viciously assaulted a man during booking, and this time it was caught on film.
The officer, who was described in an email from Police Chief Edward James Walsh to Target 12 as "a decorated and pro-active police officer", is seen on video attacking Joseph O'Brien as he was being booked at the police station. The video (shocker!) also contradicts Kramer's official report.
"He's screaming in my face. I'm getting spit on. (Expletive) you. You're a (expletive). Fight me, fight me right now. If you fight me right now, I'll let you go," O'Brien explained.
In the incident report, Detective Kramer claims O'Brien "immediately went after Detective Kramer," after the handcuffs were removed. The video disproves this statement as O'Brien walks slowly away from the officer and is then attacked from behind, hit with an elbow to the back of his head, then his face, is grabbed around the neck and next thing you know they are on the ground and joined by two more officers.
Only O'Brien's shoes remain in the shot by this point, however a witness who was in a nearby cell maintains the officer continued to beat O'Brien while yelling "there's no cameras in here you (blank). Come on.".
"I remember just looking down at the ground," O'Brien said. "And I was getting kicked, punched. I got knee-bombed in the head."
The out right lies in the report by Detective Kramer lend credibility to O'Brien's recollection of how the whole ordeal began.
In the police report, Kramer claims that O'Brien was aggressive after being approached by the detective, which is what lead to the man being arrested for disorderly conduct.
O'Brien asserts that he was simply sitting outside on his front stoop when this well-documented bully approached him, bizarrely repeating- "you know who the (expletive) I am? I'm Kramer. I'm Kramer." O'Brien told WPRI.
O'Brien was treated for bruises, abrasions and a concussion, while Kramer claims he received a bloody lip and some scratches.
"What I see is an officer who is out of control, bullying an individual who's in handcuffs, and then to read the report, to hear the officer indicating he's some sort of victim. I'm disgusted by the whole thing I saw." Ken Fredette, attorney for O'Brien told WPRI.
Since 2007, Kramer has had five brutality complaints filed against him.
In 2007, the tax payers in Taunton paid out $65,000 after a woman named Celinda Kaye claimed that Kramer beat her, causing "multiple facial fractures, (and) two broken ribs," after Kramer claimed she interfered with a "drug related arrest." The charges against Kaye were dropped in 2008.
In 2011, Roberto Alvarez-Delgado claimed Kramer "assaulted (him) causing physical injuries." An attorney for Alvarez-Delgado reported that the assault charges were dismissed on the day his attorney expected to get Kramer's personnel file, following a motion that was granted by the judge overlooking the case.
Ulises Saldana, yet another victim of this unhinged officer claimed Kramer threw him "to the ground and repeatedly kicked him." Saldana was arrested for the most ridiculous charge of resisting arrest. If someone's only charge is "resisting arrest," there must not have been a reason to arrest them in the first place. Saldana is currently in the process of suing.
Another woman, by the name of Rosemary Jenkins, also "alleges abusive treatment at the hands of Detective Kramer." Jenkins is currently pursuing a civil case against the abuser.
It is baffling and troubling (yet sadly not shocking) that a department would stand behind someone with such an extensive history of abuse. The "thin blue line" is in reality several miles wide and impassable by so called "good cops."
In a frustrating statement written by Chief Edward James Walsh, he claims that the settlement granted to Kaye was simply because it was "lower than the insurance deductible" and "much lower than the potential legal costs associated with successfully defending the case."
Regarding the O'Brien case, Chief Walsh explains,
"I have had an opportunity to review this filing and do question some of the characterizations contained within it. In an attempt to ascertain whether there is an issue relative to the police use of force as suggested in the Motion, or merely an attempt to discredit a decorated and pro-active police officer, I had directed the Captain and Lieutenant of the Professional Standards Unit to review the filing, the particular incidents contained within the attached documents, some of which have previously been investigated, and present me with their recommendations based upon their review."
He continues on to say,
"While we are conducting an internal review of the incident and those listed in the Motion, I have temporarily reassigned the officer in question to another position within the police department. Additionally we are in the process of reviewing our booking procedures to see what changes we may need to make to reduce the chances of altercations between prisoners and police personnel within the booking room."
Well, Chief Walsh, one worth while change would be instead of relocating violent and unpredictable officers with documented and video records of excessive violence to another position within the department, how about moving them into cages where animals like them belong?
It really shows how absolutely corrupted cop logic is when a man can be assaulted from behind, on video- and the Chief insinuates that the "poor officer" is some how the victim.