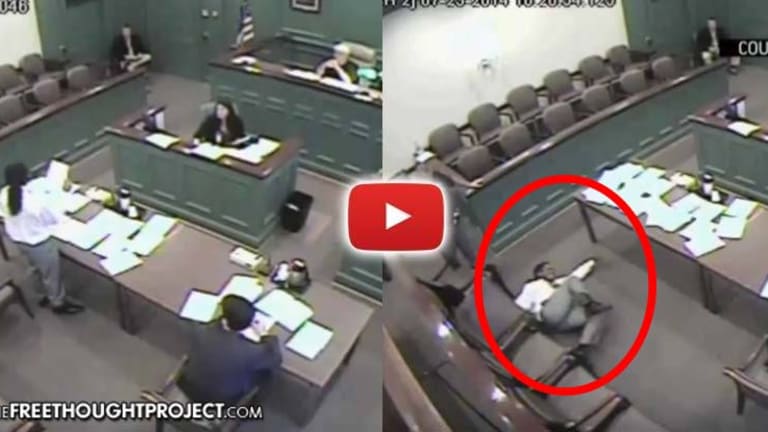 Victim Fights Back After Horrifying Video Shows Judge Torture Him in Court
After the justice system failed to achieve any semblance of justice against a sadistic judge's act of torture, the victim is fighting back.
Greenbelt, MD - In 2014, a man representing himself in a Maryland court was shocked and tortured with 50,000 volts of electricity by a judge because he continued to speak when the judge ordered him to stop.
Now, the victim, Delvon King is fighting back.
Judge Robert Nalley pleaded guilty in February 2016 to depriving King of his civil rights and video of the horrific incident was then released.
Nalley was facing up to one year in jail and a fine of up to $100,000 after pleading guilty. However, since he is subject to a different set of rules because he is a judge, he only had to pay a $5,000 fine.
On Monday, King filed a lawsuit against Nalley, who has since retired.
The charge against Nalley was also weak, as he did not simply deprive a man of his civil rights, but he tortured him. Under any other circumstances, Nalley's actions would have been considered torture, but since he did it under the sanction of his place in government, he was given a pass.
Nalley never even apologized to King for the horrendous act.
During the trial, King had a shocker anklet attached to him, which was supposed to be used in case of an emergency situation, or if King were to attempt to escape or hurt anyone. However, this sadistic judge used it to torture.
"A judge can only take this type of measure if the litigant is a danger to those in the courtroom," one of King's lawyers, Steve Silverman, told The Huffington Post in an email Thursday. "Judges are not allowed to arbitrarily electrocute litigants. That is why the judge was convicted of a federal civil rights crime."
As the Free Thought Project previously reported, in the court, King attempted to make his case but was constantly interrupted by the judge who repeatedly told him to be quiet. When King continued to make his case to the court, Judge Nalley told the court deputy "Mr. Sheriff, do it... use it," at which point 50,000 volts of electricity were sent through King's body, causing him to scream in pain. The court transcript read, "DEFENDANT SCREAMS."
King later described the situation to reporters, saying that he experienced "Excruciating pain then, and a burning sensation."
"It burned the rest of the day. Messed me up mentally. I don't really remember that part. Just next thing I know, I'm on the ground,"King added.
The U.S attorney said that Judge Nalley acted as if he was above the law, and that this conviction should be a message to other state employees that they should treat the people that they encounter as equals — some message, pay $5,000 and go to an anger management class and you can get away with torturing a man.
"It's not about race. It's about power. It's about a judge who abused the power vested in him to order a defendant to be punished essentially before he was convicted of any crime," the attorney said.
According to Review Times, this is not the first time Nalley has been a defendant. This tyrant should have been gone a long time ago. In 2010, he pleaded guilty to tampering with a vehicle after he deflated the tire of a cleaning woman's car that was parked in a restricted zone at the courthouse. As a result, he was fined, had to write a letter of apology and was suspended for five days without pay.
But, he was not fired.
Below is the video of this insane moment. Notice how the officer, without any hesitation, walks up to King and blindly follows the unlawful order. This video epitomizes the terrifying reality that stems from people just doing their jobs -- as dictated by sadistic unaccountable tyrants.
[author title="" image="https://tftpstagingstg.wpengine.com/wp-content/uploads/2016/03/magorist-e1456948757204.jpg"]Matt Agorist is an honorably discharged veteran of the USMC and former intelligence operator directly tasked by the NSA. This prior experience gives him unique insight into the world of government corruption and the American police state. Agorist has been an independent journalist for over a decade and has been featured on mainstream networks around the world. Agorist is also the Editor at Large at the Free Thought Project. Follow @MattAgorist on Twitter, Steemit, and now on Facebook.[/author]