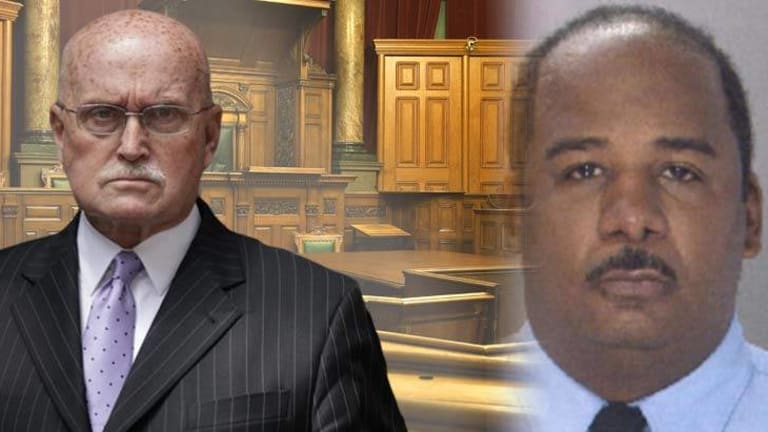 Lawyer for Corrupt Cops Attacks Former Cop For Testifying Against his Criminal Coworkers
Former Police Officer Jeffrey Walker was attacked in closing arguments after testifying against his former coworkers in a case against six corrupt Philadelphia narcotics officers.
The closing arguments in the corruption case of six Philadelphia narcotics agents became heated when defense attorney Jack McMahon urged the jury not to believe witnesses in the trial who he referred to as "immoral, despicable people." One of those witnesses, Jeffrey Walker, a former police officer, was called a "despicable, rotten liar and thief" and a "narcissistic, amoral creep," for testifying against his former coworkers.
In a 2013 sting operation, the FBI caught Walker, a 24-year veteran narcotics investigator, planting drugs on a suspect, stealing his house keys that he used to get into his home, and stealing $15,000. Walker, facing a possible life sentence for his crimes, then agreed to testify against his former colleagues—Thomas Liciardello, Brian Reynolds, Michael Spicer, Perry Betts, Linwood Norman, and John Speiser.
He described a long-standing pattern of criminal conduct by the Philadelphia narcotics squad including planting evidence, lying under oath, doing illegal searches, assaulting and robbing suspects, drug dealing, and even threatening murder. "Over 160 convictions" from the squad's drug busts have since been overturned, in light of the evidence of corruption.
Sounding like he was describing being a member of a violent street gang, Walker told the jury,
"I was very loyal to the guys. I would lie for them. I would steal for them. I would abuse people for them. I wanted to be part of the squad."
In keeping with the Mafia-esque tenor of the story, officer Liciardello, the alleged ring-leader of the racket, allegedly sent text messages to Walker upon learning of his "betrayal" saying,
"Your [sic] now a rat I hope you die," and "You are dead to everyone in this squad."
In closing arguments, defense attorney McMahon attempted to malign and destroy the credibility of the former officer by pointing out that he had confessed to his own misdeeds and crimes, including committing perjury. The overall defense strategy seemed to be to attack, insult and demonize any who would accuse the narcotics officers of wrong-doing, even when it was one of their own. McMahon even went on to condemn the federal investigation as "bogus, filthy and ridiculous."
Despite overseeing and ignoring thousands of cases of police misconduct committed over the years by Philly PD, Police Commissioner Charles Ramsey stated, "conduct like this is simply unacceptable, cannot be tolerated and is inexcusable."
Even the prosecution tried to claim that this was merely an example of a few corrupt officers, in an otherwise honest and righteous police department. The reality is that abuse, corruption, and criminal conduct is systemic and widespread within the Philadelphia PD.
Nonetheless, the notion that this level of blatant, violent criminal conduct could have continued for such a length of time without the knowledge and acceptance of the entire department top to bottom, strains credulity.
Let's hope the jury can look past the badges and the uniforms and see the criminals they truly are.