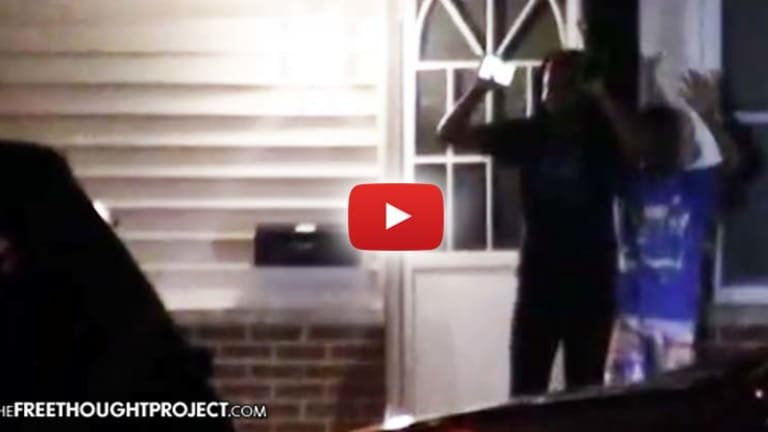 Cop Watcher Catches Police on Video Terrorizing Innocent Family During Raid on Wrong Home
A vigilant citizen captured police terrorizing an innocent family at gunpoint during a raid after mistaking an innocent man for a murder suspect.
Dekalb, IL -- An innocent woman and her family were terrorized this week as cops looking for a murderer decided to raid her home after mistaking an innocent man for a suspect. Thanks to a vigilante cop watcher, the incident was captured on video.
De'Ana Brown, the victim of this gross act of police incompetence took to social media to complain that Sycamore Police raided her apartment while police were searching for suspects involved in a shooting that occurred in an apartment complex on Kimberly Drive in DeKalb late Thursday night.
Illinois State Police, DeKalb Police and Sycamore Police were reported to be at the Sycamore residence at the time of the raid. Audio on police radio can be heard saying that they do not believe the subject in the apartment was involved.
"I don't believe the subject is going to be involved. I believe there's a miscommunication," a voice can be heard saying from one of the police radios as officers begin to recognize that the person in the house was not the suspect. Dekalb PD issued a statement via Facebook Friday morning:
On October 6th, 2016 at 10:29 pm, the DeKalb Police responded to a multi-unit apartment complex at 810 Kimberly Dr regarding a person being shot. The subsequent police response confirmed a male was shot at the scene, transported to the hospital, and succumbed to his injuries. Within a short period of time Sheriff's Police located the vehicle the offender(s) had fled the scene in at Peace and Freed Roads near Sycamore. Two persons of interest were detained, two firearms were recovered, and two other subjects fled on foot and remain at large. At present there is no information indicating that anyone in the City of DeKalb remains at risk regarding this incident, however police are still actively searching for the subjects who fled on foot as parties associated with or witnessing this crime. The investigation remains active, the safety of our community is a priority, and additional information will be forthcoming.
De'Ana Brown, fed up and traumatized by the event, posted a statement about the incident on Facebook:
She later posted:
I gave them permission to search my house after they made us all evacuate at gun point. They act like they didnt believe me when I said no one else was in my house. We complied to everything they asked us to do then they apologized and left.
Sycamore Police Chief Glenn Theriault confirmed that police came upon a subject who resembled the description of one of the individuals matching the description and subsequently raided Brown's home. He then quickly moved to discredit Brown by claiming her version of the story is incorrect.
However, the video tells the truth. Cops clearly had guns drawn on Ms. brown and her child.
[author title="" image="https://tftpstagingstg.wpengine.com/wp-content/uploads/2016/03/magorist-e1456948757204.jpg"]Matt Agorist is an honorably discharged veteran of the USMC and former intelligence operator directly tasked by the NSA. This prior experience gives him unique insight into the world of government corruption and the American police state. Agorist has been an independent journalist for over a decade and has been featured on mainstream networks around the world. Follow @MattAgorist on Twitter and now on Steemit[/author]