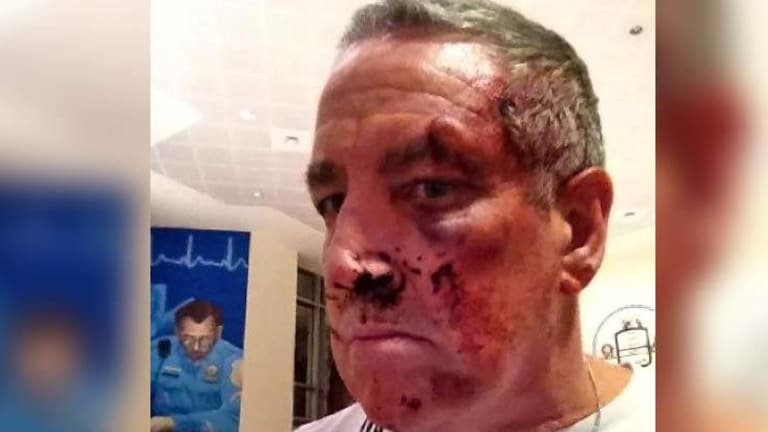 Delaware Man: Police Probing Biden Shooting 'Beat the Daylights Out of Me'
Collateral Damage? A man was beaten to a pulp by New Castle County police during their search for the one responsible for the drive-by shooting in front of the Vice President's house.
A Delaware man said that local police violently accosted him before he was arrested, as law enforcement official investigated reports of multiple gunshots near the home of Vice President Joe Biden in Greenville, Delaware.
There has been an ongoing investigation into the shooting incident near Biden's home, but the man, Rock Peters, was arrested roughly 30 minutes after the gunshots were reported. Peters said he was left with a swollen nose, rib injuries, multiple face abrasions and a black eye after New Castle County police beat him.
The incident occurred on Saturday night when Peters had been driving in a car near the entrance to Joe Biden's estate, as officers were closing traffic after reports of the gunfire incident. An officer advised Peters to turn around, but Peters told him it was the only way he knew.
The police officer began to walk away but returned after he thought he heard Peters say something, at which point Peters sped away.
Shortly afterwards, Peters was pulled over by another police officer who radioed for assistance. The police officer signaled for Peters to step out of the vehicle and, as he did, Peters put his right hand in his right jacket pocket, according to police.
At this time the officer placed his left hand on Peters' arm and forced him to the ground. With another officer, the two cops struggled with Peters, and one of the officers struck him on his shoulder, neck and head with is knee.
"They beat the daylights out of me," Peters told The News Journal, adding that he did nothing wrong during his interaction with police. He also denied being connected in any way to the shooting incident, and was not charged in connection with the gunfire.
Police didn't find a weapon on him, but Peters does face reckless endangerment and resisting arrest charges after fleeing from one officer and scuffling with two others, according to a police affidavit.
"That's a lie," Peters told the News Journal. "This is what they did to me," he said, showing the newspaper's reporter the bloody, stained clothes from when he says a New Castle police officer punched him in the face.
Regarding the shooting, the Secret Service and New Castle County police had no update on Monday, but they have continued to search for a suspect and witnesses. Joe Biden and his wife, Dr. Jill Biden, were in the state over the weekend but not at home at the time of the shooting incident.
Republished with permission from Russia Today.