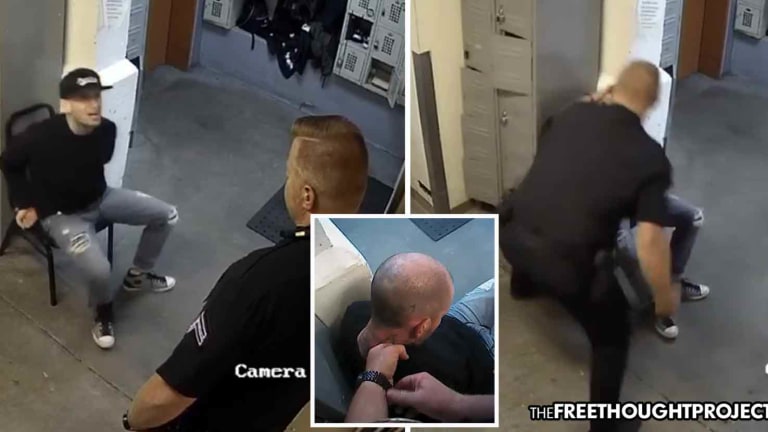 "Who's Unconscious Now?": Cop Snaps, Attacks Handcuffed Man and Gloats About It
A Denver cop was caught on video losing his temper and violently attacking a handcuffed man, knocking him unconscious and then gloating about it.
Denver, CO — A bar fight at a local Denver establishment took a turn for the worse—after it had ended and one of the fighters was in handcuffs. After the fight was over and the suspect subdued, graphic video captured the moment a Denver cop lost his temper and proceeded to attack a handcuffed man, knocking him unconscious and then gloating about it.
According police, the incident happened last year, but the video was only just released. Police say that a bar fight broke out at a sports bar in downtown Denver and after it was over, Cpl. Michael Oestmann had Kevin Watson handcuffed in the basement.
The video shows that Watson is verbally berating the officer before he spat at the direction of his head. Spitting on a cop is considered assault on a police officer which is a chargeable offense, so Watson should've been arrested and brought to jail for it right then.
Instead, however, Oestmann snapped and delivered a knee strike to his face which knocked the drunk man unconscious. Then, instead of stopping there, Oestmann punched the unconscious man in the face knocking his head into the locker behind him.
As Watson's unresponsive body wobbles in the chair, Oestmann grabs his head and yells at him.
"You will not spit on me again! Do you understand me?" Oestmann yelled.
After he realized Watson was unconscious, he then took the following moments to gloat over his attack.
"What's that about being a bitch?" Oestmann said. "Who's unconscious now?"
Moments later, Oestmann appears to regain control and says, "I may have gotten a little violent there."
As blood drips from Watson's face and he nods in and out of unconsciousness, he begins crying.
"Why are you crying now?" Oestmann asked.
"I didn't do anything," Watson said.
Oestmann was working off-duty, but in uniform that night which is common for law enforcement officers.
The incident actually led to misdemeanor assault charges against the officer. However, according to the Denver post, Oestmann reached a plea deal last week with the Denver District Attorney's Office that will allow him to wipe his guilty plea to a misdemeanor menacing charge from his record in a year if he follows court orders. He will serve no jail time.
What's more, Oestmann remains on the force and is still on duty. This is in spite of his tattered and violent record as a police officer.
According to KMGH, Oestmann has 18 citizen and internal complaints in his 14 years on the force. Those include several inappropriate force complaints and a mistreatment of prisoners complaint, all of which were eventually dismissed.
Below is this graphic video.
Spitting on someone is not acceptable and Watson deserved to be held accountable for doing so. However, because Oestmann couldn't maintain his temper, Watson will likely receive a hefty sum of taxpayer money now instead.
When a citizen spits on or at a police officer, it is apparently fair game to destroy them—even little girls in handcuffs.
As TFTP reported in 2017, Officer Michael Soucheray II savagely beat a 14-year-old girl in the midst of a psychological crisis. He is seen calling her a "f*cking b*tch" before repeatedly punching her in the face.
Soucheray was charged with assault for beating the handcuffed child, however, he beat them all and was let off with no consequences.