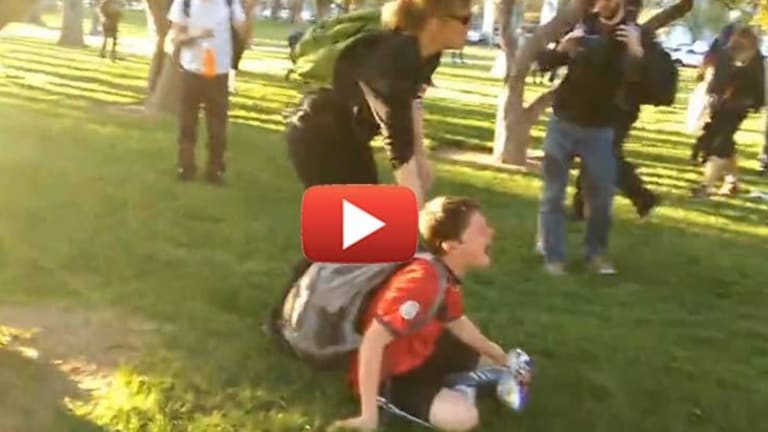 Denver Police Department So Set on Stifiling Protests That They Pepper Sprayed a 12 Year Old
Denver cracks down hard on peaceful protestors as they stand in solidarity with Baltimore.
Denver, CO-- As cities nationwide rose up to protest in solidarity with Baltimore, we saw video after video of basic rights being violated. On of the most disturbing was incidents was recorded in Denver on Wednesday, as pepper spray was used liberally on peaceful demonstrators including a 12-year-old child. The incident was captured on video by two different witnesses.
" width="792" height="445" frameborder="0" allowfullscreen="allowfullscreen">
" width="790" height="444" frameborder="0" allowfullscreen="allowfullscreen">
In an additional video from the event, more violence on peaceful protesters was captured.
Some have taken to social media to defend these brutal actions, one commentator, Courtney Miller, wrote on the video, "I completely condone their acts because they are worried for their lives."
"I have to "disagree" (not sure of the right word...) that the protestors were peaceful. They sounded very angry and were saying not peaceful things to the police officers. They weren't being physically violent, but they weren't being peaceful either. Isn't this what it's all about? People saying things or not listening and bad things happening because of that? I'm sure people will be pissed for me saying this but HONESTLY, the words that were being said were disrespectful and not peaceful at all. If I told a police officer to "F*CK OFF" of course I'd expect some reaction from them," another commentator, Mindy Heimer wrote.
Apparently police brutality is completely justifiable if people sound angry over... police brutality. For some, the First Amendment only applies if you are submissively begging the police to stop beating, maiming, and killing people.
In yet another video, an officer on a motorcycle is seen assaulting people to get them onto the sidewalk.
" width="790" height="444" frameborder="0" allowfullscreen="allowfullscreen">
Approximately 1:20 into the video, the officer rams into a man on a bicycle demanding he also move to the sidewalk. Bicycles are supposed to be on the street.
"Did you ram him with your bike?" an angry man with a camera asks the officer.

"Yes. Get on the sidewalk!" The violent officer responds.
Around 2:50, an officer points his weapon directly at the man filming while ordering him to get back. At the end of the video, an extremely brave demonstrator is pepper sprayed three times while simply attempting to retrieve a banner that police stole from him.
Raw footage from Denver's solidarity march for Baltimore, earlier today. If you fast forward toward the end, you can see a woman get taken down by cops as they swarm in and grab someone else and then pepper spray me in the face. Cops were trying to ram protestors with motorcycles, and people of color are specifically targeted. I don't know who the street medics were that gave me an eyewash but I'm glad they were there. Most of all, many thanks to Amber Olson for shepherding me to safety so I could put out the fires in my eyes. Somehow after all that, I feel more love than ever for my local activist community and people taking to the streets everywhere to protest police injustice. Don't stop! #blacklivesmatter #acab #solidaritywithbaltimore

Posted by David Long on Wednesday, April 29, 2015
"The people who are just trying to get out and voice their concerns were pepper sprayed while videotaping an African American woman being placed in an Eric Garner style choke hold." an activist who attended the event told The Free Thought Project.
In a letter to The Free Thought Project requesting that we help spread the word of the abuses happening in Denver, the author wrote:
"Wednesday April 29th was a not just a day. People in Denver, Colorado wanting to like many other communities show their solidarity with Baltimore. They wanted to show that we will no longer stand for the brutality that so many Denver residents have been facing for far too long. That is not allowed here in the Mile High City. Movements and peaceful protesting are not allowed and are stopped by any and all means necessary at major costs to activists and citizens affected by police brutality. Every day people cannot use their voices or bodies without fearing for their futures. Thousands of people have been silenced by the DPD gangster squad."
Denver police have a very long history of violence. Most recently they have gained attention for the killing of Naeschylus Carter, also known as Naeschylus Vinzant, an unarmed man murdered by the same unit that arrested James Holmes, the Aurora shooter who killed 12 people and injured over 80 more. Holmes was in possession of automatic weapons and explosives, yet he was taken in alive. Carter's family has not yet been notified of the killer cop's name, and the community speculates it is because he is due to testify in the high-profile Holmes case.
A search for "Denver" on The Free Thought Project brings up nearly 23 pages of stories which can give you a glimpse as to why this community is outraged.