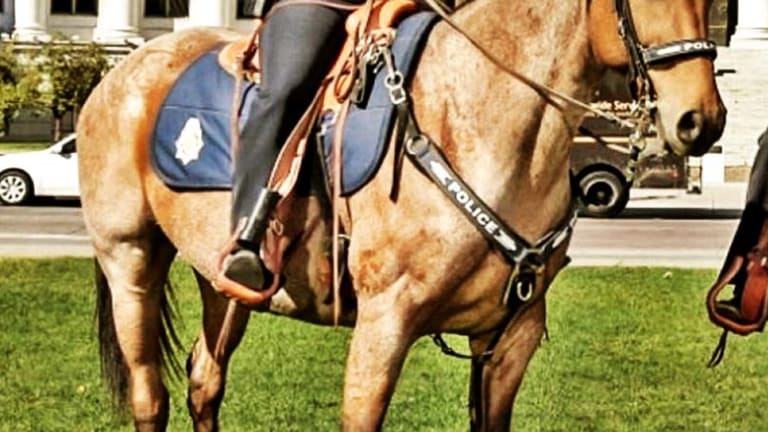 Police Horse Dies After Cop Leaves Him Tied in Stall with No Food or Water -- Cop Gets Another Horse
A Denver PD officer left his horse tied up for 16 hours overnight with no food and water. The officer wasn't charged and only docked a single vacation day.
For the past several months, The Free Thought Project has been bringing its readers, story after story, of police interactions with animals, usually family pets. All too often, when challenged with a barking dog, untrained police officers will shoot and kill beloved K9s. So, imagine our surprise when we came across the story of a police officer killing his own horse.
Officer Joseph Teeter, of the Denver Police Department, serves in the mounted police division. This past September 26th, Officer Teeter, and his horse named MC Hammer, had been patrolling the downtown Denver area. The day wasn't unseasonably warm, with the high only in the 70's. But upon returning to the Denver Police Mounted Patrol Barn, Teeter tied up MC Hammer, took off his saddle, and sat down to do paperwork. Admittedly getting distracted by his required paperwork, Teeter neglected to give MC Hammer any food and water.
Minutes turned into hours, and Teeter left the barn and MC Hammer still tied up without any hydration or nutrients. The horse spent the next 16 hours being tied up without any access to food or water, and it's uncertain whether or not the 10-year-old horse was even able to lay down to rest.
When employees arrived at the barn on the morning of the 27th, they found MC Hammer still tied up to the same eye-hook Teeter had tied him to. Water and food was immediately given to the horse, who appeared fine at first, even perking up, but soon took a turn for the worse. The DPD reportedly contacted a local veterinarian who determined MC Hammer was suffering from colic and would not recover. The decision was then made to put down the horse. MC Hammer was subsequently euthanized.
It's important for readers to understand the mindset of the police in general. When it comes to animals, they're considered, quite literally, police officers themselves. Just this past October, the LA Times reported a man was shot and killed after he attacked a police dog with pruning shears. But as TFTP also reported, several incidents of animal cruelty have been reported, even some wherein police officers were abusing and mistreating their own K9 partners.
Just as in officer-involved shootings, mistreatment, instances of badge abuse, and other scandals involving police, Officer Teeter, who's been an officer for over 10 years, will not be inconvenienced by the neglect and mistreatment of his own horse partner. He won't have to pay a fine, and he won't have to spend one day in jail. That's because much to the surprise of many, following an internal investigation, Officer Teeter was only docked a day's pay for his part in the neglect which led to MC Hammer's demise. And the day's pay wasn't even a real day, but a vacation day, nonetheless.
The internal investigation reportedly resulted in a disciplinary letter being written to Teeter. Part of the letter reads Teeter, "became distracted doing paperwork and forgot he had left the horse tied in the stall." But Teeter was given the benefit of the doubt with the following statement which reads, "The medical experts who evaluated the horse were unable to conclude that the horse's condition was caused by being left in the stall without food or water for approximately sixteen hours."
According to KUSA's 9News, "Teeter was disciplined for a violation of the Denver Police Department's Written Command: Rough or Careless Handling of City and Department Property. That particular violation can carry various disciplinary actions, including up to three "fined" days. Teeter received one "fined" day, or eight hours of docked vacation time for 2017. The letter states Teeter's service record and commendations as mitigating factors, but stated the officer's forgetfulness put the horse in 'cruel' conditions. It also said Teeter demonstrated real remorse for his actions."
The neglect, the investigation, the report and the punishment has sparked outrage with horse lovers everywhere, who believe Teeter should be charged with animal cruelty, not simply docked a vacation day and given a new horse. MC Hammer had only been with the DPD for less than a year, having been donated to the police department. It's unclear who donated the horse to the police department, but if that owner can be located and verified, TFTP would love to know what the previous owner thinks about his horse's fate.
According to news reports, Teeter is heartbroken by his actions and is suffering from true "remorse." But whether or not the abuse was intentional, the fact remains a police horse died at the hands of the police handler who was supposed to be caring for his needs. Instead of being reassigned to another section of the DPD, Officer Teeter has been given back his job with the DPD Mounted division, a move which has left us scratching our heads in disbelief.
What do you feel should have been Officer Teeter's punishment? Should he have been charged with animal neglect or animal cruelty? Should he have been given back his job as a mounted police officer? Post your comments below.