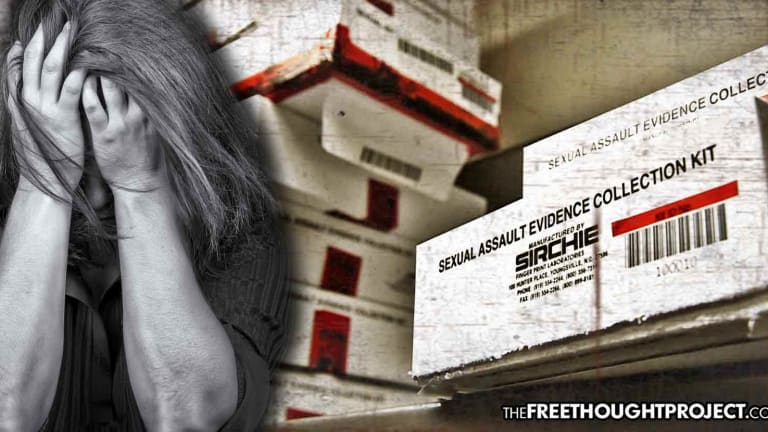 Dept Found with Over 1,700 Rape Kits They've Been Refusing to Investigate Since the 90s
After claiming they only had 194 untested rape kits, it was discovered that a single department had over 1,700 rape kits they've been ignoring for decades.
Minneapolis, MN — Illustrating the careless and utterly ineffective nature of many police departments in the United States is the fact that rape kits go untested from coast to coast. However, one recent and particularly egregious case out of Minneapolis shows just how brazen police can be in ignoring rape victims. An internal review of the Minneapolis police department revealed a whopping 1,700 rape kits collecting dust on their shelves. The backlog could take as much as two years to clear.
This massive number comes after the department originally claimed back in 2015 that there were only 194 untested kits — which is still a tragedy. However, this tragedy is nearly ten times larger.
According to the Star Tribune, Police Chief Medaria Arradondo said he had no explanation for the discrepancy in the reported numbers or why so many kits went untested, but he vowed to eliminate the backlog by working with department agencies and advocates to ensure that the kits are tested and victims are notified compassionately.
"We have a failure in terms of auditing and processing that is unacceptable," Arradondo said. "I very honestly stand before you to say we still don't know why that [miscount] did occur back in 2015, but moving forward I can ensure you that it will never happen again."
The term "failure" is an understatement. This is an outright blatant dereliction of duty and an uncanny level of incompetence.
Naturally, other cops and former cops in the department defended the handling of the rape kit situation.
"We reviewed all the kits from the year 2000 all the way up to 2015," Mike Sauro, a retired lieutenant who ran the sex crimes unit in 2015, said. "People have this misconception that all kits have to be and should be tested, and that's just not true. … If you don't have an official police report made, we can't enter them into the national database, so we can't test them."
But Sauro likely has no idea how many of these kits are associated with police reports because none of them were ever cleared in the first place.
After being raped, victims are subject to more humiliation by having to undergo DNA evidence testing in the form of a rape kit. Thinking that this will help catch their abuser, most victims undergo these tests. If a victim is willing to undergo such a humiliating experience with the kit, it is likely that they will also be filing a police report.
After news of the untested kits broke, the department began backtracking and are now promising to test them.
"The culture has changed, and we have an obligation to test these kits," Deputy chief Erick Fors said. "We're looking at some periods of time where that philosophy wasn't applied, and we really see the benefit to have this done. Hopefully this will not only result in people getting justice, but this is a debt that we owe."
It is most assuredly an owed debt, considering these rape victims were likely taxpayers whose rapes were being ignored by the very department they funded. What's more, history shows that when these kits are investigated, rapists are caught. It's that simple.
The negligence and complacency in refusing to investigate these rape kits borders on criminal behavior, especially considering what happens when police actually investigate them. As TFTP reported earlier this year, lawmakers across the country have set out to shift the "culture" of ignoring rape kits—and it is working.
New York City District Attorney Cyrus Vance has helped to allocate $38 million in funding to help 20 states process previously untested rape kits.
As a result of this movement, according to law enforcement officials, more than 1,000 arrests and hundreds of convictions have been made from testing the backlog of kits going back months, years and, in some cases, decades.
According to the AP, the Justice Department has also allocated $154 million to help in clearing the backlog of kits as well.
One case in particular has garnered nationwide attention as a serial rapist, who has preyed on countless victims, was arrested in February.
Nathan Loebe had been raping women for years and walking free because police refused to test any of his victims' rape kits. When Tuscon police finally went back over 1,400 rape kits, they tied Loebe to more than a dozen victims.
"Tucson Police initiated a full-scale investigation into these assaults and discovered that, for years, Nathan Loebe had impersonated Brian Bonsall, an actor on the popular sitcom Family Ties, to assault women he met on online dating sites," Tuscon's DA said.
One of Loebe's victims, speaking at a news conference in March, said having her kit "finally tested was a catalyst for hope," according to ABC News.
In February, this serial rapist and violent criminal was taken off the streets and found guilty in Arizona of 12 counts of sexual assault, five counts of kidnapping, three counts of stalking, and one count of attempted sexual assault. This was just one department. There are hundreds of other departments just like Tuscon.
Until this policing for profit paradigm shifts, we can expect to see other massive backlogs continue to pile up. Sadly, law enforcement in America often chooses profit over people. Tens of thousands of raids on people for suspected illegal substances take place every year, while hundreds of thousands of rape kits collect dust in police departments across the country.
If you were murdered today, there's only a 60% chance of police catching the person who did it. That number drops to 3% if you're raped. 50 years ago, that number was much higher. What happened?
The answer to that question can be found by looking at where police allocate much of their time and resources.
Civil asset forfeiture pays. Busting low-level drug dealers by the dozen and confiscating their drugs, guns, cars, houses, and money pays. Writing tickets for victimless crime pays. Pulling you over for window tint, seat belts, arbitrary traveling speeds, and expired license plates; these are the things that pay—not solving crimes.
In criminal justice, clearance rates are used as a measure of crimes solved by the police. The clearance rate is calculated by dividing the number of crimes that are "cleared" (a charge being laid) by the total number of crimes recorded.
In the United States, the murder clearance rate in 1965 was more than 90 percent. Since the inception of the war on drugs, the murder clearance rate has plummeted to an average of less than 65 percent per year.
This decline is in spite of there being far fewer murders. It is also in spite of new technological developments to help police solve crimes, like DNA testing, advanced forensic labs, and unethical surveillance state technology.
Despite the near complete erosion of the constitutional protections against unlawful search and seizure, the clearance rate for murder continued its free fall. This highlights the fact that no matter how many rights are given up or freedoms diminished, police cannot guarantee your safety — or even solve a potential crime if it happened to you.
While police are failing to investigate murders, the rate at which they are ignoring rape is nothing short of criminal.
Every 98 seconds, someone is sexually assaulted in the United States. 
According to the Department of Justice, there are hundreds of thousands of untested rape kits collecting dust in police evidence rooms nationwide, and many other estimates suggest that this number could be as high as one million.
As a result of this horrific negligence, roughly 3% of rape cases in America are actually solved. This is in spite of the fact that many rape kits have a high chance of leading to an arrest since most rapists are career criminals who have their DNA on file.
In some cases, the victims even know who their attackers were, but they can not prosecute these criminals because the evidence has yet to be processed by police.
Arresting rapists and murderers simply falls short in the two areas police are worried about—revenue collection and keeping their inflated drug war budgets flowing.
The hundreds of convictions mentioned above illustrate what happens when police go after actual criminals instead of people who choose to partake in substances deemed illegal by the state. Sadly, however, it has taken hundreds of millions of dollars in incentives for police to finally prosecute these actual criminals and the victims who attempt to hold them accountable are still being ignored. For now, however, at least some victims are finally seeing justice.