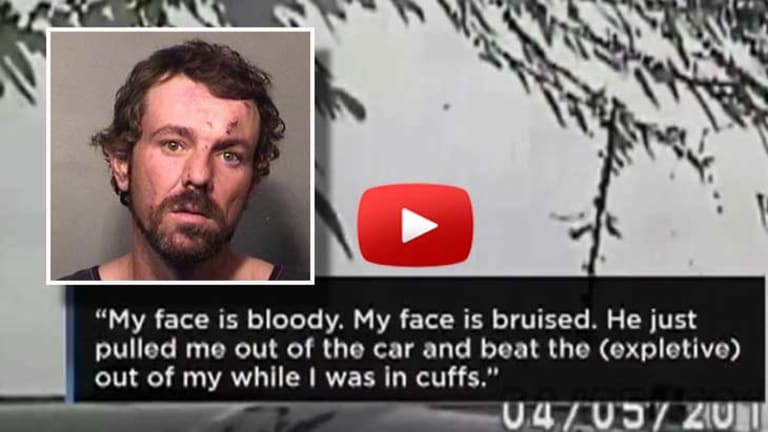 Good Cops Turn In Their Own Officer After He's Caught on Dashcam Beating Handcuffed Man
A bad cop was actually turned in by good cops which resulted in his arrest for pummelling a handcuffed homeless man.
In a rare move that actually protects and serves the community, police turned in one of their own after dashcam audio caught him beating a homeless suspect in handcuffs.
Officer Christopher Eisen was put behind bars after being arrested on a felony battery charge. He is now on unpaid leave while the Florida Department of Law Enforcement (FDLE) investigates the matter.
"You threaten my (expletive) family. I'll (expletive) kill you," Eisen can be heard saying on the dashcam video.
Immediately after, he is heard punching the handcuffed suspect, who was bruised and bloodied by the assault. Eisen had picked up the homeless man for "some kind of disturbance," according to the local WFTV9 station.
"You threaten my (expletive) family again. Do it again. Get in the (expletive) car," Eisen said again before transporting the victim to the hospital.
The suspect can be heard taunting the officer, saying, "Your family's dead. Come on (expletive) boy. Hit me some more, (expletive) boy." He can also be heard spitting at Eisen.
However, this behavior is no justification for Eisen to become enraged and beat the man in handcuffs. Clearly, it calls into question Eisen's mental stability and his fitness for carrying a badge and a gun.
"My face is bloody. My face is bruised," the suspect said on the dashcam audio. "He just pulled me out of the car and beat the (expletive) out of me while I was in cuffs."
Eisen has a history of write-ups, having been investigated three times by FDLE for breaking police rules.
WFTV9 reports that the unbalanced officer was reprimanded for shoving a neighbor's child while off duty. In 2005, Eisen let a drunk driver go from the scene of a crash, and in a separate incident had a complaint filed by a couple who said Eisen was rude and belligerent during a traffic stop.
Perhaps this latest case of excessive force was the final straw for the Melbourne police department, as they took the initiative of turning Eisen in to the FDLE and putting him on unpaid leave.

More police departments need to be proactive about getting loose cannons like Eisen off of the police force, as they are the ones likely to escalate an ordinary situation into one where innocent people get hurt or killed.
While this handcuffed man's actions may have been questionable, there are plenty of incidents during which cops stood by and watched their fellow cops beat non-violent, and even innocent individuals without saying anything. Good cops turning in the bad ones is a huge part of the solution to bridging the divide in America, and the officers who were unafraid of crossing the blue line deserve to be recognized.