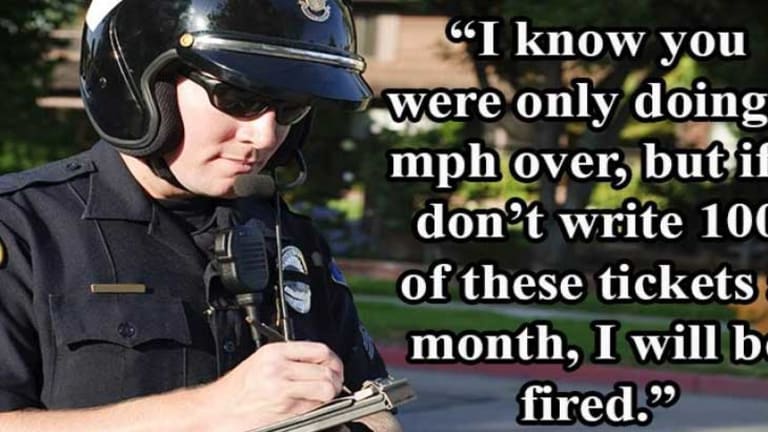 This Department's Quota Was So Demanding, Cops Had to Fake Citations Just to Keep Up With It
Instead of solving actual crimes, cops are mandated to make a minimum number of revenue collection stops every day.
Arlington, TX - It has long been understood that police have quotas for arrests and traffic stops, and that officers are encouraged to make as many stops as possible. However, police departments, and especially police unions have vehemently denied this fact for decades.
Over the years, various departments across the country have been exposed as having quota programs, showing a widespread and systematic policy where officers are encouraged to make as many arrests as possible.
In one surprising recent case, a department's quota policy was actually uncovered by the local police union, in a surprising turn of events.
15 officers were recently placed on administrative leave for inflating traffic stop data, after internal e-mails and documents released by the Arlington Municipal Patrolman's Association (AMPA) exposed the corruption that they were involved in.
Department spokesperson Lt. Christopher Cook has denied that there is an explicit quota program at the department.
In a 2014 report after the allegations were initially made, Cook said, "It's actually a very common misconception that we make our officers meet a ticket quota. But in fact, state law makes it illegal for any department to issue mandatory quotas to its officers."
There is technically no "official" quota program on the books since it is illegal in the state of Texas for police to establish quotas. However, there are obviously unofficial quota programs being enforced off the books.
Included in the evidence of quotas at Arlington are emails from 2010 which showed the department's sergeant emailing officers in his district on a weekly basis, listing the number of citations that each officer wrote, congratulating those with the most citations issued. Also, the sergeant would offer encouragements to officers who scored lower than the others.
"I will say that when the shift performs at, let's say, average of 8 per person per week, you should be right there," the sergeant wrote in another e-mail. Let me sum up: please issue citations, whenever you can, and with those numbers….please just be average," he said in one email.
In another email, one officer was told he would not be allowed to take time off work if his "work performance regarding traffic enforcement and self-initiated activity (did) not improve."
Withholding paid work time from officers who did not meet their quotas has been documented at the Arlington Police Department since 2009 when two officers had their part-time work suspended as a result of "low stats."
It wouldn't be nearly as disheartening if the Arlington police department was some rogue unit and this was an isolated incident. But sadly it is not. There are entirely too many examples.
Last year, the Free Thought Project reported the story of police in Normal, IL. Several cops from the Normal police department sued the city claiming that the department's policy forced them to make arrests without probable cause just to keep up with the quota.
After showing how difficult it can be to blow the whistle on corruption in one's own unit, it's safe to assume that there are departments across the nation with equally despicable extortion rackets in place. So much for the land of the free.
[author title="" image="https://scontent-dfw1-1.xx.fbcdn.net/hphotos-xlp1/v/t1.0-9/10527912_10208082564135735_1614536950516142179_n.jpg?oh=3a1f6b3e98ccb13c208591a8dd2bb9b3&oe=574D87F3"]John Vibes is an author and researcher who organizes a number of large events including the Free Your Mind Conference. He also has a publishing company where he offers a censorship free platform for both fiction and non-fiction writers. You can contact him and stay connected to his work at his Facebook page. You can purchase his books, or get your own book published at his website www.JohnVibes.com.[/author]