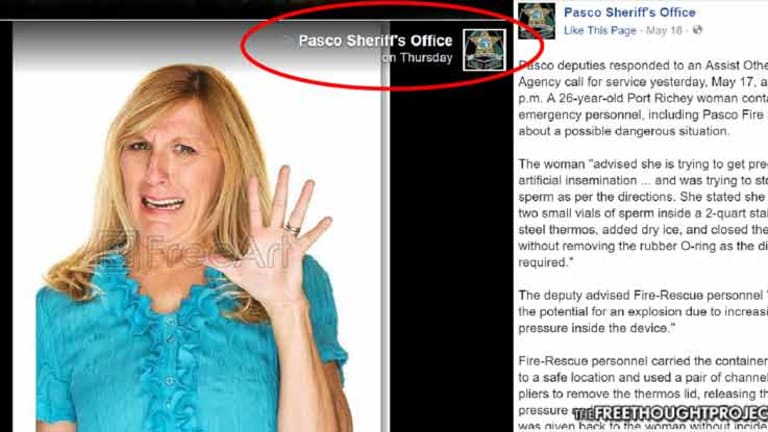 Dept Humiliates Woman on Facebook Who Called Police for Help in 'Intimate Situation'
A sheriff's department thought it would be funny to publicly humiliate a woman on Facebook who called them for help in a private matter, they were wrong.
New Port Richey, FL — The Pasco County Sheriff's Office is under much-deserved fire this week after they took to their official Facebook page and humiliated a woman who was merely trying to conceive a child with her husband.
Felicia Nevins and her husband, according to the Tampa Bay Times, have been trying to conceive a child for three years now. Their last option was to try artificial insemination, something they hadn't even told their own family about.
However, thanks to the inconsiderate and unprofessional deputies with the Pasco County Sheriff's Office, her family, and the rest of the world now knows about their artificial insemination plans.
"I didn't want any of this," Nevins told the Tampa Bay Times.
The public humiliation via police on Facebook began last week when Nevins said she called the non-emergency line for help last week.
To preserve her husband's sperm for an artificial insemination, Nevins stored it in a stainless steel thermos with dry ice. However, the instructions from the doctors told them to remove the O-ring on the thermos as the seal could hold the gas escaping from the dry ice inside and turn the thermos into a bomb. Nevins said she forgot to remove the O-ring and that's when she called for help.
Nevins said she forgot to remove the O-ring after placing the vials of sperm in the container, and that's when she called for help.
A deputy and two firefighters showed up and helped her diffuse the problem. According to Nevins, they were nice and kept the matter entirely private, even from her nosy neighbors.
"The officer told them it was a private matter," Nevins said, "and he treated it as a private matter."
Although the deputy and the firefighters kept her intimate situation private, the sheriff's department did not.
Using a stock photo of a woman in disgust, the department took to Facebook to humiliate Nevins by revealing her intimate situation to the world.
As the Tampa Bay Times reports:
The post didn't use Nevins' name, but she said there were enough details — her age, location and time of the incident — for reporters and curious citizens to figure out who she was by searching public records.

That night, a TV news crew appeared on her doorstep with a camera. She spoke to them, but declined to identify herself. She said she spoke to the Tampa Bay Times on the record Friday because her name is "already out there."

The sheriff's Facebook post was shared more than 200 times by Friday. The Pasco County Sheriff's Office has said it's all part of its social media strategy.
Naturally, the sheriff's department is defending their post, noting that it was in the interest of public safety to publicly humiliate this woman.
"We attempt to show every day what our officers see in calls and we are a very open agency about the types of calls we see each day," Pasco Sheriff Chris Nocco said in a statement. "This was a very unique call faced by our officers as well as Pasco fire fighters ... make no mistake, this was a potentially dangerous situation ... we are grateful that no damage was done."
The Sheriff's Office later released this statement: "As unusual as this situation was, it was important to provide this type of safety information contained in the post. We always encourage everyone to contact us if they find themselves in a position where they need help.
"In these types of situations, we never publicly release names or identifying information. Unfortunately, this information was obtained through a public records request of our reports and was published by the media."
The sheriff's statement of attempting to inform the public of the dangers of dry ice may have held some water. However, their choice of image, depicting a disgusted woman with her hand up, removed all doubt that their intentions were genuine. One commenter on the post pointed this out as well.
Regardless of your personal opinion, only the facts should be reported. Not a picture aiming to make fun of this person. You're deterring future reports and calls for fear of being shamed. This would be funny on someone's personal page, or MAYBE even a news page, but not law enforcement. I know it's Pasco, but even you should practice professionalism.
Many of the comments on the post, by the tens of thousands of apparently unkind followers of the Pasco sheriff's office, were demeaning and chastised Nevins, however. Some of them said that if she couldn't follow directions for this process than she had no business being a mother.
All of this embarrassment and humiliation could've been avoided had the department maintained a single shred of professionalism.
As the Times reports, Nevins said the agency could have used social media to warn people about the dangers of dry ice without including details of her personal life — which also resulted in medical information being disclosed. Now she said she feels ashamed and embarrassed.
"I don't see the comedy in it," she said. "All I'm trying to do is become a mother and I'm being berated for it."
Naturally, one would think after all the negative publicity the department is receiving from the tasteless and humiliating post that they would've pulled it down, right?
Wrong. As of Monday morning, the post is still live.
https://www.facebook.com/pascosheriff/photos/a.204821599556058.47006.140881115950107/1407637439274462/?type=3