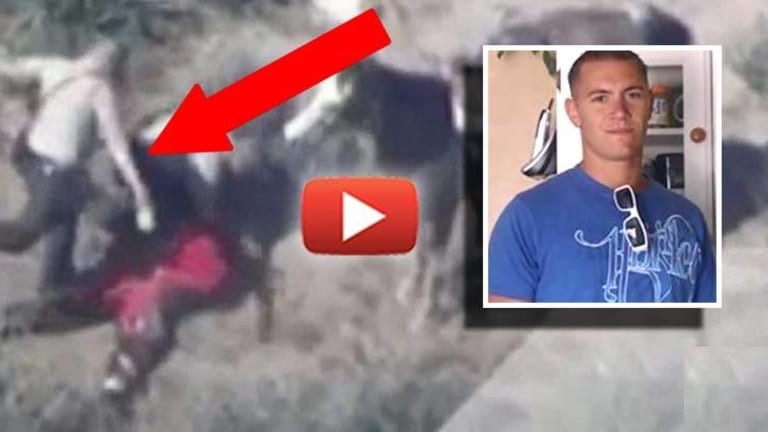 Deputies Caught on Video Brutally Beating Surrendering Man, Charged With Assault
Three California cops were actually charged with assault after they were caught on video brutally beating a non-violent, unarmed man as he surrendered.
Apple Valley, CA -- Three sheriff's deputies were charged with felony assault on Tuesday after a video captured them beating an unarmed man surrendering to the officers. After falling off his stolen horse, Francis Pusok dropped onto his stomach with his arms and legs outstretched. But video caught several police officers surrounding Pusok, striking him in the head and the groin as he surrendered with his hands behind his back.
At 12:12 p.m. on April 9, deputies arrived near Francis Pusok's home in Apple Valley, California, to serve a search warrant involving an identity theft investigation. According to San Bernardino sheriff's department spokeswoman Cindy Bachman, Pusok was already sitting in a car when the deputies approached his residence. Pusok fled in the vehicle prompting a near three-hour pursuit through the desert.
After Pusok abandoned his vehicle and ran into the desert, the sheriff's department and California Highway Patrol deployed helicopters and off-road vehicles to continue pursuing him. A few minutes later, the deputies received a report that Pusok had stolen a horse from a group of people near Deep Creek Hot Springs. As the deputies tracked down Pusok and made contact with him around 3 p.m., Pusok fell off the stolen horse.
According to the sheriff's department, deputies used a Taser on Pusok but it was rendered ineffective due to his loose clothing. But video shot from NBC4's helicopter revealed Pusok surrendering to the deputies by lying facedown with his hands behind his back when one cop appears to repeatedly punch Pusok in the head. The other deputy continued kicking Pusok in the groin as he remained on the ground.
At least ten deputies exhibited excessive force by punching and kicking Pusok dozens of times and beating him with a baton after he had already surrendered. Instead of administering immediate medical attention, the deputies stood around for several minutes before transferring Pusok to a hospital for treatment. Pusok was charged with multiple counts including felony evading, reckless driving, possessing stolen property, and horse theft.
Three deputies were reportedly also hospitalized. Two received treatment for dehydration. According to the sheriff's department, a third deputy was sent to the hospital after the horse kicked him.
Due to Pusok's criminal history, San Bernardino Sheriff John McMahon inferred that many of the deputies involved in the initial pursuit were familiar with Pusok and bore grudges against him. With multiple convictions including attempted robbery, animal cruelty, disturbing the peace, and resisting arrest, Pusok had antagonized the sheriff's department for over a decade. But Pusok's past crimes did not justify the police brutality inflicted upon him after he had peacefully surrendered.
Charged with 14 felony and misdemeanor counts, Pusok eventually reached a $650,000 settlement with the county.
On Tuesday, District Attorney Mike Ramos announced the filing of criminal charges against deputies Nicholas Downey, Charles Foster, and Michael Phelps. Charged with felonious assault by a public officer, each deputy faces anywhere from 16 months to three years in county jail. The three deputies are scheduled for arraignment on September 8 in San Bernardino Superior Court.
The seven other deputies involved in the incident were not charged. Deputies Scott Hamilton, David Moore, Dominic Moody, Raymond Perez, Tyler McGee, Detective William Doemner, and Sgt. James Evans do not currently face criminal charges. All 10 deputies remain on paid administrative leave.