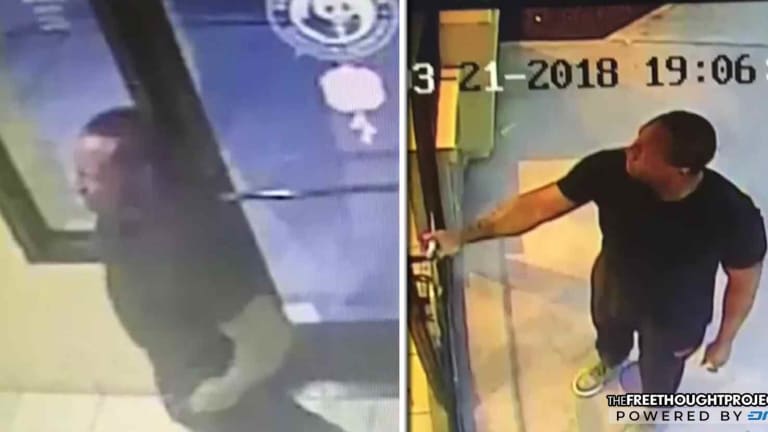 Deputy Arrested After He Sexually Assaulted a Child in a Panda Express, On Video
A California deputy was arrested this month after surveillance footage from a Panda Express restaurant caught him sexually assaulting a child and then running away.
San Diego, CA — A uniformed sheriff's deputy was arrested last week after he was caught on video sexually assauling a 14-year-old girl inside a Panda Express restaurant. Although he originally got away with it, one of his fellow cops was the one to turn him in.
Deputy Timothy Wilson Jr. was arrested last Friday and booked into the San Diego Central jail on a felony charge of a lewd act on a child.
Earlier this year, on March 21, Wilson was seen on the restaurant's surveillance footage walking inside, sexually assaulting the child, and then running out. The 14-year-old girl was waiting in line when the assault took place.
As NBC 7 reports:
A surveillance camera positioned above the entrance of the restaurant showed how the man walked in and took his place in line.

He stood with both hands in his pockets for about 15 seconds before he was seen taking a step forward and reaching out with his left arm and apparently grabbing the victim out of the frame.
After he assaulted her, the video shows Wilson running out to his black sedan and driving away.
"It was scary knowing that if I go out that he was still out there and he could come again," the 14-year-old said.
For nearly two months, Wilson thought he'd gotten away with the assault. However, one of his fellow cops saw the video and recognized him.
"It is very disappointing we are still in shock," said Jenna Tanais, the victim's mother. "That someone in his position would betray the community's trust like that." 
The victim shared her story with NBC 7 after the incident as a means of trying to catch the predator and so that others may speak up if they have fallen victim to this man's abuse.
"I was kind of not sure about it because I am shy and it was like weird," she told NBC 7 on Friday. "But I was thinking how it can help a lot of people and so I was like, 'Ya, I need to say it.'"
Luckily for her, it worked and a predator is now off the streets.
"On May 9, a sheriff's employee recognized Timothy Wilson Jr. as a possible lookalike suspect," San Diego Sheriff Bill Gore said.
When asked why it took them so long to find the predator while he was in their own ranks, Gore said that the cop who turned him in did so as soon as he saw the video.
According to police, Wilson is a 10-year veteran of the department. He has been placed on unpaid administrative leave pending the outcome of the criminal case. He's is currently being held on a $200,000 bond.
"It's kind of sad because he is supposed to be someone that will protect people, but instead he is doing that," the victim said.
"We raise our kids to trust the police and go to the police if you are in trouble and it is really a sense of betrayal that your child is being victimized by the people she is supposed to trust," Tanais said.
As TFTP has reported, there are countless incidents in which police officers abuse this trust and prey on society's most vulnerable. Sadly, many of the officers involved in these abuses are never held accountable either.
Just last month, Rafael Martinez Jr., a now-former Camden County cop was found guilty of having sexual relations with and impregnating a child. This was confirmed with DNA evidence and the officer himself admitted it. However, he was not sentenced to a single day in jail. Let's hope for the sake of the victim in San Diego, that Wilson does not receive the same special privilege.