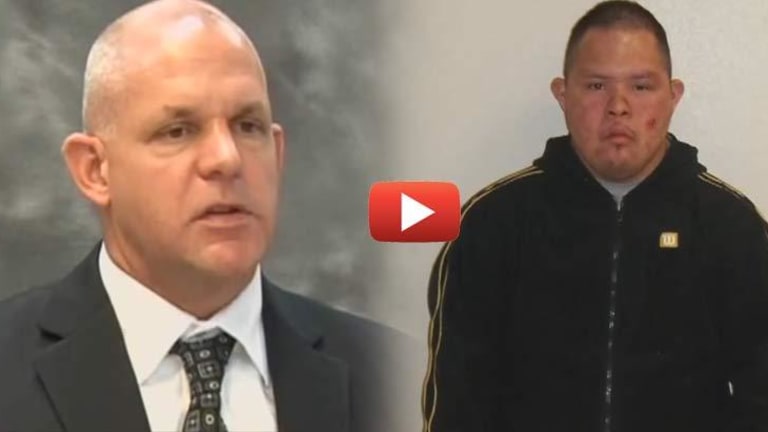 Cop Who Illegally Kidnapped and Beat Down Syndrome Man Says He Would Do It Again if He Could
Not only did this arrogant officer say he would assault an innocent man again if the opportunity arises, but an investigation revealed that he's done it many times before.
"I would say that if all the circumstances were exactly the same with all the information that I had, I would act the same way that I did."
Vista, CA-- On Tuesday, we reported that the police had admitted that San Diego Sheriff's Deputy Jeffrey Guy broke the law when he assaulted 22-year-old Antonio Martinez, who doctors say, has the mental capacity of a 7-year-old.
On Wednesday, a shocking new report from ABC 10 News has uncovered that Guy also has a history of using force with another agency. Not only did this cop say he would assault an innocent man with down syndrome again if the opportunity arises, but an investigation revealed that he has a history of excessive force.
Also, the department has not been complying with a California law requiring police to undergo training on how to proceed with the mentally disabled.
" width="790" height="444" frameborder="0" allowfullscreen="allowfullscreen">
Martinez was walking to his family's bakery on Dec. 20, 2012, when Guy yelled at him to stop, simply because the young man was wearing a black hoodie. When Martinez did not stop, Deputy Guy became angry at him for "exercising his constitutional right not to stop for a consensual detention," the lawsuit alleges.
The lawsuit states that the deputy "looked Tony in the face and then unloaded a canister of highly irritating pepper spray into Tony's face and eyes," beat him with a weighted baton, slammed his face into the pavement and cuffed him. While the beating was taking place, Martinez' sisters were screaming at the officer that their brother has down syndrome, unsuccessfully attempting to appeal to the officer's humanity- something that he clearly lacks.
After Martinez was handcuffed, other deputies jumped in, and Martinez was taken to the hospital, detained, and then jailed for 5 hours- he was essentially kidnapped. He was charged with resisting arrest, despite the fact that there was no reason to stop him in the first place. Deputy guy testified that this was necessary to "document" the incident.
The family is proceeding with a lawsuit, as the department refused to comply with all three of the family's simple demands to settle this outside of a courtroom. The family only wanted the department to apologize, release their policy on dealing with the mentally disabled, and have Deputy Guy volunteer for the Special Olympics.
Perhaps the reason Capt. Joe Rodi refused to release their policy, is the fact that there is no policy, and they are breaking California law. As ABC pointed out:
California law states law enforcement must be trained to interact with mentally disabled people.

Under Penal Code 13515.25,

(a) By July 1, 2006, the Commission on Peach Officer Standards and Training shall establish and keep updated a continuing education classroom training course relating to law enforcement interaction with mentally disabled persons.

Basile questioned Guy and Capt. Joe Rodi under oath in a deposition.

Deposition
"Are the officers required to have that training before they go out in the field," asked Basile.
"No, this is something that's fairly new," said Rodi.

That law is eleven years old – passed in 2004 to be implemented by 2006.

Deposition
"You've never had any classes in development disabilities, correct," asked Basile.
"Yes," said Guy.
The law breaking Captain of the department admitted that Guy had broken the law by even confronting Martinez on that tragic day.
"He did not have reasonable suspicion to stop and use force on him," said Captain Rodi under oath in a newly released video deposition.
Looks like the only person who was not breaking the law in this scenario was Martinez.
To make this whole scenario even more infuriating, Guy had a history of use of force issue at his former department where he was employed for eight years. He had only been with the San Diego Sheriff's department for four months when he assaulted Martinez, and was still in the midst of his probationary period.
According to the San Jose Mercury News, Guy had six use of force incidents in only one of his eight years with the department. The instances include; using an impact weapon three times, a take-down maneuver once, pepper spray once and excess force or filing a false report. According to their report, officers fill out reports each time they use force in the line of duty, but the department does not keep track of which officers are involved in repeated uses of force.
"I would say that if all the circumstances were exactly the same with all the information that I had, I would act the same way that I did," Guy stated in his video deposition, under oath.
Guy, this career criminal, is currently still armed and stalking the streets- with impunity to commit violent crimes against others- protected by his shiny gold badge.