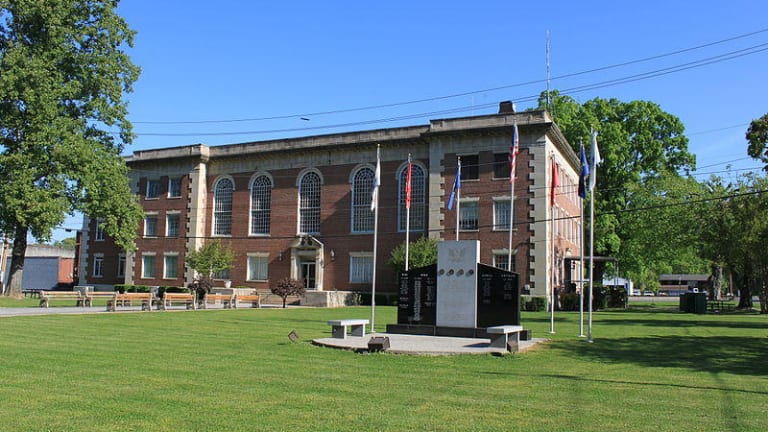 Deputy Punches Boy in the Face, In Court. Boy Gets Charged with Assault
May 12, 2014
The Center For Public Integrity
Abuse in court? Deputy strikes boy in court, boy charged with assault
Tennessee judge, sheriff's department behavior under scrutiny
Usually, it's the judge who decides how to handle a kid in court who's accused of an offense.
But in eastern Tennessee, a lawsuit filed on April 24 alleges that it was a court bailiff — a sheriff's deputy — who meted out an instant physical penalty last year in the middle of a juvenile court proceeding. The alleged incident took place in Cocke County, a region near Knoxville that has struggled in recent years with FBI investigations and multiple allegations of law enforcement corruption and abuse and judicial impropriety.
Bailiff Jim Huskey is accused in the federal lawsuit of walking across a Cocke County courtroom in April 2013 and allegedly striking a 14-year-old boy in the face after the teen uttered comments the boy's mother agreed were disrespectful to the presiding judge. The boy, identified as D.W., was in court on a minor misdemeanor charge related to underage alcohol consumption, according to the lawsuit filed in U.S. District Court in Greenville, Tenn.
After the boy entered a plea in court that day, the suit claims, Cocke County Judge John A. Bell "repeatedly badgered" and "threatened D.W. with contempt" if he did not reveal who provided him with alcohol. When the boy refused to disclose information and uttered the disrespectful comments, according to the suit, Huskey crossed the room and hit the boy. The judge ordered D.W. removed, the suit claims, and four deputies allegedly wrestled the boy to the ground and took him out of court.
"The blow to the face was loud enough to be heard throughout the courtroom and left a red mark on D.W.'s face," according to the complaint. "At no time before bailiff Huskey struck D.W. was D.W. violent or did he pose a threat to anyone."
The civil-rights complaint is filed against Huskey and the Cocke County Sheriff's Department. It alleges that the bailiff committed battery and violated D.W.'s constitutional rights by using excessive, unnecessary force. The suit is also claims that the relatively small — and historically troubled — Cocke County Sheriff's Department has "maintained a policy or practice of encouraging the use of needless force to intimidate citizens."
Although Ms. Williford asked the office of the district attorney to file assault charges against Bailiff Huskey for "striking a child without need or provocation," the lawsuit says the day after Ms. Williford filed the criminal complaint, the teen was charged additionally with assaulting the deputies who had removed him from the courtroom.
Read More at The Center For Public Integrity