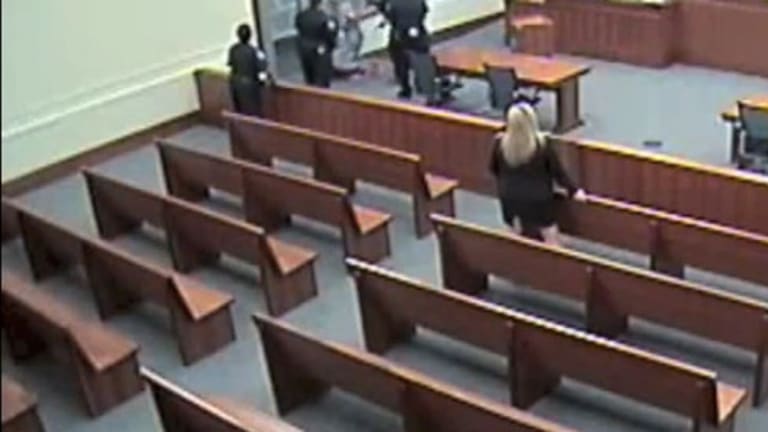 Deputy Slams Man into Wall, Says the Shackled Man with his Back to Him was Aggressive
A Denver Sheriff's deputy is appealing a 30-day suspension he was given after randomly grabbing and slamming shackled inmate, Anthony Waller, into the courtroom wall.
Waller was simply asking the judge a legitimate question when overly aggressive Deputy Brad Lovingier flipped his lid. Waller can be heard in the video asking the judge, "The investigation should come first and then the arrest?"
In the video below, Lovingier can be heard saying "You don't turn on me," as the only explanation for his actions.
According to KDVR, the judge, Doris Burd, promptly filed an internal affairs complaint with the Denver County Sheriff, but the Denver District Attorney's office declined to prosecute the deputy.
The internal affairs investigation lasted more than a year with the division eventually finding that Lovingier violated several department regulations involving use of force. He received a 30-day suspension.
According to the disciplinary order, Lovingier said he used the force because Waller was being aggressive and refused to follow orders.
Sure thing Deputy Lovingier, it was certainly obvious that your life was in utter danger by the stationary and SHACKLED man with his back to you.
FOX31 Denver asked criminal justice professor Joseph Sandoval to review the video. He calls the deputy's actions excessive and criminal.
"If that had been on the man on street that would have been a crime," Sandoval said.
The fact that he is appealing this incredibly light disciplinary action for what could have landed him in jail for 6 months if he were a 'regular citizen,' speaks volumes for the 'untouchable' attitudes that police are all too often guilty of maintaining.
This is yet another example of cops protecting their own. Imagine if police were actually held accountable for their actions both criminally and financially, its entirely possible that they wouldn't even exist anymore; or they would have been forced to change their ways long ago.