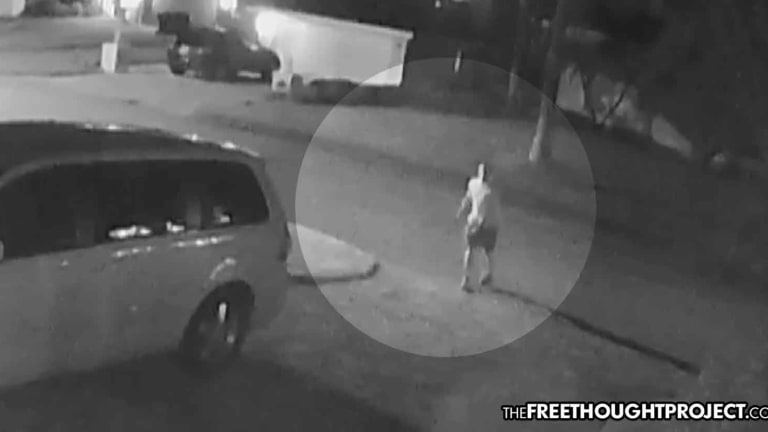 WATCH: Cop Caught Throwing Nails in Family's Driveway for Filing a Complaint Against Him
A cop was seen throwing nails into the driveway of an innocent family in an act of retaliation, yet he was not held accountable by his department.
St. Petersburg, FL — A deputy with the Pinellas County Sheriff's Office was allowed to quietly resign last month amid an investigation into his retaliatory actions against an innocent family. Deputy Lance Chambers was caught on video throwing nails into a family's driveway over a feud and a series of complaints they filed against him.
Documents released from the sheriff's office last month show that Chambers submitted his resignation notice to Sheriff Bob Gualtieri on February 8, while the investigation was still underway. Resigning during an investigation is common tactic among police officers attempting to escape accountability—because it often works, as the following case illustrates.
According to police, the deputy's neighbors—a family with small children—filed a series of complaints because the deputy verbally accosted the children.
As WFLA reports,
According to the report, the neighbor showed up to the police department and said she was having an ongoing issue with her neighbor, 49-year-old Lance Chambers. The woman told officers Chambers got upset when her children played outside in the pool during the day and complained that they were too loud. The neighbor said she didn't believe the noise level was that bad and told officers she asks her kids to keep as quiet as possible. The woman also said Chambers had addressed her children directly before.
After several disputes and complaints filed by the family, they made one final complaint after finding nails in their driveway. After waking up the next morning, the children walked outside in the front yard to find nails scattered across the driveway.
The family then reviewed their security footage and found that it was deputy Chambers who had creepily came by in the middle of the night and threw the nails.
As the video below shows, the deputy is clearly seen walking up to the family's driveway and throwing something.
When the family told the sheriff's department about the deputy throwing the nails, Chambers said he'd gone to their home to speak with them to address an issue, but didn't end up talking to anyone. He then denied throwing anything.
The incident took place in November and the investigation was opened on December 12. Despite video evidence of the deputy throwing nails which illustrated the fact that he was clearly lying to internal investigators, Chambers was allowed to quietly resign.
His resignation meant there was no longer an internal investigation to be had, so it was closed.
WFLA noted that documents released by the sheriff's office show Chambers had been employed by the sheriff's office for 22 years. Sheriff Gualtieri has declined to comment on the situation.
Now, this family still has to live next to this deputy who has shown them that he can get caught tormenting them and face no consequences.
As he's been with the department for 22 years, Chambers will likely be collecting his pension. What's more, he will also likely become a gypsy cop and get picked up by another department.
Retaliation without accountability is an all too common function of the American police state. Even when police officers file complaints against their fellow cops, this retaliation exists.
As TFTP reported last week, Sgt. Isaac Lambert was retaliated against by his own department because he tried to expose the cover up of an unlawful shooting.
Lambert refused to cover for a fellow cop who shot an innocent unarmed autistic teenager out of the window of his car. So, he was demoted and stripped of his status.