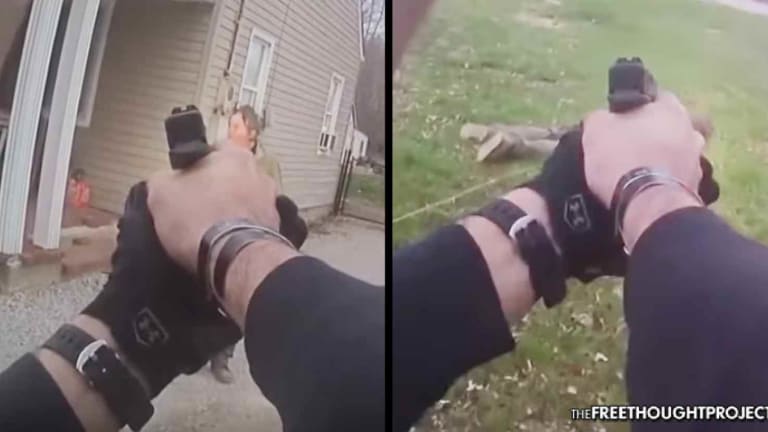 WATCH: Police Publicly Execute Mentally Ill Man 'Armed' With a Screwdriver
The body camera footage has been released from an incident in which police shot and killed a man "armed" with a screwdriver.
Louisville, KY – Dramatic body camera footage has been released from an incident in which police shot and killed a man who was acting erratically and refused to drop the screwdriver he held in his hand.
Louisville Metropolitan Police officers were called to the home of Russell Bowman, 45, on Sunday, after they received a call about a man in the neighborhood acting erratically. Multiple officers arrived and when they located Bowman, they ordered him to drop the object he had in his hand. One officer acknowledged he had either a screwdriver or a knife in his hand but Bowman refused to lower the object.
Instead, he ran. Police pursued, eventually deploying several tasers in an attempt to subdue him with electric shock. "It ain't working," Bowman scoffed. As the officers encircled Bowman, the man began to behave more aggressively, actually holding the screwdriver in a position where he may have stabbed the officers.
"We don't want to hurt you," one officer yelled.
After Bowman made a deliberate charge at another LMPD officer, two officers, Devin Dawes and Matthew Aden opened fire on Bowman, killing the man.
LMPD Chief Steve Conrad told WDRB News that the department's Public Integrity Unit is investigating the shooting, and the officers responsible for Bowman's death have been "placed on administrative reassignment with suspended police powers."
While we at TFTP have frequently reported on cases where police have unjustly taken the lives of citizens and abused the authority implied in their badge, the shooting death of Bowman will likely be ruled a justifiable homicide. But the greater question remains—could something other than deadly force have been used to subdue the suspect and should officers be required to carry such implementation in their utility belts?
Officers should not be required to lose an organ or limb to a man intent on stabbing them with a screwdriver. Likewise, they should also not be beholden to a department's use of force guidelines to terminate a person's life for holding a screwdriver. Would pepper spray have had an effect? Would a beanbag round or rubber bullet have stopped the man?
Understandably, in Bowman's case, the officers would not have had enough time to go to their cruisers and retrieve a shotgun for a bean bag round. But no attempt was made to dislodge the screwdriver from the man's hand. A strike with a collapsible baton may have had the desired effect but should officers be forced to close the distance with a deranged man to see if a baton strike would work? Or, as in the case of British cops, a simple plastic riot shield would've allowed cops to take him in alive.
Bowman's mental health history has since been " target="_blank" rel="noopener">revealed, showing he has not only spent time in a mental health facility but has an extensive arrest record mirroring his troubled life and dramatic death.
As TFTP has reported, police officers have very little training in dealing with mentally ill suspects, and 25 percent of the people killed by police annual have mental health issued. Is that statistic reflective of the failure of the mental health system to effectively treat disturbed individuals or representative of how quickly police officers resort to their firearms to end a deadly standoff?
Both systems need checks and balances.
Also, as TFTP has reported, few police departments receive the kind of de-escalation training they need to prevent a deadly use of force situation. Both areas need to be addressed in American society to keep people like Bowman alive and functioning well in society.
As you watch the video below, remember that Bowman had committed no crime and was merely reported for "acting erratically," yet police chased him down, surrounded him, and then killed him.
This case is eerily similar to the video TFTP reported on in 2015 of Dallas police officers "fearing for their lives" when killing 38-year-old Jason Harrison.
In that instance, Harrison was also in need of mental health help but, like Bowman, he was executed for holding a screwdriver.