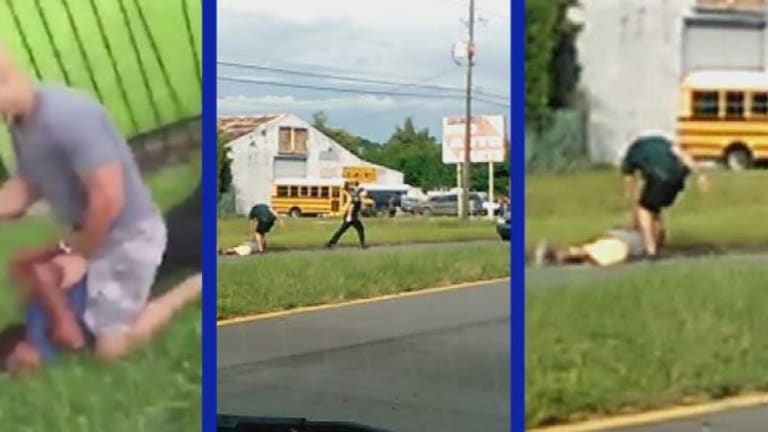 While On Desk Duty for Kicking a Cuffed Man in the Face, Cop Manages to Beat an Innocent Teen
A Sherrif's deputy has been caught on video three times in just two months in excessive force incidents, making for a total of 21 complaints over 7 years.
Orange County, FL -- In just the past seven years, Deputy Richard Nye, with the Orange County Sheriff's Office, has been the subject of a whopping 21 excessive force complaints. Three of these "isolated incidents" happened in the last two months alone and were all caught on video.
Given Nye's ludicrously violent and corrupt past, this man should have never been carrying a badge. However, this seems to be the nature of the thin blue line.
In mid-September, Nye was captured on video kicking a man in the face as he lay face-down on the ground in handcuffs. Prior to that Nye was caught on video in a brutal arrest of 21-year-old Deidra Reid in July.
For kicking the compliant and handcuffed Sammy Mike in the face as he laid face down on the ground, Nye was reportedly placed on desk duty. 
Since Nye was apparently on desk duty after his most recent attack, it makes his next act of incompetent violence that much more insane. Somehow, Nye was able to assault an innocent teen while simultaneously serving desk duty.
We have reached out to the department to ask how this is possible, but our calls to the Orange County Sheriff's office have not been returned.
In his most recent attack, Nye was accused of excessive force and admitted, in his report, that he dealt several knee blows to a 17-year-old boy after he mistook him for a 30-year-old suspect.
According to the report, police were looking for a 30-year-old suspect but instead settled for a 17-year-old boy playing basketball.
Video of this incident shows three deputies walking toward several teenagers playing basketball in a driveway. According to the reports, the teens did not know if the men approaching them were officers, so the 17-year-old took off running.
The teen had broken no law but was still the subject of a brutal attack.
"The force was excessive and brutal from the start. They didn't identify themselves to the individual, who was 17-years-old and terrified," family attorney Beth Aires said.
Nye claimed the innocent teen may have been reaching for a gun, so Nye hammered into his body with his knee several times. He then cuffed the teen and charged him with resisting arrest. No gun was found and the resisting charges would later be dropped.
How on earth was this man given a badge and a gun?
According to WFTV:
Channel 9 learned that Nye was repeatedly disciplined during his less than one year as a Tavares police officer.

Just 32 days after Tavares hired him in 2004, he was in trouble for crashing his patrol car into a stump. He was warned that further problems could lead to his termination.

In 2005 he was disciplined again, this time for walking into a Mount Dora bank while off duty, in plain clothes, with his "duty weapon in the open-carry position."

Later he was disciplined for pursuing a driver accused of running a stop sign while he had a ride-along civilian in the car.

"You never get into a police pursuit with a civilian in the car with you," police expert Chuck Drago said.

According to records, the next month Nye was disciplined for leaving his patrol car unlocked and running with weapons inside.

"That is an awful lot of counseling and discipline for an officer in his first year. That's huge," Drago said.

In September of that same year, Florida Highway Patrol troopers determined that Nye was speeding in his patrol car – going 90 mph in a 45-mph zone – just before he slammed into another vehicle. He was fired from the Tavares Police Department.

A short time later, he was hired by Altamonte Springs police and then later by the Orange County Sheriff's Office.