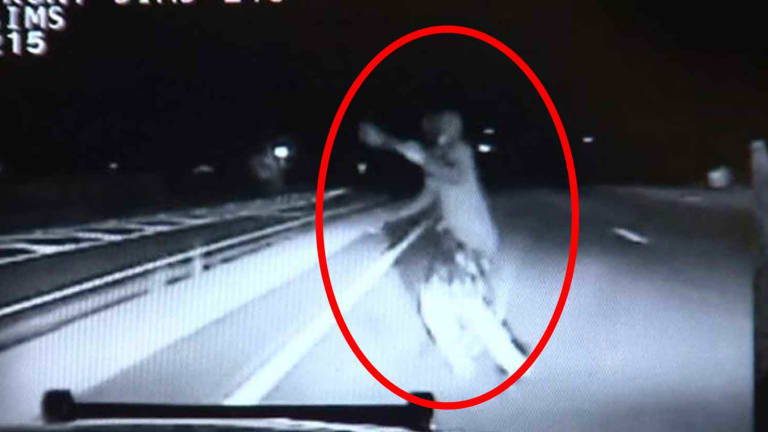 Despite Video Showing Cop Break the Law and Kill 2 Innocent Men, He Was Hired at New Dept.
A cop broke the law and drove 100pmh with no lights or sirens on, hitting and killing two innocent men in the process. Now, he's been given a job as a cop in the town of the victim's family. This is everything wrong with police in America.
Spalding County, GA — The family of a man who was mowed down by an out of control cop is expressing their shock and disappointment this week after the cop who killed their son and his best friend was given a job as a police officer in their town.
Justin Sullivan and his best friend Quentin Byrd were stuck and killed by officer Terry Belvin as they crossed Highway 7 in 2014. Belvin was driving his police cruiser at speeds topping 100mph. He had no lights on, no siren on, and was not responding to a call.
Dashcam of the horrendous crash has just been released publicly showing the disturbing scene unfold.
In the video, the former Barnesville police officer was driving 96 mph with no lights or sirens on making him nearly invisible to the two pedestrians. As the cop comes over a hill, he has no time at all to stop or swerve, sending the front bumper of his cruiser smashing in to the two men. They both died instantly.
"This man was dangerous. He was reckless. He was driving too fast," Danita Taylor said.
Sullivan's family was under the impression that after he killed their beloved son Belvin was forced to give up his peace officer's license in lieu of criminal prosecution.
In spite of allegedly relinquishing his license, however, Belvin was just hired on as a deputy with the Spalding County Sheriff's Office.
"I was just disgusted. More so than that, I was just shocked," Taylor said.
When asked by WSB-TV what happened to Belvin while at their department, the Barnesville police chief said Belvin resigned during the investigation. Quitting your job as a cop while under criminal investigation is a common theme among law enforcement as it aids in avoiding actual accountability.
In Belvin's case, that is exactly what happened.
After he quietly resigned during the investigation, the union lawyers somehow convinced a grand jury that Belvin did nothing wrong and he escaped any and all accountability for taking the lives of two innocent young men.
The Sullivan family is now speaking out, telling the Spalding County sheriff, Darrel Dix, that he should reconsider his decision to hire this reckless cop as they live in the very county that he will now be policing.
"He's employed in Griffin, Georgia, and my children are there every day," Taylor told WSB-TV.
Dix noted that he would not fire Belvin and instead praised the officer's "pristine record" while claiming ignorance on the fact that Sullivan's family lives in Spalding County.
Part of this "pristine record" involves the officer getting a DUI as well as being indirectly involved in the controversial death of another man.
Naturally, Taylor is calling out the Sheriff for disregarding the public's safety by hiring this man who has already proven to be a danger to society.
"You should be ashamed," Taylor said to the sheriff. Indeed.
As TFTP previously reported, a shocking report showed just how dangerous being an innocent bystander can be when police are behind the wheel.
On average, according to the report, one person every day is killed by speeding cops.
To put this into perspective, that's larger than the number of people killed by floods, tornadoes, lightning, and hurricanes -- combined.
Contrary to popular thinking, high-speed chases aren't only dangerous for those involved. Innocent bystanders are all too often the victims of these reckless pursuits.
According to the report, more than 5,000 bystanders and passengers have been killed in police car chases since 1979. Tens of thousands more were injured as officers repeatedly pursued drivers at high speeds and in hazardous conditions.
Aside from the 5,000 completely innocent lives lost, an additional 6,300 fleeing 'suspects' were also killed, bringing the total to 11,506 dead since 1979. Even this shockingly large number is likely an understatement, according to the report. The Department of Transportation's National Highway Traffic Safety Administration (NHTSA) uses police reports to determine if a crash is chase related, and many of the reports do not disclose that a chase had occurred at all.