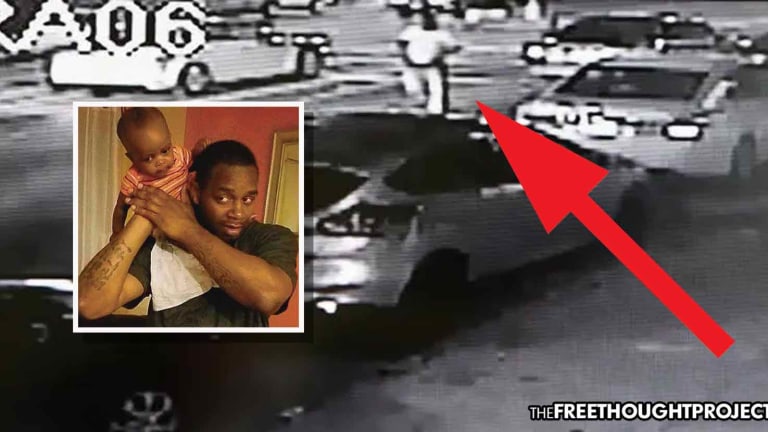 Despite Video Showing Off-Duty Cop Kill Unarmed Dad in Road Rage Fit, Cop Still on the Job
Surveillance footage captured an off-duty officer unnecessarily kill a man during a fit of road rage and that cop is still on full duty.
New York, NY — As the Free Thought Project reports—on a regular basis—police officers are caught in fits of road rage all the time. While road rage is an unfortunate reality in America, when a police officer is involved, the situation becomes far more dangerous as they have authority, and they have a gun. All too often police officers will be caught road raging on innocent citizens and it is the citizen who suffers. As the following case illustrates, even when they are caught on video killing unarmed individuals, they will walk free.
Officer Wayne Isaacs, while off-duty in July of 2016, opened fire on Delrawn Small in the middle of a busy Brooklyn street. The incident was captured on video and showed that Isaacs did not need to shoot the unarmed Small, yet Isaacs was acquitted of murder and manslaughter charges in November 2017 — a move that left criminal reform justice advocates outraged, and Small's family devastated.
For years, Small's family has been fighting for justice and have watched on in disbelief as the man who killed their beloved father, son, and brother, remained a police officer.
"The level of disrespect our family has had to deal with and the pain we've had to endure is outrageous, but this is how the de Blasio administration and NYPD treat families of New Yorkers killed by police," Small's family said in a statement.
In October, however, they received a bit of promising news that was followed by more promising news this week.
As the Daily News reports, in October, the Civilian Complaint Review Board substantiated an excessive force complaint and recommended Isaacs, 42, face disciplinary charges. On Tuesday, the NYPD announced the watchdog agency would get its chance to prosecute those charges at an internal trial.
"We are glad this case is moving forward, and I am hopeful the Deputy Commissioner of Trials' office and Police Commissioner will concur with the CCRB's findings following our prosecution of this case," CCRB Chairman Fred Davie said.
Exactly what internal charges Isaacs will face remain unclear as it is up to the police commissioner to agree to serve the officer with disciplinary charges, if any.
"We have been informed of the CCRB's intention to go forward with this case. The NYPD will cooperate with the CCRB in every way," said Police Commissioner Dermot Shea.
Naturally, the police union is alluding to the notion that this is a witch hunt and that Isaacs is the victim here.
"This attempt to take a third bite at the apple has nothing to do with justice. We're confident that another impartial review of the facts will clear him once again," police apologist extraordinaire and head of the Police Benevolent Association, Patrick Lynch said in a statement.
However, the truth of the matter is, had anyone but a police officer pulled the trigger that night, they would be in jail, especially given the video and the apparently false information given by Isaacs.
To be clear, Small was in the wrong, initially. He claimed Isaacs cut him off and moved to act in a fit of road rage by getting out of his vehicle and walking over to Isaacs' car.
When Small reached Isaacs' window, the off-duty cops squeezed off three rounds, striking Small twice. Isaacs would then call 911 to report that he had been a victim of assault and was forced to respond with deadly force.
Isaacs would claim that Small punched him and only then did he pull his gun and fire. However, footage from a nearby business — although very grainy — shows Isaacs shoot Small immediately. As the Associated Press reported at the time:
Based on a preliminary investigation early last week, police initially said they believed Isaacs opened fire after Small reached through an open driver's side window and punched the officer while he sat behind the wheel of his car.

But the short black-and-white video, which surfaced on the internet, appears to show Small getting hit by gunfire the moment he walks up to the car window, with no clear indication that he first assaulted the officer.

Small, 37, can be seen recoiling and stumbling around before collapsing. The officer briefly exits his car and looks in the fallen man's direction but then returns to the car.
Despite the evidence and the video below, Isaacs remains on full duty.